While communication is the backbone of a successful supply chain, it's one of the biggest challenges businesses face. (After all, it's easy to get lost in endless trails of emails and calls made both internally and externally with supply chain partners.) This often results in late orders, shortages, missed deliveries, increased shipping costs, and missed or tighter deadlines.
(Oh! And let's not forget the unbudgeted costs of fixing any of these issues.)
Miscommunication is frustrating not only for your procurement department but for everyone involved—including your external supply chain network. It has a domino effect that hinders every person from pro-actively executing their part. With only 22% of companies having a proactive supply chain network, what can you do to ensure effective communication?
Dig deeper to find out what causes a communication breakdown internally.
Luckily for you, we've done the leg work to provide you with the foundation of where the problem might be. It all comes down to your processes, your people, and your technology.
But first…
What is a supply chain?
According to Investopedia, a supply chain refers to the network of people and organizations involved in producing a product or service and delivering it to the end consumers. That's everyone who either sources raw materials, creates the product, or delivers it to consumers.
However, supply chain management deals with the flow of all necessary product information and raw and finished goods from procurement to customers. (Including the costs related between you and your business partners.) There are many moving parts involved in all of the processes, and each supply chain stakeholder has a role to play in ensuring the finished product reaches the intended market. This includes warehouses and logistical organizations.
The whole supply chain process starts from designing the product you wish to create. Then, it moves to the procurement of the raw materials stage to manufacturing, distribution—via your offline and online sales channels, retail partners, or resellers—and finally, to your customers.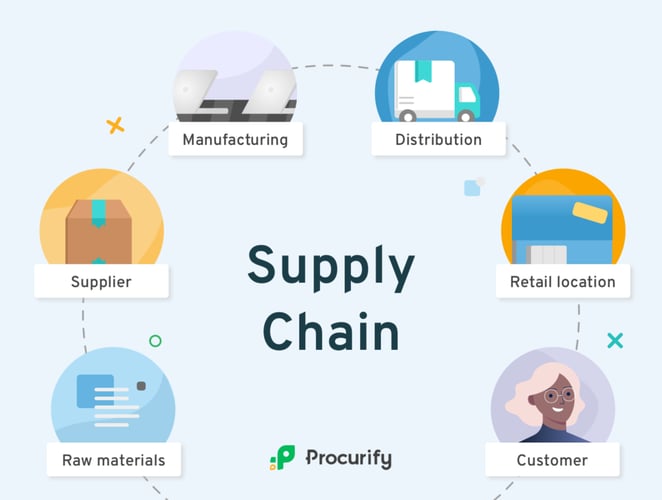 Any breakdown in communications between these parties has a knock-on effect on the rest of the supply network. For example, if there's a miscommunication when your procurement team orders materia/s, the supplier will deliver the wrong material. That means manufacturing will stall, and so will distribution. Your product will not be distributed to the retail centers in time, and it won't reach customers at the desired time. That's an unmet customer demand, which can result in customer dissatisfaction and loss in customer loyalty, sales, and desired revenue.
Now, let's dig into the challenges (and solutions) from the three core elements mentioned:
1. Communication breakdown in your processes
The communication flow will be strained if your internal communication processes are poorly defined, managed, or understood. For instance, what happens when your procurement personnel needs to make a new order for raw materials or components?
What are the processes they need to follow to complete the new order?
How do you communicate with every party involved in these processes?
Where do teams document the entire exchange of the process from point A to B?
Was the order made by a staff member, or can another employee complete it?
How do they communicate challenges in the order process with you?
Where can you, as the business owner, check whether the process was followed?
What is the process you follow to help mitigate any potential risks?
These are the kind of questions you need to ask and find answers to.
Do some digging, and ask your teams for feedback on their challenges regarding internal processes and how they're implemented. Failing to do so will lead to further communication breakdowns. And, ultimately, bigger and costlier problems that you could've easily avoided by simply clearly defining, streamlining, and implementing the internal communication processes.
2. Communication breakdowns in your people
The people in your organization, particularly the teams involved in the upstream communication chain, can make or break communication. You can put the best processes in place, but communication gaps will be visible if your people don't follow them.
Each person has their own set of preferred communication methods, but following standardized communication methods is important in business operations. It's a way to ensure that errors, inconsistencies, misunderstandings, and miscommunications are reduced and can be solved as aptly and timeously as possible. It also lessens external stakeholders' frustrations.
So, again, have discussions with your people.
Ask them a set of questions that will enable you to figure out where the problems lie.
Do your teams understand the internal communication processes?
Are they trained enough to put them into practice internally and externally?
Have they noticed any communication silos?
Do people know where to go when tasks are being bottlenecked?
Do people have the right communication tools to use effectively?
What motivates or discourages people from following the processes set?
The answers will give you insights into how your people feel about processes.
3. Communication breakdowns caused by your technology
Technology tools play a huge role in various aspects of business operations, and communication is no exception to that. The challenge with technology tools is that there are so many of them. In most cases, they either do not work as well as they should, do not meet what they promise to do, or overlap in functionalities. Take Excel spreadsheets, for example, they're not a great tool to use for the effective supply chain management. But studies found that 67.4% of supply chain managers use Excel spreadsheets as a management tool.
In other cases, some supply chain tech tools can be very complicated to a point that your people are unable to use them effectively, which means that you need to hire someone with the skills needed to use the tool. That's an extra expense you may not have the budget for.
When you're searching for tools to add to your ecommerce tech stack, for example, you have to choose ones with features that will help improve communication. For example, a tool that allows your teams to work together seamlessly and provides trackable communication.
Don't choose a tool just because your competitors use it; you have to understand how it will benefit your business. You have to consider whether it will help streamline your communication internally and externally—and if your teams can use them with little guidance.
At the end of the day, the tools you put in place should ease stress and save you time, effort, and unnecessary spending on extra costs. It should work with you, not against you.
Improve internal and external communication flows with Plytix
One of the best multichannel commerce tools is a product information tool that does what it promises to do and much more! A tool that centralizes product information in a single location eliminates the risks of siloed product data. Plytix PIM is exactly the kind of product content management software that can help you solve a host of communication challenges.
In addition to centralizing your product content, Plytix enables your teams to work collaboratively as you can add as many users as needed without any extra costs. You simply set user roles with custom permissions, and everyone has access to the same information.
Plytix is a PIM for ecommerce that enables seamless enterprise resource planning (ERP) connection so that you can view inventory data and product data for your shop in the same dashboard. As you can see, a PIM complements your supply chain management efforts.
For more information, download this FREE ebook on how a PIM and ERP work together!
Retail Industry & Trends