Large and small brands are doubling down on the direct-to-consumer (DTC) model to reap the benefits that come with it. Yes, that includes B2B businesses too.
This type of model is expected to reach $175 billion by 2023 in the United States alone, so of course, businesses are gravitating towards direct-to-consumer retail.
Cutting out the middleman to establish a direct path to consumers puts everything in your control. This will give you the power to set yourself apart from competitors.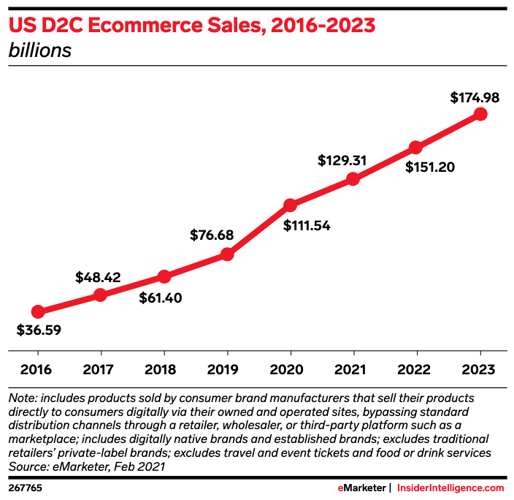 Google explains that although B2B customers are not impulsive buyers, being digitally empowered makes them impatient. This means they're looking to streamline their decision-making processes and cut out the middleman.
The sure way to help them get to a decision faster is by giving them what they want. And a direct-to-consumer marketing model can help you achieve that.
1. Allows you to put the customer first
Without an intermediary, you now have a direct path to your customers.
This means that you can shift your focus from tailoring your offerings to suit the requirements of the middleman to tailoring them for the customer. It will also give you the power to create a customer experience your customers are looking for.
2. Let's you meet customer's expectations and demands
B2B buyers care about building strong relationships with their suppliers, and they want to be treated as partners instead of marketing targets. With no one in between, DTC marketing allows you to engage in meaningful conversations directly, and show your prospects that you're exactly the partner they need.
In fact, a Forrester report suggests that your responsibility is no longer to convince B2B customers to buy but to help them buy. To do that, you need to be forthcoming with information customers need to make clear purchasing decisions.
That includes communicating the value of the products, pricing, delivery options, and everything else that will ultimately lead to them feeling like they received a seamless and personalized experience: a growing demand projected to reach $14.9 billion by 2025. Moreover, you can provide customers with access to product demos, user reviews, and any other helpful content they require when doing product research. Digital Commerce explains that "enabling them [customers] to set up subscriptions, order a la carte add-ons, and customize product bundles on their own through a D2C-style channel can put them at ease."
To add, it'll "help them make their purchasing decisions more efficiently, and you can earn their loyalty." Customer loyalty is your ticket to success when you sell directly to customers. Delivering on customer needs leads to customer satisfaction, which leads to sales, and ultimately, an increase in revenue.
3. Drives you to achieve better profit margins
Speaking of revenue, cutting out the middleman also means that you won't split the cash pool with third parties. When you have a direct-to-consumer web shop, you'll sell the products at the same price and keep 100% of your sales revenue.
Your trade spend is in your control as you no longer have to outspend your competitors for better positioning. That doesn't mean it will be easier in the online environment, the competition is tough here too, but positioning is in your hands.
4. Gives you more control over brand and product
Going direct allows you to have full control over the product, packaging, pricing, and distribution. It also ensures that you're able to communicate the messaging behind your brand and the values you abide by. You can engage and educate your customers to reassure them that you're the right partner over your competitors.
5. Ensures that you make data-driven decisions
DTC gives you the opportunity to collect customer insights, which will help you test, learn, adapt, and deliver the unique, personalized experiences that B2B customers are after. There are many ways, and technological tools, that help you collect customer data. Options include the acceptance of cookies, browser history, email interaction, subscription-based sign-ups, order forms, inquiries, and more.
With a PIM system, for instance, you can track performance data from your web shop in the same place you store your product information. This allows you to make data-driven decisions as you'll have a wealth of information at your fingertips. You will be able to see what customers are buying, where your leads come from, and which of those leads are resulting in sales conversions.
6. Push you to reach new markets
Going direct moves you into a previously inaccessible market territory. You're no longer limited to old-school ways of selling, with only a brick-and-mortar store. DTC will help you tap into multichannel commerce opportunities to be where your customers are. When you consider that B2B ecommerce sales are only expected to grow by 10% annually until 2023, diversifying your sales channels is exactly the push you need to strengthen up for the fight against your competitors.
Tackle DTC Marketing with Plytix PIM
What the above indicates is that there will be a lot of data management that you need to do to gain these benefits. So, what are your options for handling that very important task? Spreadsheets, Dropbox folders, Google Drive? Certainly not!
What you need is a powerful product information tool that will reduce product information management time. You need Plytix! Adopting a direct-to-consumer model is about responding to the demands of a new generation of business buyers who call for disruptive methods of operation within the B2B landscape.
Most importantly, it gives you an opportunity to tell customers your story in your own words. Plytix product content management software will help you maximize your chances of getting sales. From SKUs to product names, descriptions, images, videos, operating manuals or instructions, and more, you can organize technical information in a single source of truth that's accessible to every department for a collaborative effort. This process alone will eliminate data silos, improve internal productivity and get your products to market faster.
What's more is, our PIM makes it easy to create sales enablement material. Our Brand Portals plug-and-play module makes it possible to create product catalogs that you can use to market your products to customers and prospects.
Download our free whitepaper to learn how a DTC model can help your B2B business thrive.