Facebook, Amazon, eBay, Pinterest, Google Shopping, Jet, Instagram, reseller websites, brick-and-mortar storefronts, countless tradeshows…
Sales channels seem to multiply by the day. And, thanks to an especially low barrier to entry, so does the number of ecommerce businesses who are competing for the same eyeballs as you.
We're not saying it's going to be a cakewalk, but we do know one tool that can make your ecommerce efforts a lot less time consuming and a lot more powerful—a multi-channel ecommerce platform. Keep reading if you want to hear more about why multi-channel ecommerce matters, what to look for when choosing this all-important piece of software, and our number-one recommendation to save yourself a lot of the legwork.
What is Multi-Channel Ecommerce?
Multi-channel ecommerce, which is also often referred to as "omnichannel" ecommerce, is the practice of selling products and creating a streamlined shopping experience across a variety of digital channels.
Each individual shopping channel will fall into one of five main categories:
Online Marketplaces
Online marketplaces like Amazon, eBay, Jet, and more are similar to physical marketplaces in which shoppers can compare similar products and select which one to purchase.
A report by BigCommerce found that 54 percent of American shoppers use ecommerce marketplaces. Online marketplaces are great for reaching consumers in the consideration and decision stages who know approximately what they're looking for and have pretty strong intent to purchase.
Social Media
Many of us are familiar with social media channels like Facebook, Instagram, and Pinterest—but did you know they can also double as powerful ecommerce outlets!?
A new generation of shoppers is using social media to connect with brands and research products. Brands can meet these consumers where they are with targeted advertising, influencer marketing, and tagging features that allow brands to direct social media traffic directly to purchase pages.
Comparison Shopping Engines
Today, price and convenience are the most influential purchasing factors—and comparison shopping engines provide both in spades.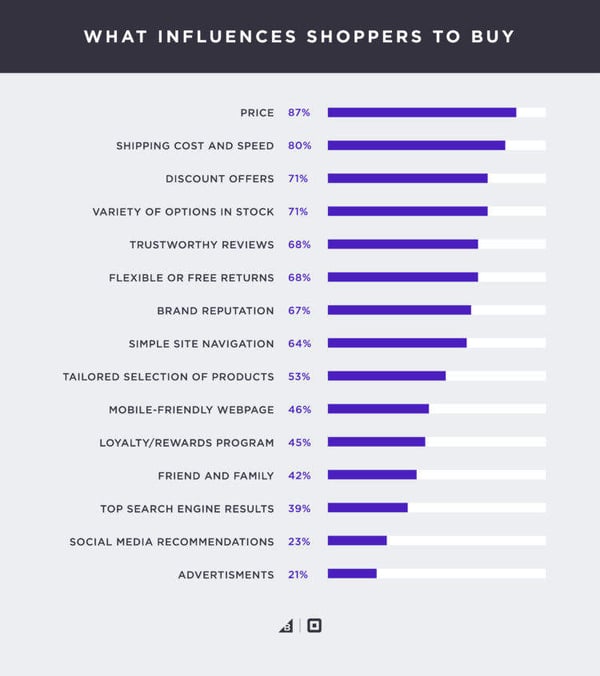 Comparison engines like Google Shopping, Shopzilla, and PriceGrabber are basically search engines that allow shoppers to compare products based on price, product details, reviews, and more.
Sellers would be smart to use a powerful multi-channel ecommerce platform to provide high-quality and up-to-the-minute product data on comparison shopping websites. Keep reading for our recommendation on choosing the best one for your business.
Ecommerce Platforms
Nearly 45 percent of American shoppers visit web stores, so of course your own branded webshop and any digital shops that resell your products are vital ecommerce channels.
Web stores are handy for any kind of retail company because they allow you to craft a personalized shopping experience for each consumer. Shoppers want to see all the materials you offer, get a shipping estimate, or reach out about a custom order? You can address all of this and more on your website.
In addition, website forms allow you to collect shopper email addresses for lead-nurturing. On-site blogs offer a powerful opportunity to grow traffic organically with high-quality content.
Offline Locations and Events
Despite popular belief, offline shopping channels like brick-and-mortar stores and trade shows aren't dying off—they're just evolving.
Now, physical locations don't revolve around generating sales. Instead, successful ones will do two things well: Act as local distributors for online sales and provide a superior customer experience. The obvious example is Apple, whose stores give consumers an opportunity to ask questions about and try out expensive goods before they make a purchase. Another great example is grocery stores that host pop-up restaurants, cooking classes, and other experiences to bring in traffic and inspire consumer loyalty.
If you're interested in cashing in on offline experiences and learning more ways to add value, check out our blog about How to Protect Your Ecommerce Margins in the Age of Hyper-Competition.

Social media, comparison shopping engines, marketplaces, ecommerce websites, and offline events and locations all reach buyers in different stages of the shopping journey. Multi-channel retailing is a necessary strategy for growing beyond your first sales channel and meeting buyers where they're already shopping.
Easier said than done, right? We know keeping up with ever-changing products across tens of channels and thousands of shopper journeys is tough. That's why, in the next section, we're going to show you which factors to look for when it comes to finding a multi-channel ecommerce management platform that works for you.
Key Factors to Consider When Choosing a Multi-Channel Ecommerce Platform
If your ecommerce company is like most, you're spending 25 minutes per SKU every time you have to update product data by hand. That's 20 months worth of labor gone for every 10,000 SKUs you have!
But it doesn't have to be that way. With the help of a multi-channel ecommerce management platform, you can cut those 25 minutes per SKU down to just four.
A multi-channel ecommerce platform consists of software that empowers ecommerce biz owners, marketers, and managers to sync product across all their sales channels using a single interface. Thanks to smart features and automations, they enable you to reach tons of multi-channel consumers with relatively few hours spent.
Drop that Excel spreadsheet and walk away. It's time to start shopping for a multi-channel ecommerce platform that meets these criteria.
The Ability to Distribute to All the Right Channels
Of course, the most important thing a multi-channel ecommerce platform should have is the ability to integrate with and distribute to all the major retail channels!
As we've already explored, shoppers are accessing all kinds of channels, all the time, and in random order. You have to make sure your product data is accurate, up to date, and optimized for each channel.
Most good multi-channel ecommerce platforms will have plenty of integration and distribution options. If you come across one that doesn't, consider that a red flag and move on.
Centralized Product Data Management
In our opinion, the next most important thing to look for in your multi-channel ecommerce platform is the ability to manage your product details and keep them synced across channels—all from a single dashboard.
I mean, would you trust a brand who can't seem to provide the same product photos, measurements, variations, availability, and reviews on their website as they do on Amazon, Instagram, and so on?
Aside from building trust that leads to word-of-mouth marketing and loyal repeat buyers, accurate product data helps you show up in search engine results and boosts revenue by cutting down on returns.
P.S., if you're interested in learning more about optimizing your ecommerce listings, check out The 5-Step Framework for Optimizing Conversions & Revenue.
Available Customer Support
Whether you're making the switch from a manual process or ditching outdated, overbuilt software that makes you pull your hair out—looking for excellent customer support is so important when you're committing to a multi-channel ecommerce platform. Honestly, re-platforming can be tedious and confusing no matter how great the new platform is. And, when your livelihood relies on this tool accurately sync your products across several sales channels, it's vital that someone who understands it like the back of their hand is available for critical issues.
There are simply times when customer support shouldn't be automated—keep that in mind when making your selection.
Superior Usability
Aside from set-up and the one-off issues that make awesome customer support so important, the multi-channel ecommerce platform you end up with should be intuitive to operate overall.
If your ecommerce platform is better suited for users with a programming degree, it doesn't sound like a platform that was built with ecommerce business owners, marketers, and content managers in mind. Consider how this tech-first mindset might impact you down the road when a major update rolls out or you need help with a feature.
Structured Yet Configurable Layout
Naturally, a multi-channel ecommerce platform with superior usability will probably already have a pretty decent structure in place. And we think that's a great place to start! However, as your team and your SKUs grow, you're likely going to think of tweaks that would make the system absolutely perfect for your workflow. And the longer you have to go without making those optimizations, the crazier you'll go.
You're paying for a multi-channel ecommerce platform—it should work for you instead of you working for it. Look for software that starts with a sensible structure but leaves room for unique configurations.
Overwhelmed with all the multi-channel ecommerce platform options and features? No one is more familiar with that struggle than we are. Let us cut through the noise and recommend a ready-to-use multi-channel ecommerce platform that's simple enough for small teams and powerful enough for limitless growth—Plytix.
The Best Multi-Channel Ecommerce Platform: Plytix
Plytix is a multi-channel ecommerce platform with a laser focus on helping retailers large and small centralize, optimize, distribute, and, uniquely, even analyze product data all from their easy-to-use dashboard.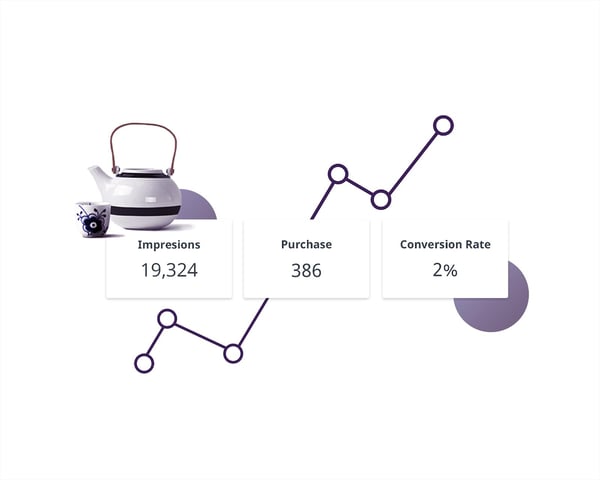 Our advanced import mapping turns your hundreds of spreadsheets into one single source of truth that your whole team can access (using our permissions features, of course). And with unlimited asset storage, you can add and organize as much data and as many documents, videos, and multi-media files as your heart desires.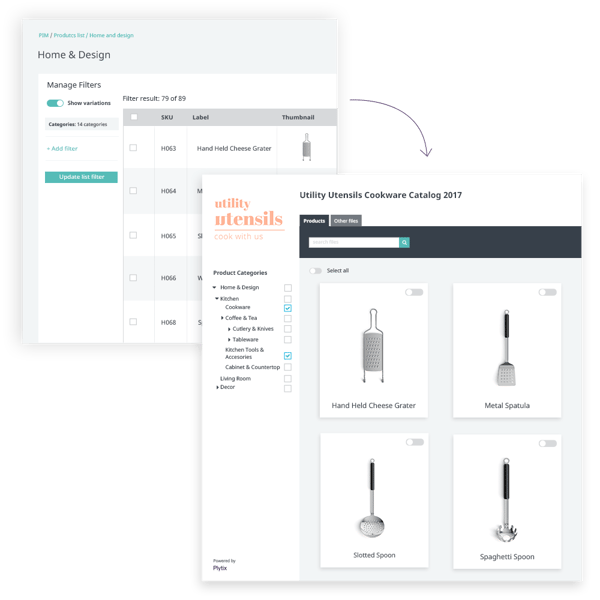 While this powerful single source of truth fulfills the requirement for centralized product data management, it doesn't mean much without the ability to distribute it to all the right channels. But don't worry, we've got you covered there, too.
Instead of marrying ourselves to strict yet ever-changing channel distribution requirements, we've taken a novel approach. With Plytix, ecommerce businesses can create custom data formats for any digital sales channels using our product feed builders. Our product feed builders help clients publish content to the most popular marketplaces and channels in the world, including Bonanza, eBay, Google Shopping, Magento, Shopify, Facebook, and so many more (which you can check out here).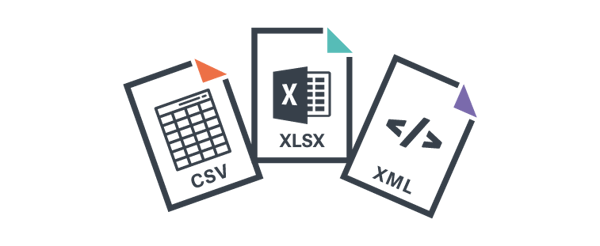 And when it comes to usability, flexibility, and of course customer support, we'll let some of our amazing customers speak for themselves.
"I don't have to be a programmer to get it to work, it's quick and efficient and will form the base of our continuing development for our e-commerce business. … The support guys are amazing and will do almost anything to help." - David B., Operations Manager
"This solution has saved me so much time on content creation and getting my product data out on my channels. What I like best though, is how user-friendly it is - I'm not very technical at all. … The catalogs let me share my product information with my agents abroad and I'm gonna share them on my website next. … I don't know what I would do without [Plytix] now." - Mai J., CEO
"Plytix has a fantastic team when it comes to customer support, from trialing, to learning, to suggesting new features there was always someone that I could speak to either via email which is always replied to within the same day or by phone which I could make an appointment for within a few days." - Joshua S., Project Coordinator
When you're looking for the best multi-channel ecommerce platform to sync product data across all your various channels, Plytix has impeccable channel distribution tools, a centralized product data feed, always-on customer support, superior usability, and a structured yet highly customizable layout.
Stop paying for overly complex and overly expensive multi-channel ecommerce software. Get your questions answered by our incredible support staff or go ahead and get started with Plytix today.