It's the digital age, and the ecommerce industry is booming.
Over the past few years, ecommerce revenue has been on a steady upward trend all over the world. Ecommerce sales now make up 10.7 percent of all retail sales in the U.S., and 16.4 percent of all retail sales globally. By 2023, global ecommerce revenue is expected to surpass $6.5 trillion annually.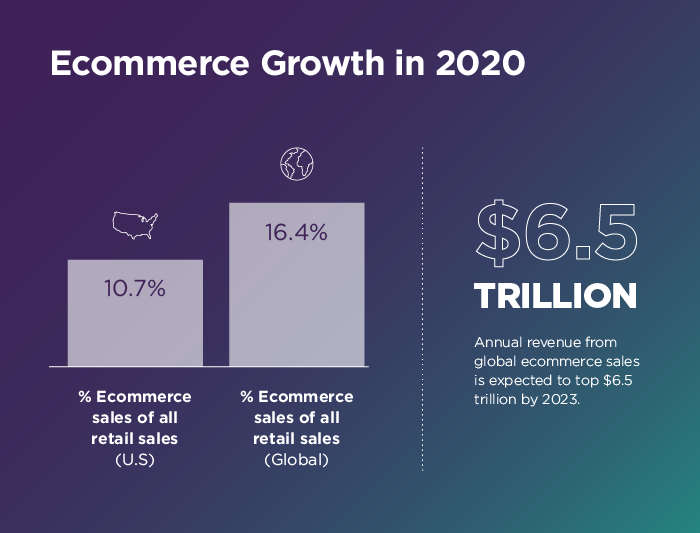 Image source: https://www.plytix.com/blog/furniture-industry-trends-2020
The point is that retailers who are sticking to their brick-and-mortar guns and not going online are missing out on huge future potential for growth and revenue.
That's even true of industries that are still thriving in a brick-and-mortar setting, like furniture brands. Yes, many consumers still prefer to buy furniture in person — but that trend is shifting.
Furniture brands that want to keep up with their competition need ecommerce strategies. Sure, there are unique challenges that come with selling furniture online. But with the right tools and some good strategic planning, those can all be overcome, allowing you to launch a successful ecommerce branch for your furniture store.
What are you waiting for? Read on for the digital strategies you need to take your furniture brand from brick and mortar-only, to a thriving online business.
Why Furniture Retailers Need to Get Online Now
Furniture retailers have leaned on one specific truth throughout the emergence of the digital age: When it comes to large furniture purchases, like beds and couches, buyers prefer to test them out in person before making a purchase.
That's still true — research shows many furniture buyers prefer the tactile experience of seeing and feeling a piece before they buy it, especially if it's expensive.
But that's changing.
While the majority of shoppers still want to make their final purchase in a physical showroom, research shows that more and more of them actually start their buying journey online, researching different options and narrowing them down, before heading to a furniture store to check out just their top pick in person.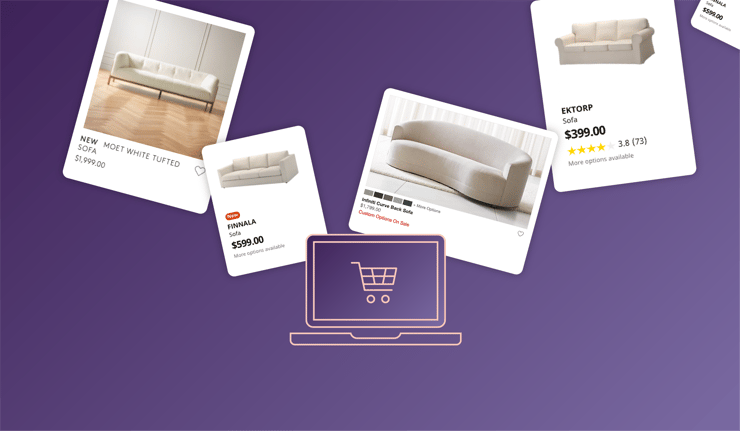 Currently, just 14 percent of shoppers say they'd make their final purchase online rather than in a store, but that number is only expected to grow.
In other words, now is the time for furniture brands to be embracing the potential of having ecommerce capabilities. Your competition is probably doing the same, so going online is a necessary step for brands that want to stay competitive.
Selling Furniture Online Can Be a Challenge
The downside, of course, is that selling furniture online comes with a unique set of challenges that aren't as much of a hurdle in many other industries.
For one, many furniture pieces are big. The size and weight of the products presents a number of shipping challenges, both logistical and cost-wise. While big-box stores can absorb some of the high costs of shipping larger items across their greater sales volumes, that's not necessarily true for smaller, independent furniture brands.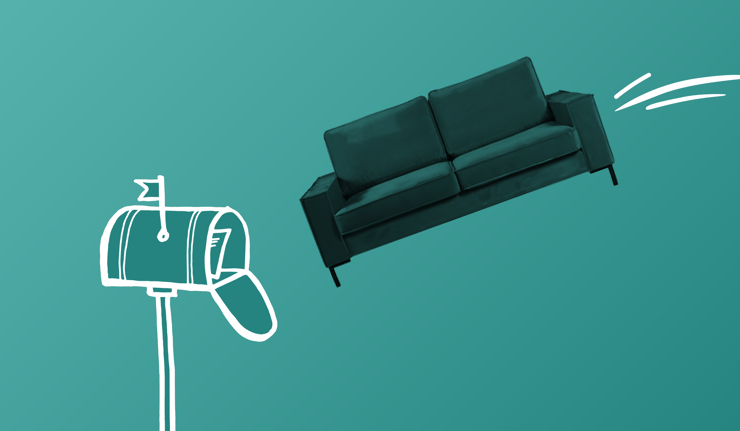 The other major challenge isn't necessarily unique to furniture brands, but will be amplified by the fact that furniture sellers will need to coordinate their online efforts with their showroom sales. Branching into ecommerce comes with the need to organize and manage a lot of data — from supply chain data to product information and assets to product status, inventory and pricing, both online and in-store. Unlike when you only work in a brick-and-mortar setting, a simple spreadsheet isn't going to cut it once you go online.
The solution to these challenges? Luckily, it's pretty simple. You just need the right strategy and the right tools to help you implement it.
Digital Strategy Tips for Launching an Online Furniture Store
So you're ready to make the leap.
You're going to take your brick-and-mortar furniture store online, and start offering your customers some ecommerce options.
To be successful in doing so, you're going to need to be deliberate with your strategy. Launching an ecommerce arm in any business is not as simple as throwing together a website and hitting "publish." And for furniture retailers, there are industry-specific concerns to keep in mind.
Keep these steps in mind as you start to build out your digital strategy before you launch your online store. They'll pave the road to success.
Don't Just Offer Products — Design an Experience
When you opened your furniture store, did you just toss a bunch of products in a showroom and expect them to sell? Of course not. You carefully selected which products to offer, staged them in visually appealing ways, organized them to help customers find what they need, and put time and money into marketing so customers knew what they'd find in your showroom.
Ecommerce is no different. If you expect to just toss all your products on a website and start raking in online orders, you're in for disappointment.
The most successful online retailers are the ones who do their best to recreate the store experience in an online setting. That's what you need to do — by organizing your products on your website so they're easy to find, presenting as much product information as possible so customers know exactly what they're getting, allowing shoppers to sort by different filters from finishes to dimensions, and implementing tools like augmented reality to make the online experience as close as possible to the in-store one.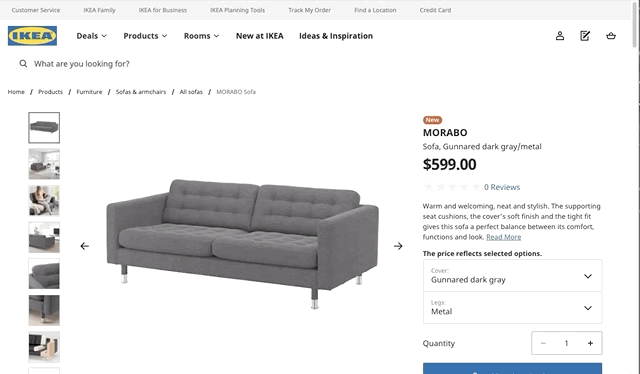 Doing all of this requires having a massive amount of product information, which needs to stay organized, up-to-date, and ready to attach to product pages or push to marketing channels. For this, you need a product information management (PIM) solution that will centralize, organize, distribute, and analyze as much product data as you have.
Keep in mind that when shoppers go to your store, they can see and feel pieces, size them up in person, check labels, and flag down a sales associate for instant answers to questions. When they shop online, you need to give them enough information to have that same experience — from their own homes.
Decide on a Shipping and Return Strategy Early On
As we've already described, shipping is going to be one of the biggest challenges a furniture brand faces as it branches out into ecommerce.
Furniture pieces are large and heavy. That means shipping them across the country — or even internationally, as ecommerce becomes more globalized — is costly and logistically difficult.
That's why deciding on a shipping strategy should be one of your first moves as you look toward launching online sales. Due to the large and often irregular shapes of many furniture pieces, standard shipping methods, like UPS and FedEx, likely won't be options for you.
As you move toward offering online shopping to anyone, it may make sense to, at first, limit shipping to local deliveries. That will allow you to work with a local courier service that can meet your needs without breaking the bank. As you expand shipping outside of your immediate region, you might find that you need a network of warehouses to support farther-reaching deliveries.
Staying small for now also helps address the logistical challenge of returns. If a customer isn't happy with their purchase, or if it gets damaged or arrives with manufacturing defects, how will they return it? That's another challenge for furniture retailers that can be addressed (for now) by starting small and only shipping locally.
Both now, and as your brand grows and you work toward expanding your shipping capabilities, the logistics of shipping furniture will come with a lot more data and information to keep track of. This is another place where having a PIM solution early on will save you a headache down the line.
Pivot Marketing Efforts to Drive Online Traffic
Likely you already have marketing strategies in place that promote your brick and mortar store. So now, redirect some of the funds and work toward online marketing that drives traffic to your website.
If you've collected contact information from past customers, a good place to start is mailing or emailing them a newsletter that announces the launch of your ecommerce efforts.
From there, you might consider starting a blog and using SEO to drive organic traffic to your website. You might also consider targeted online advertisements, like social media ads that are tailored to target customers in your area.
Consider Multiple Online Channels
While the urge to start small and stick to just a website is strong for businesses that are newly going online, it may not be the most advisable path.
As you're considering marketing via different online channels, you might also consider how you can sell via channels other than your website.
We live in a truly omnichannel world, which means consumers interact with brands from many different devices via many different channels and digital touchpoints. The most successful ecommerce retailers are the ones who embrace this and strive to give their customers a seamless experience across as many channels as possible.
With the right tools, launching an omnichannel strategy isn't as scary as it might seem. You just need a good PIM solution that keeps all your product information centralized and up-to-date, and is ready to push it to as many channels as you want to pursue.
Having the Right Tools Is Key
Have you noticed there's a theme that connects every one of these digital strategies?
Going ecommerce requires a ton of data and information, and you need the right tool to keep it organized, accessible, up-to-date, and ready to distribute to whatever ecommerce channel you're using.
So before you launch your digital strategy and move your furniture brand from brick and mortar to online, arm yourself with a heavy hitter of a tool that will help you overcome many of the challenges an online furniture brand might face — and compete with the best ecommerce businesses across all industries.
Ready to learn more? Download our free ebook today, and learn how PIM software can help you outperform your competition, even as a new ecommerce business.