Before the internet, consumers really only had two options for buying goods: To order them and waiting for them to ship by post, a process that could take some serious time in the days before Prime two-day existed; or to go to a physical store where they purchased goods at retail prices.
With the rise of ecommerce came another option: direct to consumer sales. And with a sharp (and continuing) rise in direct to consumer sales, tech-savvy manufacturers now have the option to skip the retail step altogether and market and sell their products straight to the consumers who want and need them.
That means there's a little bit of a learning curve for manufacturers, who under old models only needed to know how to sell their products to retailers. But for those willing to put in the time to learn new skills and try new strategies, there's a whole new world online where manufacturers can manage their own storefronts and provide personalized products and services.
Looking to improve your direct to consumer marketing in the new year? Here are the top 11 strategies, tactics, and examples you should be looking to.
What Is Direct to Consumer Marketing?
In a traditional retail landscape, manufacturers are pretty limited in the ways they can reach consumers. Catalogs and mail-order purchasing have existed for a long time, but more often, manufacturers would sell their products at wholesale prices to retail stores, who would then sell them at retail prices to consumers who shopped at their physical locations.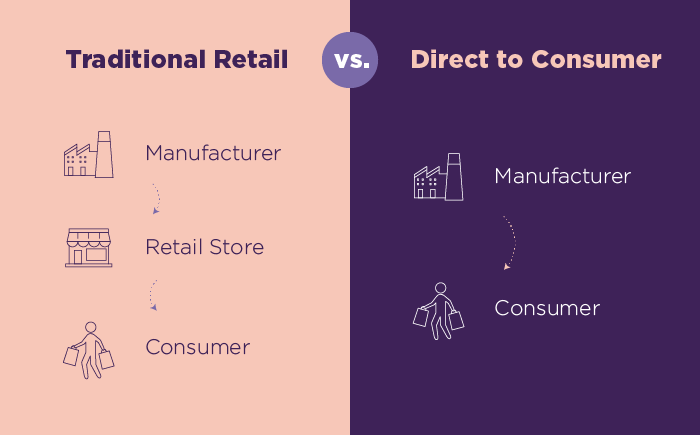 In a direct to consumer model, the middle man gets cut out. Manufacturers are able to reach their target consumers directly, marketing their own products that consumers can buy (often at lower prices because they're wholesale). Where this could only be done via catalogs and mail order for much of history, ecommerce has made it much easier for manufacturers to sell directly to consumers.
This can mean greater profits for manufacturers, as well as better control and faster time to market for their products.
Direct to consumer marketing (sometimes called DTC marketing or D2C marketing) is all the ways manufacturers reach those consumers and sell them products, from maintaining a website to marketing products on social media to buying ad space online and other strategies. Those strategies for DTC sellers are what we're going to talk about here.
D2C Marketing Strategies & Tactics To Try
DTC marketing is a constantly evolving field, and there are new strategies and trends emerging all the time. But if you want to boost DTC sales in the new year, these are some of the time-tested, tried and true strategies and tactics you might consider.
Create a Brand Identity
The thing about marketing products in the internet age is that there are tons of channels retailers can use to reach their customers. That's why it's more important than ever for brands to have a strong and consistent identity, and to align their messaging across platforms. That way, when consumers encounter your brand — whether that's on your website, on social media, or on a sign on the subway — they immediately recognize who you are and what you're selling.
"Any business, whether it's a small mom-and-pop shop or a major corporation, needs to have a strong brand identity. A brand is much more than just a logo or tagline; it's the entire experience that a customer has with a product or service. A well-defined brand identity can help a business to stand out from the competition and build loyalty among customers. In today's increasingly competitive marketplace, creating a strong brand identity is more important than ever," says Mike Jackowski, Managing Director at Veautie
Market Based on Data
Data is more powerful than it's ever been. Thanks to technology tools, retailers have the ability to collect and analyze more data about their consumers than ever before, and that creates useful insights for effective product marketing. One of the most effective ways to market using data is to target specific subsets of your audience with offers that are especially relevant to them. Think offers like free trials, sample products, and coupon codes.
Get Social with your Marketing
Social media is one of the most powerful tools retailers can use today, and there are a number of different ways you can use it.
Social media is a great place to gather data you can use to learn about your customers. By analyzing a social following, you can learn about your audience's demographics, likes and interests, behaviors, social media activity, and more.
Brands are also increasingly using social media to become more accessible to their customers, increasing brand loyalty. By using social channels as a customer service touchpoint, you can create a better customer experience, respond quickly to feedback, humanize your brand, and more.
And then there's the option of using social media to sell products directly. Facebook, Instagram, and Pinterest all now allow companies to sell directly from their platforms, and more social channels are likely to follow suit.
It may go without saying, but be sure to maintain your brand identity in all social media interactions. This is how brands like Wendy's and Netflix have created loyal social followings.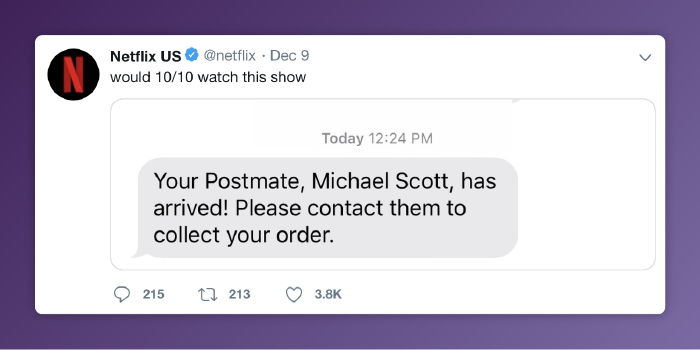 Partner with People Who Can Market For You
No social strategy is complete without some strategic partnerships, which your brand can use in a number of ways. Many brands find success by partnering with influencers, celebrities, or other people who have high follower counts on social media, paying them to post photo or video ads on their profiles. But partnering with normal, everyday customers who love your product can create word-of-mouth campaigns that can be effective without all the high follower counts and pricey sponsored posts.
Go Viral
One of the big advantages that DTC marketing has over traditional retail is its home is online, and it can fully take advantage of the dynamics of the internet to reach as many customers as possible. Creating viral-ready content is one strategy that can maximize the number of eyes that reach your site, but the problem here is that no one can really predict what will go viral.
Creating a clever, sharable ad is one way (like when Dollar Shave Club founder Mike Dubin stood in front of the camera to talk about his "f***ing great" razors). Another way is to take advantage of those partnerships you've formed, especially with influencers who can spread the word to tons of people online.
Personalize Each Shopper's Experience
More and more, online shoppers are demanding consistent, personalized experiences when they shop, and the brands that have the most loyal customers are the ones who understand the relationship between an experience and a transaction.
Find ways to personalize what customers experience when they shop your brand. Some simple ways to achieve this include:
Quizzes that deliver results in the form of personalized product recommendations
Special offers or samples for products that complement the ones your customers have already purchased
AR experiences that let customers test out products before they commit to making a purchase
While surfing your e-commerce website, there are chances your customers are on the fence about your product. You can solve their problem by adding a direct call widget at the bottom of your website, where they can simply call you to ask queries just by clicking on the "Call Now" button
And keep in mind that customers want that personalized experience to be omnichannel, meaning they want an experience that stays custom to them and their journey across different channels and devices.
Reach Customers the Old Fashioned Way: Email
Even in the age of social media, email is still a powerful way for marketers to reach customers. Utilize any existing customer emails you have by sending out periodic offers that entice people to make repeat purchases. It's also fairly simple to set up personalized, automated transactional emails: welcome, order confirmation, thank you, shipping updates, and more.
Wayfair is one DTC company that's utilizing email marketing in a great way: After a customer makes a purchase, Wayfair follows up with an email showing complementary products in similar materials and finishes that would go with the product they purchased. For example, someone who buys a white painted wooden end table might then get an email with other common pieces of bedroom furniture that come in white painted wood finishes to match the end table. Since most people want furniture pieces that match, this is a great way to send personalized marketing emails that appeal to what Wayfair's customers are likely looking for.
Take Your Marketing Offline
While many DTC companies have risen to prominence because of the rise of ecommerce, there's still something to be said for traditional, offline marketing. That's right — you can take your marketing IRL.
Things like signs and billboards still work, though they might be out of the price range of many bootstrapping ecommerce startups. Still, there are ways to take marketing offline that reach tons of your target customer base without coming with huge costs. For example, brands can use QR code generators to create branded omnichannel marketing campaigns to engage better with customers.
Take a look at some examples of innovative marketing below.
How Major DTC Brands Are Slaying the Marketing Game
Want to see these strategies in action? Here are some DTC brands that are killing it with their marketing.
Casper: The $100 Million Mattress Disrupter
Casper, the bed-in-a-box startup that launched in 2014, had an uphill battle disrupting the crowded mattress industry. But in just two years, Casper pulled off more than $100 million in sales. How? By addressing customer pain points and then marketing the heck out of its solutions.
Casper wanted to address a few major problems: Mattresses are expensive, and to buy one, you have to go to a giant mattress store with an overwhelming number of options. Their answer was to sell just one model of mattress, at a low price, delivered straight to customers' homes.
Here's the problem, though: Many people were reluctant to buy a mattress they couldn't test out first. That makes sense—different people have different preferences about what they sleep on. It took some big marketing wins for Casper to succeed. Here's how the brand did it.
First, Casper focused its main marketing efforts in just two places: Los Angeles and New York City. These are the two largest cities in the United States, so to appeal to those populations, Casper created a brand that painted the company as trendy and urban, and posted IRL advertising all over subway stations. So far, so good.
But where Casper really succeeded in DTC marketing was with its use of social media influencers. The brand paid people from micro-influencers to Kylie Jenner to post ads on their social accounts. After Jenner posted a video unboxing her new Casper mattress, the brand saw sales double virtually overnight.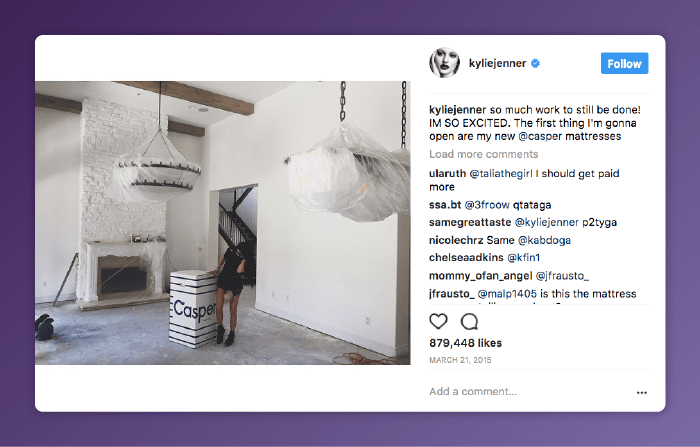 Barkbox: The Subscription Service with a Viral Word-of-Mouth Strategy
Another DTC company that saw great success by partnering with users is Barkbox, a subscription box service for dogs and their humans that launched in 2011. Founder Matt Meeker thought there was an opportunity to cash in on the $86 billion pet industry by appealing to the trend that millennials treat their pets like their children. Barkbox offers just one product: A monthly subscription to a box of curated treats, toys, and other products for pampered pups. The startup has now shipped more than 10 million boxes.
But getting there required taking advantage of a DTC marketing trend that, while common today, was a relatively new tactic when Barkbox was attempting to rapidly scale. Barkbox used the power of viral social media content, but without having to pay big bucks to influencer to do so.
Instead, the company relied on word-of-mouth to help it grow. Early on, Meeker noticed Barkbox's early adopters loved to post "unboxing" videos showing them opening their monthly boxes with their pets. The videos became powerful tools that showed the quality of the products that come in Barkboxes, as well as the fun of sharing a monthly crate of toys and treats with your best dog friend. That was (and still is) a major driver for Barkbox's growth.
Bombas: A Mission Driven Sock Seller with a Bold Offline Strategy
When Bombas wanted to create a better sock, they definitely had some challenges to overcome. Are consumers really concerned enough about footwear to be swayed away from the cheap, multipack socks that dominate the market? Are they willing to pay premium prices per pair for a better product?
The answer is yes. Bombas engineered a sock that's packed with features — from a honeycomb grid support system in the arch to a reinforced blister pad built into the heel — that convinced shoppers their socks were better. But it was the Bombas brand that helped it sell at its chosen price point that nears $20 per pair.
Bombas created a strong identity as a mission-driven company that appeals to socially conscious shoppers. From its beginnings, it has marketed its buy-one-give-one model that provides a pair of socks for a person in need for every pair that's purchased. That helps buyers justify the premium price.
In addition to its branding strategy, Bombas embraced some helpful offline marketing in its early days. In 2017, the company appeared on the NBC reality series Shark Tank, something that's proven for years to come with a big boost in sales for companies, whether they strike a deal with the Sharks or not.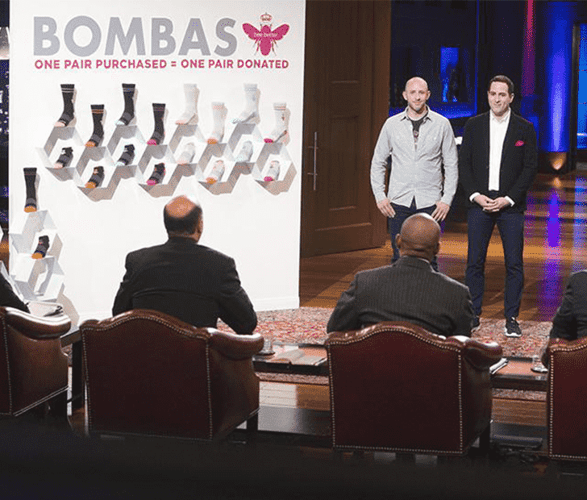 DTC Marketing: Boost Sales in 2020
With every new year comes new strategies, tactics, and tools to boost your DTC marketing and sales. Ecommerce is constantly changing. Learn about the tools you need to stay on top of all those changes with our Transforming Ecommerce ebook.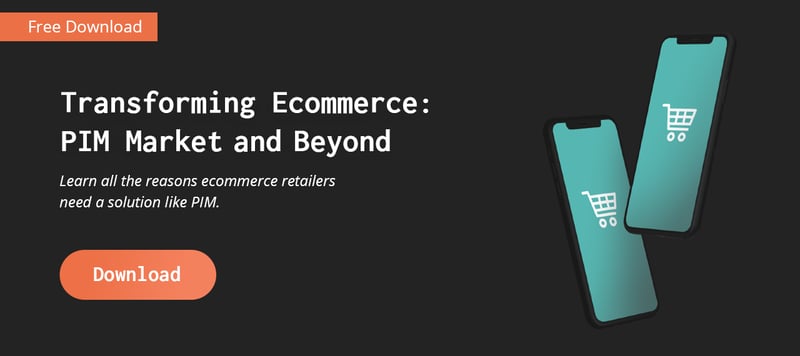 Retail Industry & Trends