When Facebook announced the launch of its new Facebook Shops feature in mid-May, ecommerce retailers were excited. And for good reason — Facebook's new tool promised to change the way online brands use social media to connect with their customers.
Now, after its first few months post-launch, has Facebook Shops delivered on that promise? Is it as great a tool as retailers were promised?
The short answer is yes, Facebook Shops is awesome. It delivers all kinds of new tools that make it simple for ecommerce retailers of any size to customize and improve their customer experience and reach a wider base of customers with their products.
But (and you knew there was a "but" coming, right?), retailers shouldn't put all their eggs in the Facebook Shops basket. It's nothing against Facebook Shops — one great tool is just no replacement for a good omnichannel strategy. Want to see what we mean? Read on.
What's So Great About Facebook Shops, Anyway?
"Facebook Shops is a mobile-first shopping experience where businesses can easily create an online store on Facebook and Instagram for free. Shops let you choose which of your items you want to feature, merchandise with product collections and tell your brand story with customizable fonts and colors," read the announcement when Facebook Shops launched in May.
Considering all the different channels, devices, and digital touchpoints consumers use today, Facebook Shops offers a simple way for retailers to connect with their customer bases in mobile-friendly ways. Plus, it gives retailers direct paths to interacting with and offering support to their customers via social media.

Source: https://www.facebook.com/business/shops
"In Facebook Shops, you'll be able to connect with customers through WhatsApp, Messenger or Instagram Direct to answer questions, offer support and more," the announcement said. The tool definitely offers that.
There are even more benefits: The platform is free, it's easy to use and set up, and it integrates seamlessly with Facebook ads, making paid social marketing as simple as a few clicks from your store.
And while Facebook Shops was already a slick and useful tool at the time of its launch, Mark Zuckerburg's camp promised to expand its features in the future, creating more powerful ways for brands to use not only Facebook, but Instagram, which Facebook also owns. The company teased coming-soon features like live shopping and loyalty programs, as well as Instagram Shops, a similar tool for the photo-sharing platform.
Overall, Facebook Shops definitely lived up to the hype that surrounded its launch. The tool makes it easier for consumers to seamlessly shop via social platforms like Facebook and Instagram, but it also makes it much easier for retailers to customize their shoppers' experiences when interacting with them via social media — as well as creating a more seamless way to sell to customers directly via social media apps.
Downsides of Facebook Shops
As it exists now, are there any downsides to using Facebook Shops?
It's a useful and important channel for retailers to take advantage of, for sure. But it's also not perfect, and does have its drawbacks.
For one, Facebook Shops aren't as customizable as some other channels. Yes, Facebook does give retailers the ability to customize fonts and colors to make their Shops better match their branding. But that branding still has to live within Facebook's own branding, which means that there are elements of all Facebook Shops that look the same. It's not the easiest platform for retailers to stand out on.
There are also some constraints simply because of the features that are currently available. Retailers can't add their own additional features, like referral programs or promo codes. For now, we just have to wait and see if Facebook will make those kinds of features available in the future to provide more flexibility for retailers who use the platform.
Another one of the biggest downsides to Facebook Shops is how hard it is to do any kind of SEO within Facebook's platform. This isn't a channel where your products or store page will be likely to get a lot of (or any, really) organic traffic from Google searches, which is an area of traffic that retailers should put quite a bit of focus on capturing.
The Verdict? Facebook Shops Is Great, but Retailers Need More Than One Great Tool
Overall, though, the benefits of Facebook Shops seem to outweigh the drawbacks. It's definitely a useful tool for retailers, and a relatively simple, seamless new channel retailers can expand into to improve their omnichannel marketing and sales.
But that's the thing — Facebook Shops shouldn't be used as a standalone tool for retailers. In order to get the most benefit, it needs to be a part of a larger omnichannel strategy.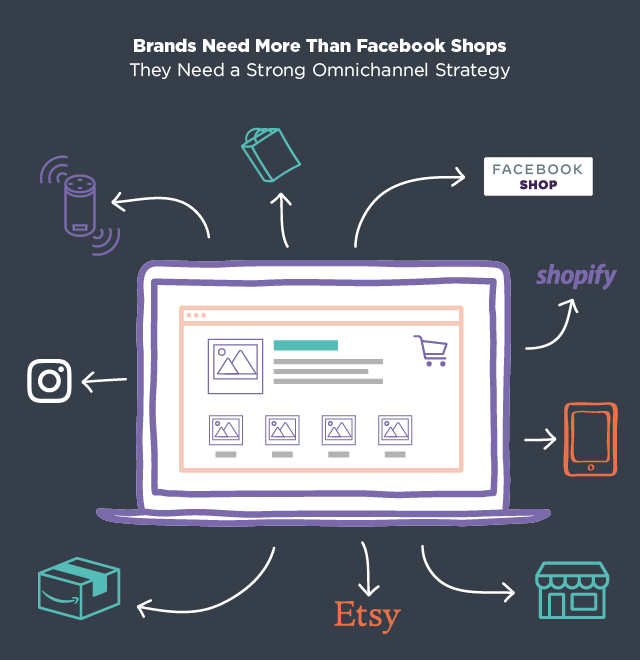 In the digital age, retailers are faced with a unique challenge: There are more channels, devices, and digital touchpoints than at any other time in history. Reaching as many customers as possible means expanding into as many channels as they can.
In other words: Facebook Shops is a great tool, as long as it's not the only one you're using. Today's online retailers also need websites and apps, active social media channels, online storefronts in marketplaces like Amazon, Ebay, and Etsy, and so much more. New digital channels — like Facebook Shops — are arising every day, adding to the challenge as retailers race to expand their digital footprints. And so, to truly succeed in our omnichannel world, Facebook Shops isn't the game-changing tool you need — there's another one that's even more important in the digital age.
The Game-Changing Tool Retailers Actually Need: PIM
Product information management (PIM) software is the actual most important tool an ecommerce retailer can have in their arsenal right now.
PIM isn't new. Retailers have been using this kind of software to help them organize and access their product data for years. But as omnichannel strategy becomes more important with all the many new marketing and sales channels that are emerging all the time, PIM's role is becoming more crucial.
That's because, in addition to organizing product information, PIM software makes it easy to optimize product info for different channels, and then distribute product information that you know is rich, high-quality, and always up-to-date. Another bonus? PIM software allows you to distribute that product information to new channels virtually as soon as they emerge, ensuring you always stay on the cutting edge of omnichannel strategy — and beat your competition to new markets, tools, and channels.
If there's one tool that every ecommerce retailer needs to make sure they're using this year, it's not Facebook Shops — it's PIM.
Ready to Go Omnichannel?
The most successful ecommerce retailers have moved way beyond their websites.
Ready to see how a solid omnichannel strategy has helped drive their success? Want to learn from top brands so you can go omnichannel with your own store?
Download our free Going Omnichannel ebook today to learn how to maximize your brand's exposure, reach, and bottom line.