Trends come and go, and that's especially true for the furniture industry—and industry changed more than most by the rise of ecommerce. The way people buy furniture today is different than how they did even just a year ago, and for furniture retailers and manufacturers to stay competitive in this fast-changing industry, they have to know and embrace the latest trends.
As technological advancements happen faster and faster, marketing for all industries is evolving just as rapidly. For furniture retailers who want to capture new customer demographics, give their customers the best possible experience, add value, and grow their bottom line, these are the furniture industry trends that are worth tackling this year.
Ecommerce Is Here to Stay
While the ecommerce industry is full of trends that come and go, one thing is for sure this year: Ecommerce itself is not going anywhere.
Ecommerce revenue has been steadily growing worldwide as consumers use more and more devices and channels to shop online. Ecommerce sales now account for 10.7 percent of all retail sales in the U.S., and 16.4 percent of all retail sales globally. Annual revenue from global ecommerce sales is expected to surpass $6.5 trillion by 2023.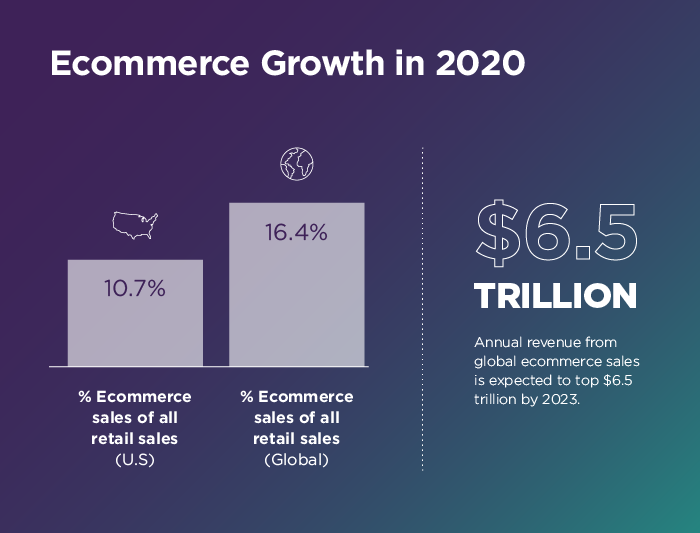 Furniture retailers have traditionally been bound to brick-and-mortar showrooms where shoppers could see and test out expensive furniture pieces before making purchases. But that's changing, in large part because of these big furniture industry trends.
Top Furniture Industry Trends
These are the trends that we predict will drive marketing and sales in the furniture industry. Furniture retailers and manufacturers who lean into these trends are likely to add value and grow their business in the new year.
Shoppers Will Still Buy In Furniture Stores, But Digital Sales Will Grow
When it comes to larger furniture pieces (like sofas and beds) that are expensive and treated like investments, consumers still prefer to make their purchases in stores, where they can have the tactile experience of seeing and feeling a piece before pulling the trigger.
But more and more consumers are starting that buying process online, researching different options and prices before heading to a brick-and-mortar store to check out their top pick. And while, currently, only 14 percent of those shoppers say they actually make the final purchase online, that number is growing. We live in a time where retailers should be preparing for sales to move away from the showroom and onto the internet, more and more each year.
What it means for retailers: Your products need to be online, and you need to have all kinds of relevant, accurate information available about each product to capture those shoppers who are doing their research on the 'net.
Prices, shipping information, materials, manufacturing details, colors, dimensions, and returns—these are just some of the product information points you'll need to have available online for every product you sell. And how do you keep all that product information centralized, up-to-date, and ready to push to all marketing and sales channels you use? Furniture retailers need product information management (PIM) software.
See why so many ecommerce retailers are investing in PIM this year with our free ebook.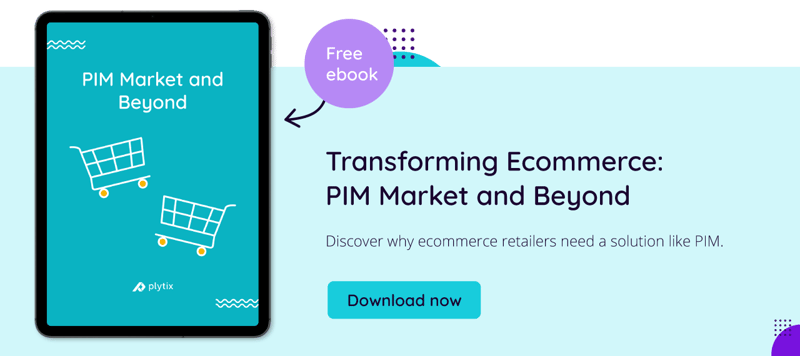 Consumers Will Expect Free, Fast Shipping
Free shipping is no longer a perk retailers can throw in to sweeten a deal. 43 percent of shoppers absolutely expect free shipping to be a part of every purchase they make, and the same number expect their purchases to arrive within three days.
Ecommerce furniture retailers like Wayfair and Allmodern are already leading the way on this trend, offering the fast, free shipping that's now become the norm.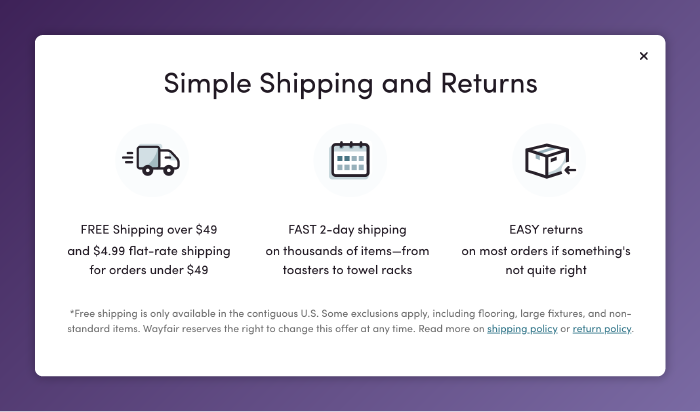 What it means for retailers: furniture sellers who don't ship free of charge will have to offer other perks (like discounts or free items) to convince shoppers to pay up for something they increasingly think should be included.
Stores Should Accommodate Click-and-Collect Shoppers
While many shoppers expect to be able to have purchases delivered to their homes, the rise in package theft means that there are also many who want their purchases delivered to a nearby pickup point. For furniture retailers, that means being able to accommodate click-and-collect orders by receiving and distributing deliveries for online shoppers at brick-and-mortar stores.
What it means for retailers: The role of furniture showrooms is shifting in the ecommerce age. Yes, they're still places where shoppers can go to see and test out furniture, but they also need to act as service centers and distribution centers for online shoppers. We only see this trend increasing.
Younger Shoppers Will Want Cash and Carry Furniture
Older shoppers may remember going to a furniture store, picking out a couch, choosing their upholstery, and then waiting weeks for the final piece to be assembled and ready for pickup. Millennials, who are now the largest furniture buying demographic, simply don't shop that way.
Younger shoppers, who have grown up in an ecommerce-driven world, are used to instant gratification when they make purchases. That's why more and more shoppers favor a cash-and-carry model for furniture stores, even if that limits the choices they have.
What it means for retailers: Younger shoppers favor furniture retailers that offer pre-assembled pieces in a small number of upholstery options so shoppers can make their purchase and leave with their items on the same day.
Customers Will Expect More Personalized Experiences
Half of shoppers expect brands to anticipate their needs and offer relevant suggestions for products and content—before they make contact with those brands. Personalization is going deeper and deeper with each passing year, and we expect this year to be no different.
What it means for retailers: Businesses need to be collecting as much data as possible about their customers—online searches, demographics, location, purchase history, social media behavior, items that are currently in or were previously added to their shopping cart, and more. And retailers need PIM software to keep product information organized and properly labeled so that personalization tools can easily find the right products to recommend across different channels and demographics.
Online and In-Store Experiences Are Blending
One of the biggest trends for the upcoming year in the ecommerce industry as a whole is the blending of online and IRL shopping experiences. Here's what that means: Businesses are using technologies like facial recognition and device tracking to match shoppers' in-store behavior to their online habits and data. It may sound a little scary, but it's allowing retailers to get closer and closer to a truly omnichannel shopping experience.
What it means for retailers: The average furniture seller won't be able to make the investment in the kind of technology it takes to follow this trend. But what all retailers should be doing is providing their customers with an omnichannel shopping experience, providing a seamless and personalized experience on whatever devices and channels their customers use to interact with them.
This is another trend that requires PIM software, which will keep up-to-date product information in one central source of truth, and instantly push accurate product data to as many channels as you want to use to market and sell furniture.
Sales Staff Will Need to be Tech Savvy
Remember asking a seller on the floor about a product and having them say they needed to head to "the back" to check? Those days are gone. In the technology age, many stores have their sales staff on the floor armed with tablets that allow them to pull up relevant product information to answer customers' questions instantly, from anywhere in the store—no running to "the back" needed.
What it means for retailers: Your in-store staff need to be tech savvy, and they need to have the right tools to be able to deliver accurate, up-to-date product information to customers to answer their questions. This is another instance where furniture sellers need PIM software, because PIM acts as the single source of truth for centralized product data. That way, all staff can be accessing that data in a place where it's centralized for the entire business, and everyone knows they're getting the most current, accurate product data to pass on to customers.
Shopping Will Get More and More Social
Social shopping is nothing new, but as shopping experiences become more personalized, streamlined, and omnichannel, we expect even more shopping to be done via social media.
Facebook and Instagram have become ecommerce platforms where shoppers can make purchases directly from their timelines and feeds. We expect more shoppers to become comfortable with this trend, and more purchases to come out of these untraditional new channels.
What it means for retailers: Businesses will need to use their PIM software to push accurate product information to new channels, as they set themselves up to be able to receive and fulfill orders placed from within social media apps. Furniture retailers in particular can help drive social media sales through influencer marketing, something furniture ecommerce companies have been increasingly utilizing for huge sales boosts.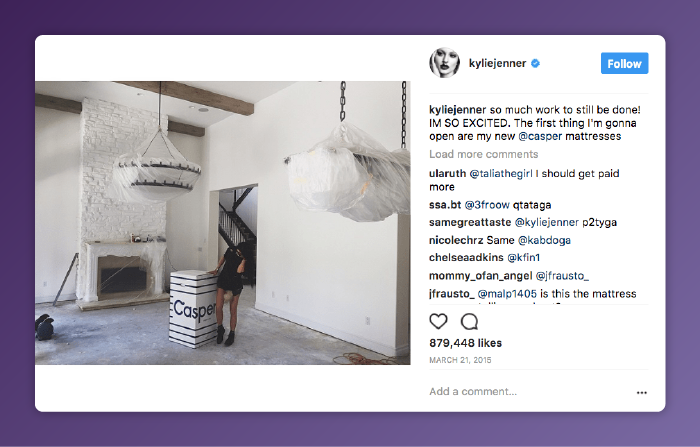 Augmented Reality Will Become a Common Marketing Tool
Augmented reality (AR) uses cameras, sensors, and other technology to overlay items in the real world, usually via camera view on a smartphone or tablet. One furniture retailer you may have heard of is already using AR to help market its products.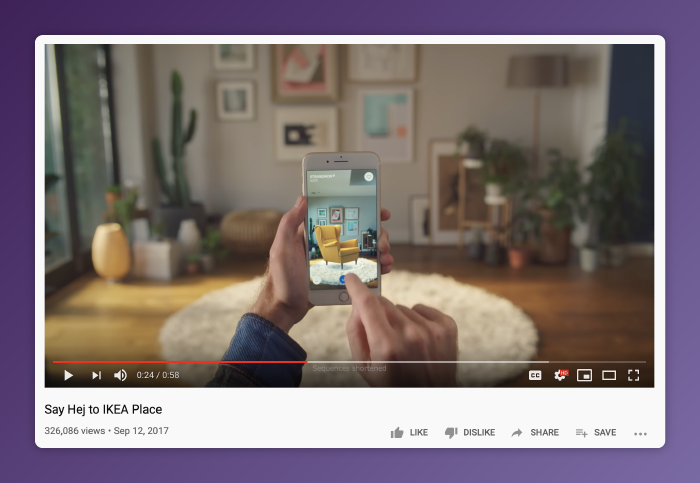 AR is a powerful tool for furniture retailers, because it lets shoppers visualize how large pieces of furniture will look in their homes before they make that big purchase. We expect more furniture retailers to utilize AR to sell more products.
What it means for retailers: Trying to use AR for marketing without PIM software just won't work. The data that's housed within a PIM is necessary for creating accurate AR experiences. Retailers who want to jump on the AR marketing trend will definitely need a good PIM solution first.
Furniture Industry Trends Are Driven By PIM
Many of the biggest trends this year in the furniture industry require PIM. If you're a furniture retailer or manufacturer who doesn't yet have a PIM solution in place, that's the first trend you should be following.