As a manufacturer, you've got your own unique set of challenges when it comes to ecommerce—not the least of which is maintaining the accuracy and quality of your product information across the dozen or more platforms that distribute your product.
You want to be able to provide consistent branding. You want to be able to analyze your product performance. You want to be able to optimize your sales from your retail partners. And it wouldn't hurt to be able to do all of that on the world's most popular search engine–Google.
That's not so much to ask, right?
Google agrees. That's why in 2015 they launched Google Manufacturer Center to empower manufacturers to leverage Google as another sales and marketing channel. In this guide, we'll help anyone who's just getting started with Google Manufacturer Center understand what sets it apart from other Google products, what it offers for everyone from manufacturer to shoppers, how it works, and how Plytix can help you realize its value in record time.
What is Google Manufacturer Center?
Google Manufacturer Center is a "free tool that lets brand manufacturers accurately represent products to shoppers on Google.com and other Google services."
In other words, Google Manufacturer Center is an attempt to help manufacturers take control of the way their products are displayed. This helps them get better insights into product information performance, creates a more engaging shopping experience for consumers, and gives resellers a more accurate data set from which to pull info for product descriptions.
While Google Manufacturer Center can't function as your final single source of truth—you'll need a great in-house PIM system for that—it's a big step toward helping you improve your performance across all of Google, which is probably the largest and most exciting ecommerce network available today.
What Google Manufacturer Center can help you do is elevate your brand and improve the shopper's experience by providing unique and up-to-date product information. In addition, accurate and complete product data boosts your chances of showing up in more Google Shopping ads when a shopper is looking for a product you offer. In fact, brands who manage their product information with Google Manufacturer Center average around 8 percent more impressions and 10 percent more clicks.

Don't risk displaying inaccurate, incomplete, or outdated information. With Google Manufacturer Center, you have the power to control how your products are displayed all across Google.
Here's how to take charge.
Are Google Manufacturer Center and Google Merchant Center the Same Thing?
With such similar naming, we can't blame you for thinking the two might offer the same service! However, Google Merchant Center is an advertising tool that helps retailers upload their own accurate store, brand and product data from which Google Shopping and other Google services can pull to create advertising.
On the other hand, Google Manufacturer Center allows manufacturers to provide information for resellers to use in actual listings to boost more natural search results, drive conversions, and improve the customer experience.
While they aren't the same service, there is likely to be some overlap in the data that each uses and we strongly encourage you to interact with both as much as you can.
How Does Google Manufacturer Center Work?
Right now, Google Manufacturer Center is available to manufacturer and brand owner/licensees who sell products with GTINs, UPCs, orISBNs in at least one of the following areas: Argentina, Australia, Austria, Belgium, Brazil, Canada, Chile, Colombia, France, Germany, India, Ireland, Japan, Malaysia, Mexico, Netherlands, New Zealand, Philippines, Portugal, Singapore, South Africa, Spain, United Kingdom, and the United States.
If you check all of those boxes, you're eligible to sign up for the current version of Google Manufacturer Center.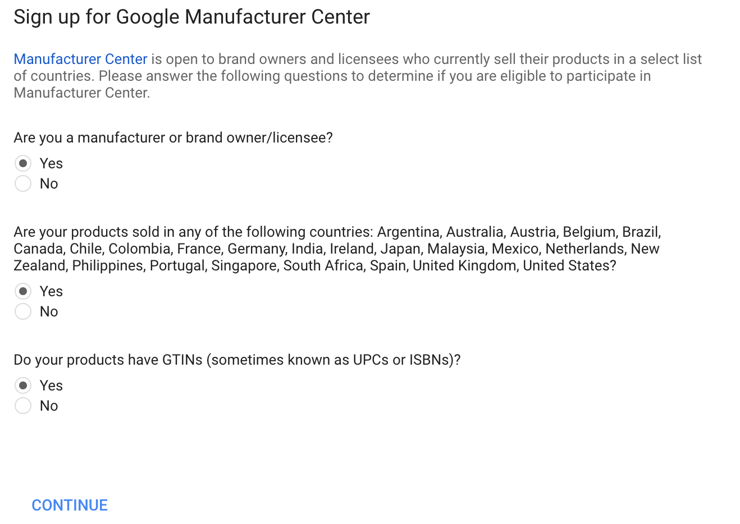 Once you create your account, you'll want to list and manage your brand information. After that, it's time to get to the fun stuff—uploading product information!
While there are only six standard attributes that are required for each product (ID, brand, title, GTIN, description, and image link), the more information you provide, the better. Accurate information doesn't just empower resellers to create more effective listings, it could also make your products more likely to pop up in relevant searches. For all the details on maximizing your products feed, be sure to check out Google's helpful quickstart setup guide.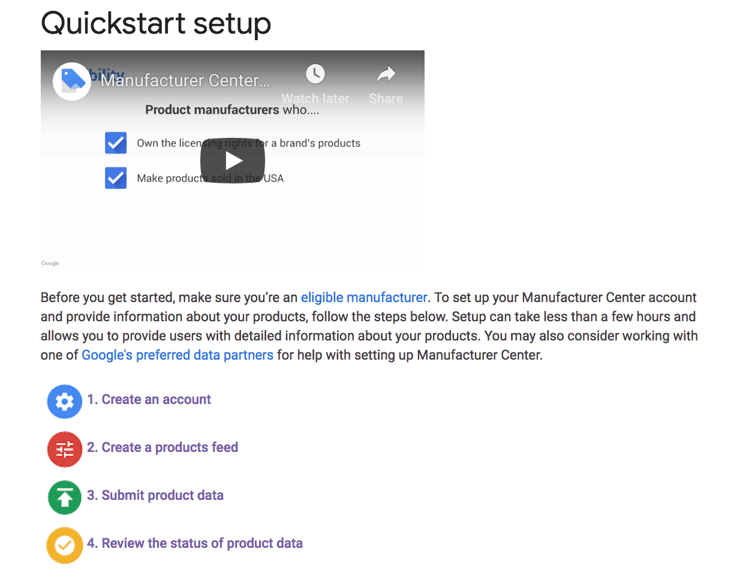 Once your product information is complete, Google Manufacturer Center channels it to official distributors who will use it in their Google Shopping campaigns. The more awesome your pictures, product descriptions, and keywords are; the more product you and your retail partners will be able to sell!
In addition to improving the shopping experience for customers and the conversion rate for yourself and your retail partners, Google Manufacturer Center gives manufacturers the power to develop deeper insights than ever before with product analytics.
According to Google's documentation, manufacturers can view product impressions, clicks, and click-throughs as well as how these results compare to other products in similar categories.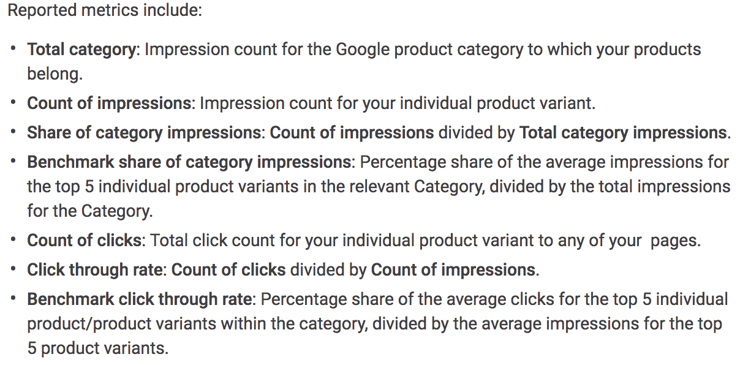 With analytics, you can finally understand how shoppers are reacting to your product data on Google. In addition, you'll be able to monitor the impact of your optimizations and develop new product description strategies that move the needle.
If it's true that you can only improve what you can measure, Google Manufacturer Center will put you well on your way to creating better product descriptions than ever before.
What Google Manufacturer Center Looks Like to Shoppers
Let's say a shopper wants to buy running shoes for a marathon. Unless they're already set on purchasing a specific shoe, they probably won't start by using Google to search for a brand or shoe name. Instead, it's likely they'll type in something like "running shoe for marathon" or "running shoe gel cushion marathon."
That search is going to return a mix of paid and organic results. Google shows ads in several places on the search results page; including across the top, down the right side, and even mixed in with the top few organic text results.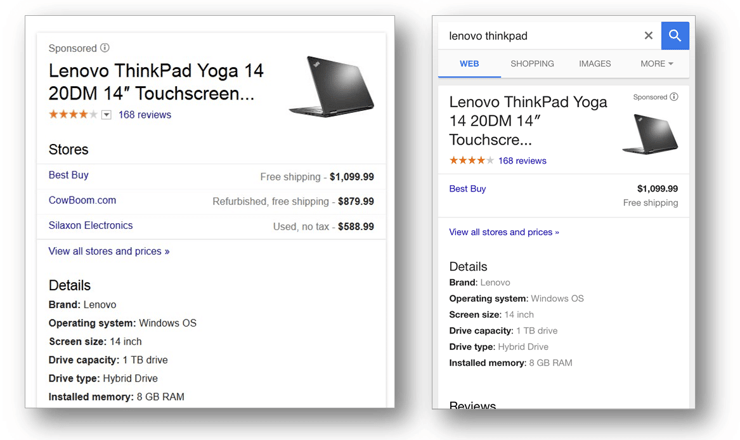 For desktop (left) and mobile (right) ads, Google pulls product details from Google Manufacturer Center and retailer and pricing info from Google Merchant Center.
For this example, let's assume you just happen to manufacture running shoes, some of which are great for marathons and even offer gel cushioning. If you've used Google Manufacturer Center to optimize your product data, Google will be able to create an ad for your product that features a bunch of awesome pictures, reviews, pricing, and online retailers where they can complete their purchase in just a few clicks.
See the difference yourself by comparing these search results from a manufacturer who didn't upload product data to Google manufacturer Center…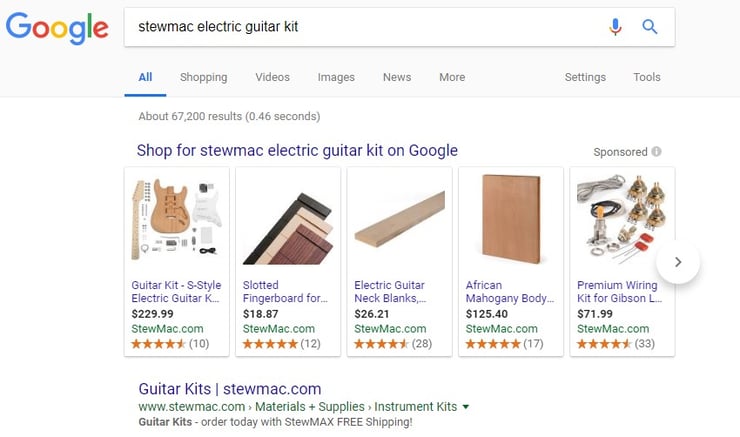 …versus one who did add their product data to Google Manufacturer Center: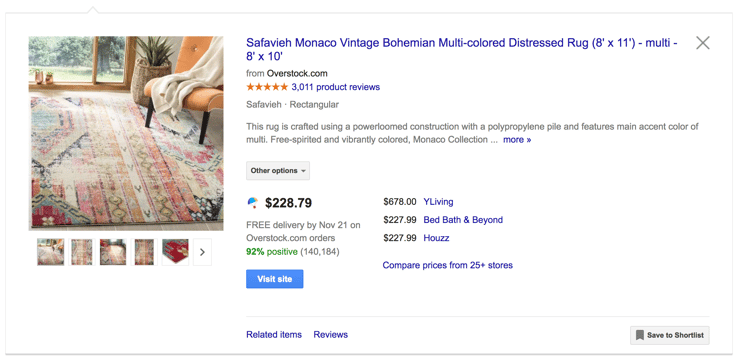 Google Manufacturer Center Success Story: More Impressions and Clicks
"We can't say enough about how being part of Google Manufacturer Center is helping to drive more traffic to our website, our retail partners' websites, and ultimately greater sales for our products." - Arash Yaraghi, Safavieh CEO
Before they started using Google Manufacturer Center, the international home furnishing manufacturer Safavieh relied on retail partners to submit product information to Google. Not surprisingly, this resulted in Google Shopping search results displaying out-of-date imagery, product details, and videos.
But since making the switch to Google Manufacturer Center, Safavieh is able to rise to the top of search results with high-resolution zoomable images, YouTube videos, and detailed descriptions.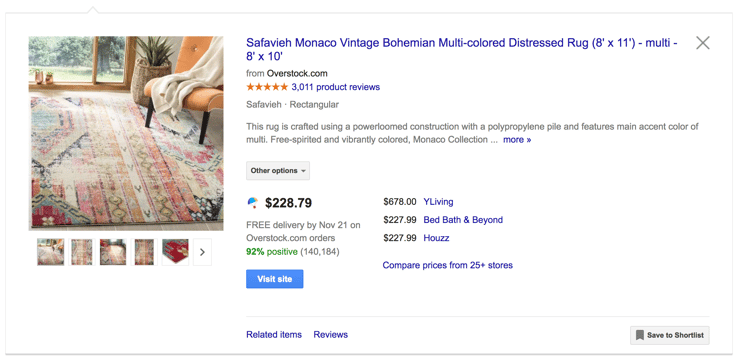 Since uploading enhanced content and videos to improve their Google Shopping ads, Safavieh is boosting sales and driving more traffic to their own website and to reseller websites. Product discoverability on Google has improved and impressions are up a whopping 46 percent! In addition, clicks are up 35 percent and users are spending more time than ever shopping their retailers' sites.
Partner with Plytix to Maximize Your Google Manufacturer Center Experience
However awesome Google Manufacturer Center is for retailers, consumers, and manufacturers, the reality is that maintaining the data required to make the most if it is both time consuming and complex. So unless you're prepared to hire several new ecommerce managers or marketing people every time you want to grow your number of SKUs, your best bet is to adopt product information management (PIM) software.
Better yet, you can adopt a PIM that Google named a premium, certified data partner. You can adopt Plytix.
Plytix is an all-in-one PIM platform that allows you to centralize, optimize, distribute, and analyze your product data. And because we made it for marketers instead of IT folks, all the complex technology is hidden by an interface that's logical and simple for end users. Even our pricing is transparent and simple.
The fact is, it's a crowded market space. Retailers are getting busier than ever as consumers demand better service. In fact, 40 percent of online shoppers have returned purchases due to poor product details. Two-thirds of them reported that they've abandoned a cart because of missing information. And, for the real kicker, almost 90 percent of online shoppers say they're unlikely to buy again from a retailer who provided them with inaccurate product details.
It will be the online seller who is able to provide the most comprehensive, relevant, and consistent information who makes sales and earns repeat business. It will be the seller who adopts a PIM like Plytix who wins.
You've got an awesome team who wants to get shit done, but that's hard to do when you're trying to juggle everything using manual or out-of-date systems. Instead, try a PIM like Plytix to get your brand off the ground and start seeing real value from Google Manufacturer Center.
Book a meeting with our customer success expert Tim or sign up for one of Plytix's affordable subscriptions to find out how.
Google Shopping