Buy now, pay later keeps stealing the spotlight from other payment solutions.
But why?
Well, it's incredibly appealing. The BNPL payment approach provides shoppers with a charming and flexible alternative to credit cards as it is applied to individual transactions—even for low ticket items. This means that online shoppers do not have to commit to a long-term payment plan but rather a short-term one.
BNPL has become so popular that the industry is projected to collect about $680 billion in transaction volume worldwide by 2025. These percentages are huge and are an indication that this payment method is set to be a favorite choice for shoppers worldwide. Before we get into why it is gaining explosive popularity in a minute, first let's talk about where it comes from and what exactly it entails.
What is BNPL, and why is it so appealing?
Buy now, pay later is a type of point of sale (POS) loan solution that allows customers to pay for items on four equal interest-free installments, usually spread out over six weeks. For example, if a customer buys items that cost a total of $500, they get to pay $125 at checkout, receive the products immediately and pay off the rest in interest-free installments every two weeks for six weeks.
While the interest-free feature seems to be the common appeal amongst shoppers, the eMarketer report mentioned above has highlighted more reasons why United States shoppers prefer this payment method.
It specifies that 24.7% of shoppers choose this method of payment because they're looking to borrow money without a credit check (but it's worth mentioning that BNPL firms do perform a soft credit check).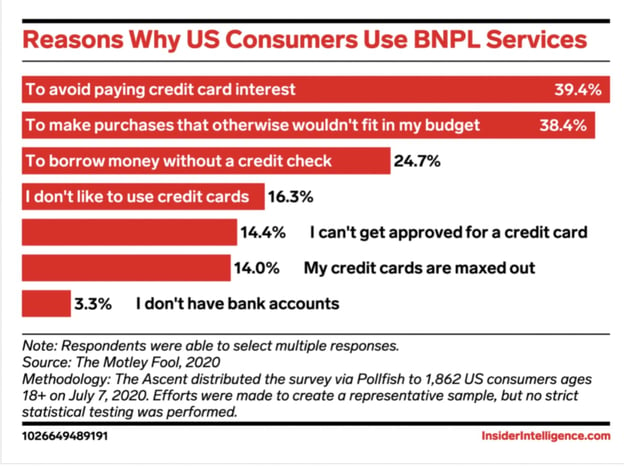 Who uses BNPL?
Contrary to the belief that it's only millennials who make use of this payment method, research shows that 42.2% of US shoppers between the ages 45-54 and 20.6% of US shoppers aged 54+ shop via BNPL. In addition to that, it's an appealing payment method for every type of consumer, across all credit score spectrums.
According to Mckinsey, the adoption of POS financing isn't limited only to customers with relatively low credit scores. "Adoption across higher-credit customers is increasing as the credit mix is influenced by more premium merchants starting to offer financing at checkout."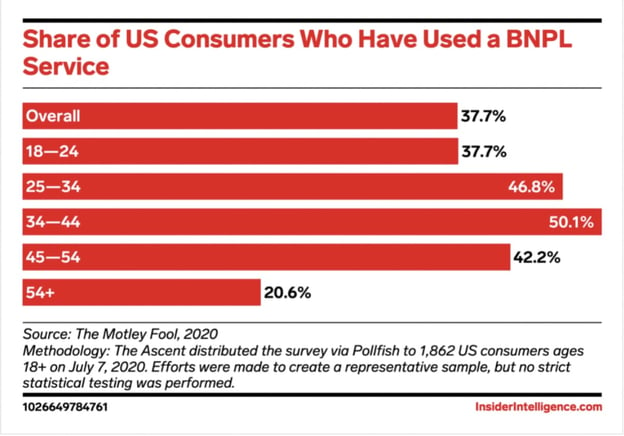 Let's be honest though; making payments in installments is nothing new. Going back into the 1800s, customers enjoyed purchasing products on credit and paying in weekly or monthly installments. Then credit cards came into existence and the majority of people chose them over the installment methods.
Today, the world is going crazy over BNPL, and although it has always been around for some years now, the pandemic drove this trend straight to the forefront. Bloomberg Intelligence reported that the global sales using BNPL were $93 billion in 2020. A survey from July 2020 found that nearly 56% of American shoppers have used a BNPL service when compared to the 38% in 2019. Another Ascent study found that 53% of respondents who have never used BNPL say they're at least somewhat likely to use it within the next year.
What do they use BNPL for?
In the eMarketer graph above, we see that 38.4% of customers use BNPL services to purchase items that do not fit their budget. So, what are these? The Ascent study reveals that Americans use it for:
Electronics
Furniture
Home appliances
Clothing and fashion items
Household essentials
Groceries
Books, movies, music, games, and other entertainment items
This tells us that it's not only used for luxury items but essentials that customers need but don't necessarily have immediate funds for.
So what's the catch?
On the surface, there isn't any catch with this method. However, should customers have multiple late payments or default on payments, they can be reported to credit bureaus. This can result in their credit scores taking a knock.
According to this, a total of 10.50% of American customers who use BNPL service don't quite understand the terms and conditions. In addition to that, 36.38% of BNPL customers think there's a chance they'll make a late payment within the next year. This rings alarm bells as it makes it clear that customers do not fully understand what they're getting themselves into.
In fact, a report by the United Kingdom's Financial Conduct Authority (FCA) suggests that while BNPL provides a meaningful alternative to payday loans and other forms of credit, it "also represents a significant potential consumer harm." The FCA calls for this sector to be regulated to protect customers.
Who are the key players in the BNPL market?
The leading companies that are responsible for the boom include:
Affirm
Afterpay
Klarna
PayPal's 'Pay in 4'
Sezzle
Zip
eMarketer suggests that companies like Mastercard, Shopify, Stripe are playing a huge role in facilitating BNPL solutions in a bid to become part of the ecosystem and get a slice in the action. On the other hand, traditional retailers like Macy's, Target, and Walmart are all driving their own BNPL offerings, "with the hopes of seeing fewer abandoned shopping carts and bigger baskets."
Companies are embracing BNPL
Many retailers, big or small, are embracing BNPL to better serve their customers. And, of course, to encourage higher conversions and reduce cart abandonment.
Retail brands are partnering up with BNPL providers. One example is the luxury fashion retailer, Dior, which partnered with Zip to offer a BNPL payment option.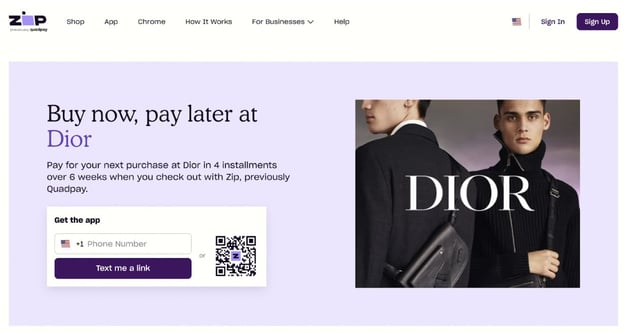 Does any of this mean YOU should consider partnering with a BNPL service provider? It's all up to you. The service is there, customers are using it, and as the numbers show, the demand will likely increase as time passes. You can do the legwork and find out if it makes sense for your business to take this solution on.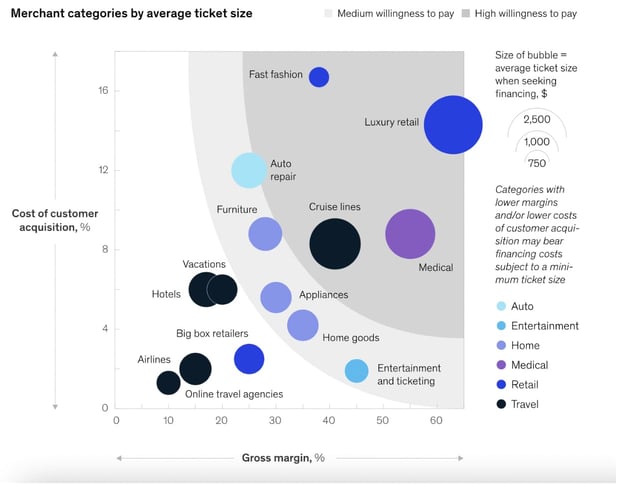 New innovations and new shopping alternatives
The journey to winning at multichannel commerce is not an easy one but there are always new innovative ways to help you cater to customers in a way that's beneficial for all. BNPL is definitely an avenue to consider. If you've built your ecommerce tech stack to feature a modern payment processing software that allows digital payments, it won't be too hard to integrate a BNPL service.
If you use a product information management tool like Plytix, the integration can almost be like a walk in the park. Not to mention that with PIM, retail channel management can be super-efficient. Along with BNPL, you can use Plytix's Brand Portals module to create product catalogs that feature all items you want to highlight and know your customers want to buy but cannot necessarily fit into their budgets right now. Let them know that they can buy now and pay later.
Download our Ultimate PIM Buyer's Guide whitepaper to learn more about what a PIM can do to transform your business. Or contact us today!
Retail Industry & Trends