Picture this: You're shopping for a new mattress.
A mattress is a pretty major purchase for most people. They tend to be pretty pricey (generally into the four-figure range), and considering you'll be sleeping on it for years to come, it's worth it to make an investment in one you really love.
But there are so many options out there. Just look at this search for mattresses on the popular ecommerce furniture site Wayfair.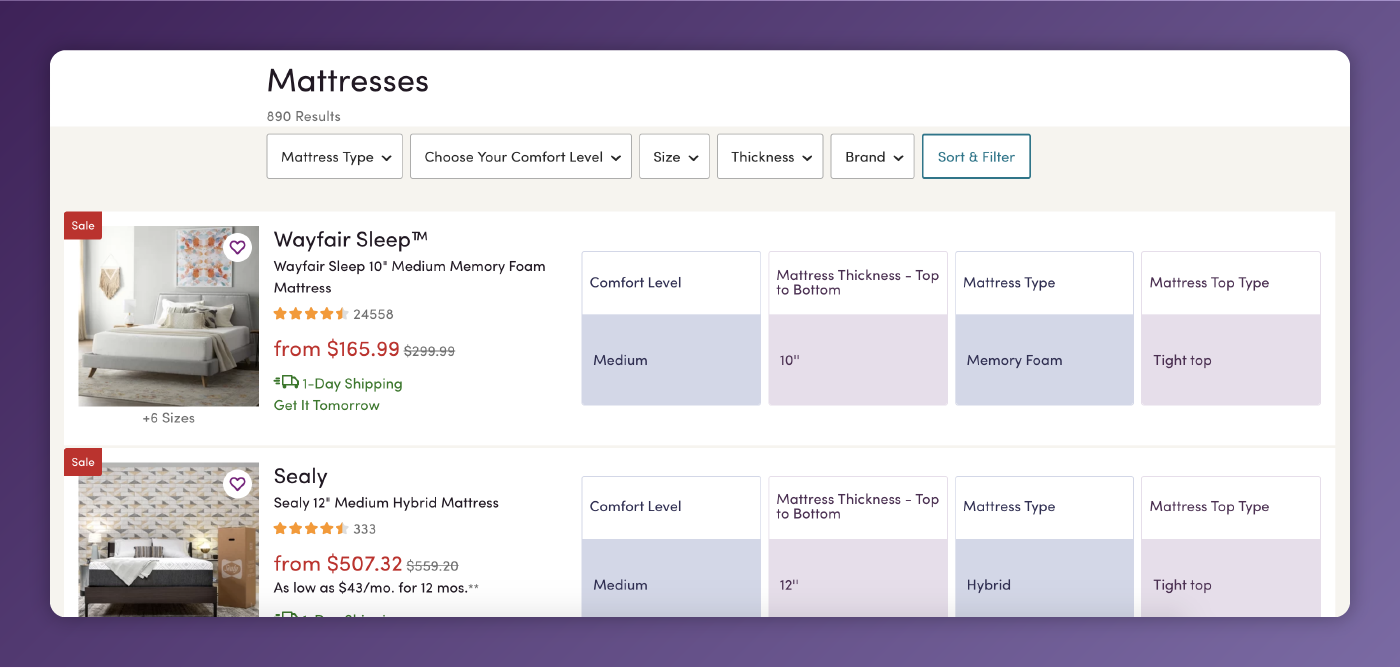 890 results. They come from dozens of brands, and range in price from $84 to nearly $5,000. They come in different sizes, thicknesses, and materials. Do you even know what "comfort level" you prefer?
To say it's overwhelming is an understatement.
But then, after giving up your mattress search in a fit of frustration, you're scrolling Instagram and come across a post like this one from an influencer you follow and admire.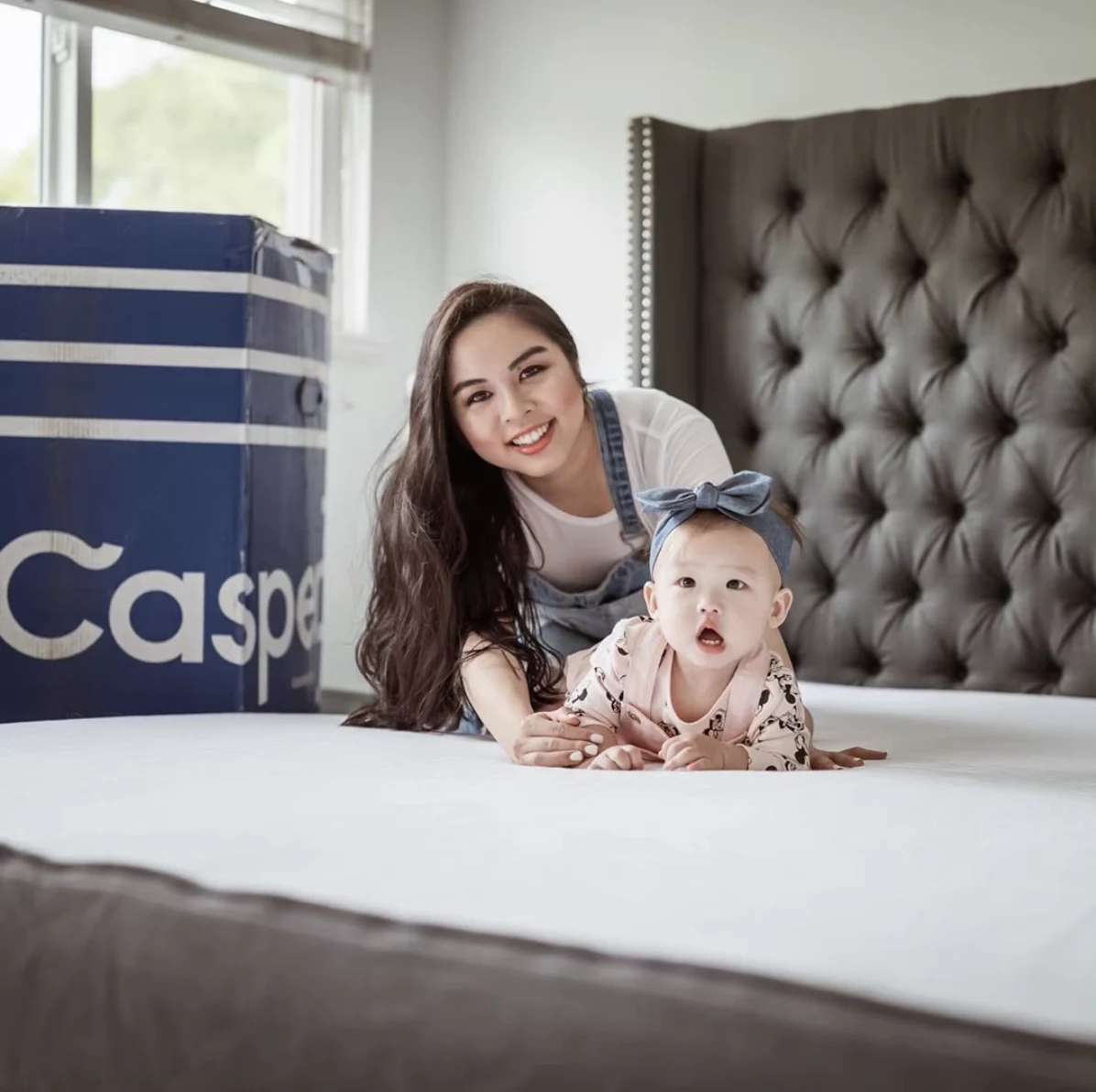 Image source: https://www.instagram.com/p/Bxxl_4cA5bz/
A Casper mattress comes in just one thickness, two materials, and a pretty reasonable price, for a mattress—all those overwhelming choices are taken care of. Plus, that influencer post came with a coupon code for a hefty discount. And with a trusted influencer's recommendation, you feel better about making this big investment into the next several years of sleep. If they love this mattress, you might, right?
And that's the magic of influencer marketing.
92 percent of people trust influencers more than they trust "traditional" celebrities. And 92 percent of people trust recommendations from other people more than they trust recommendations from brands—whether they know those people personally or not. Love them or hate them, influencers have a lot of power to help businesses market their products, and if you're not taking advantage of the ways influencer marketing can help build trust in your business, you're missing out.
Want to try influencer marketing, but you're not sure where to start? This guide can help. Read on to learn all about influencer marketing—what it is, why your business needs it, and the best strategies for effective influencer marketing campaigns.
What Is Influencer Marketing?
Influencer marketing is a type of content marketing that harnesses the power of popular figures on social media to reach a broader audience, build awareness of your brand, and ultimately, increase conversions.
Influencer marketing is often confused with celebrity marketing, but they're not the same. Influencers tend not to have as many followers as major celebrities, which means their reach is smaller, but more defined. Influencers also tend to create accounts around a specific niche interest—gaming, beauty, lifestyle, or art, to name a few—and attract followers who share that interest.
Because of this, it's important for businesses considering influencer marketing to carefully consider their needs, goals, and customers when choosing an influencer to help market their products.
Why Do Businesses Need Influencers?
It's no secret that social media is a powerful tool for brands today. But what makes it even more powerful from a marketing standpoint is the ability to capture the attention and engagement influencers receive on those platforms.
Recent statistics really show how beneficial influencer marketing can be, and how many retailers are jumping at the chance to take advantage of this marketing trend.
For example, a 2019 survey found that brands make $5.20 for every $1 they invest in influencer marketing. The top 13 percent of brands are seeing even higher returns: $20 or more in revenue for every $1 spent.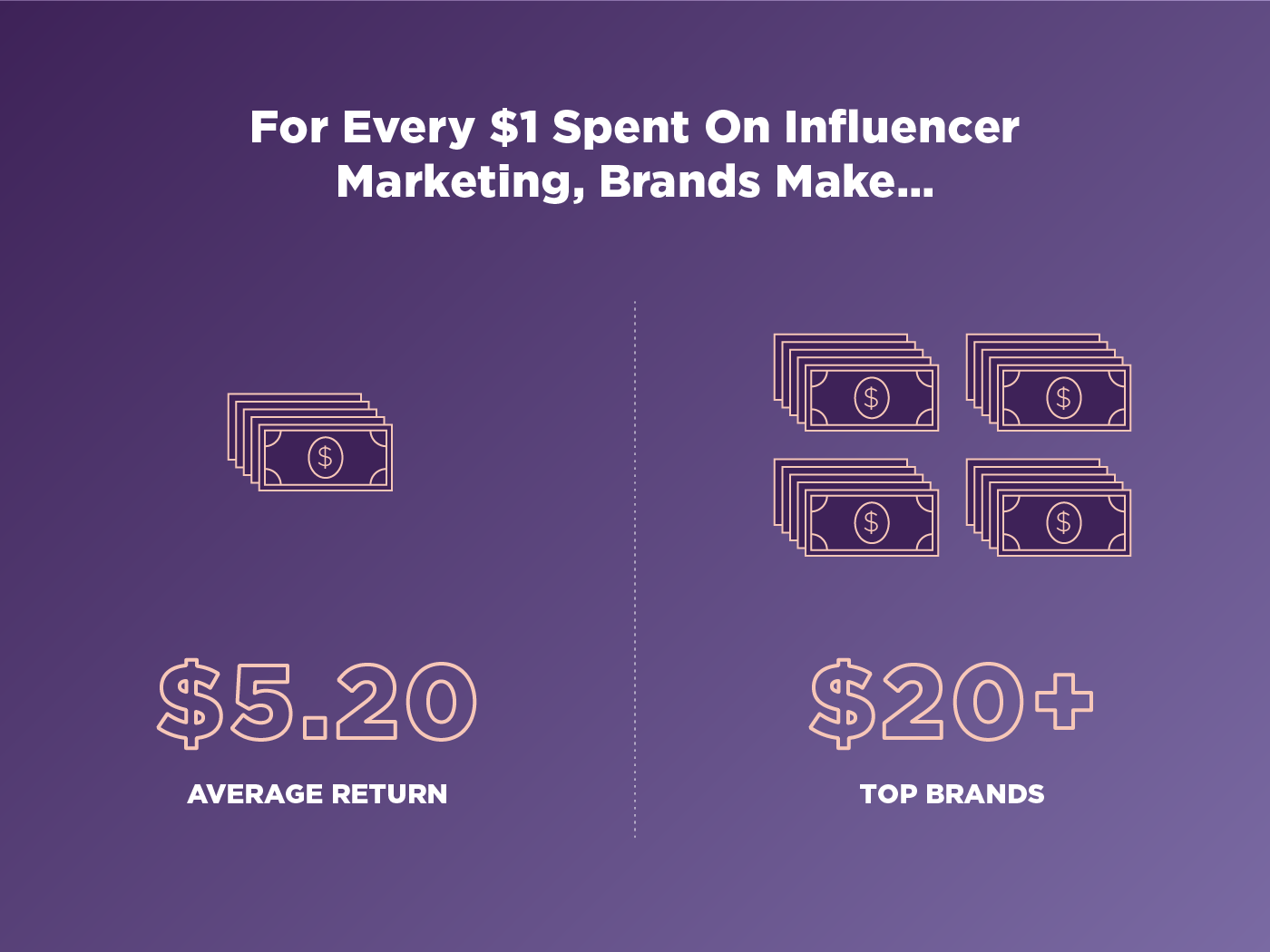 Businesses also report that influencer marketing is as valuable or more so than other marketing channels. 89 percent of businesses reported that their ROI from influencer marketing was "comparable" or "better" than other channels they've used.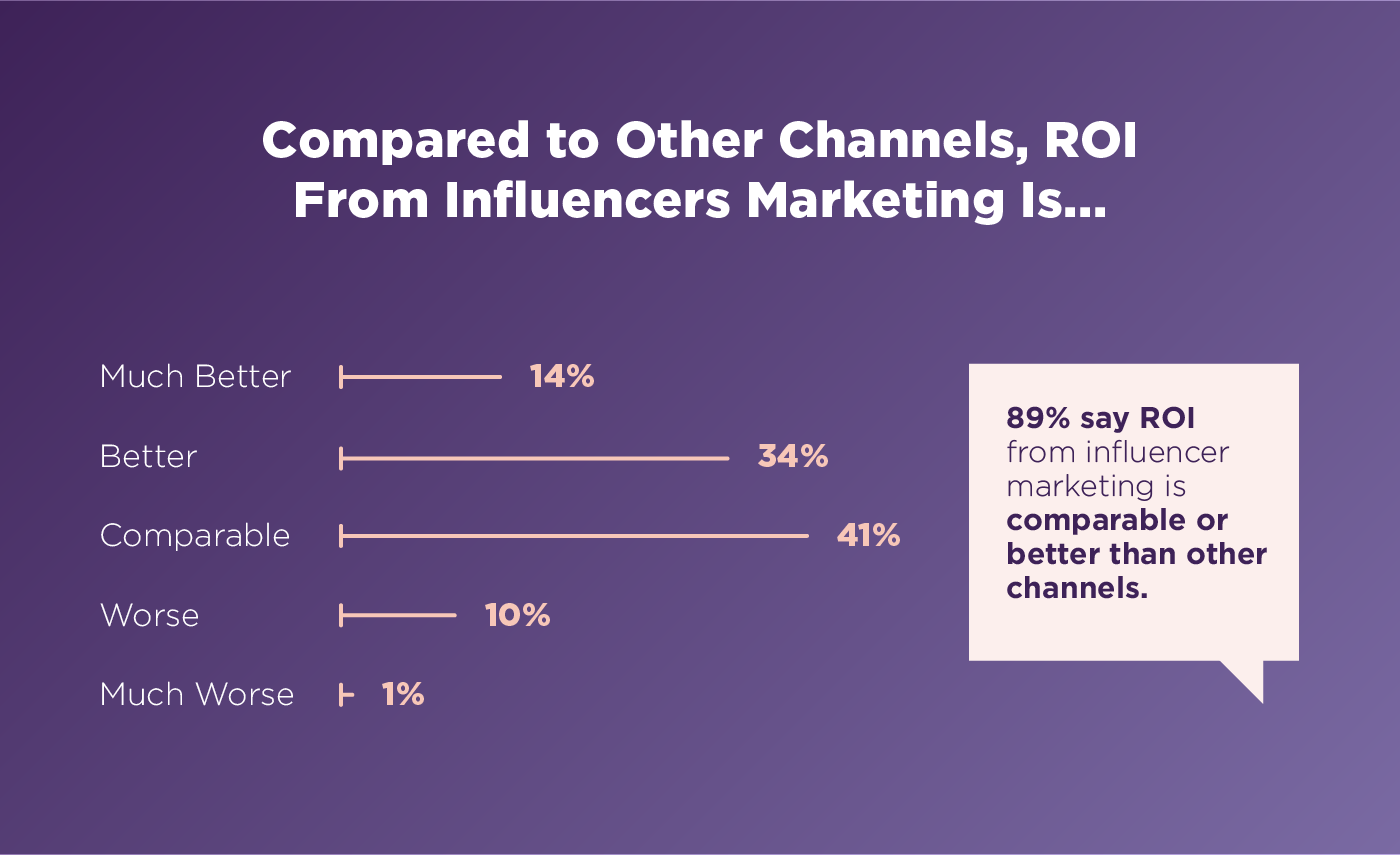 And businesses are definitely taking note of the potential of influencer marketing. In 2019, 65 percent of businesses reported they planned to increase their influencer marketing budget, compared to just 39 percent in 2018. That shows that this marketing trend is seriously on the rise, and brand investment in influencer marketing is likely to rise dramatically in the coming year.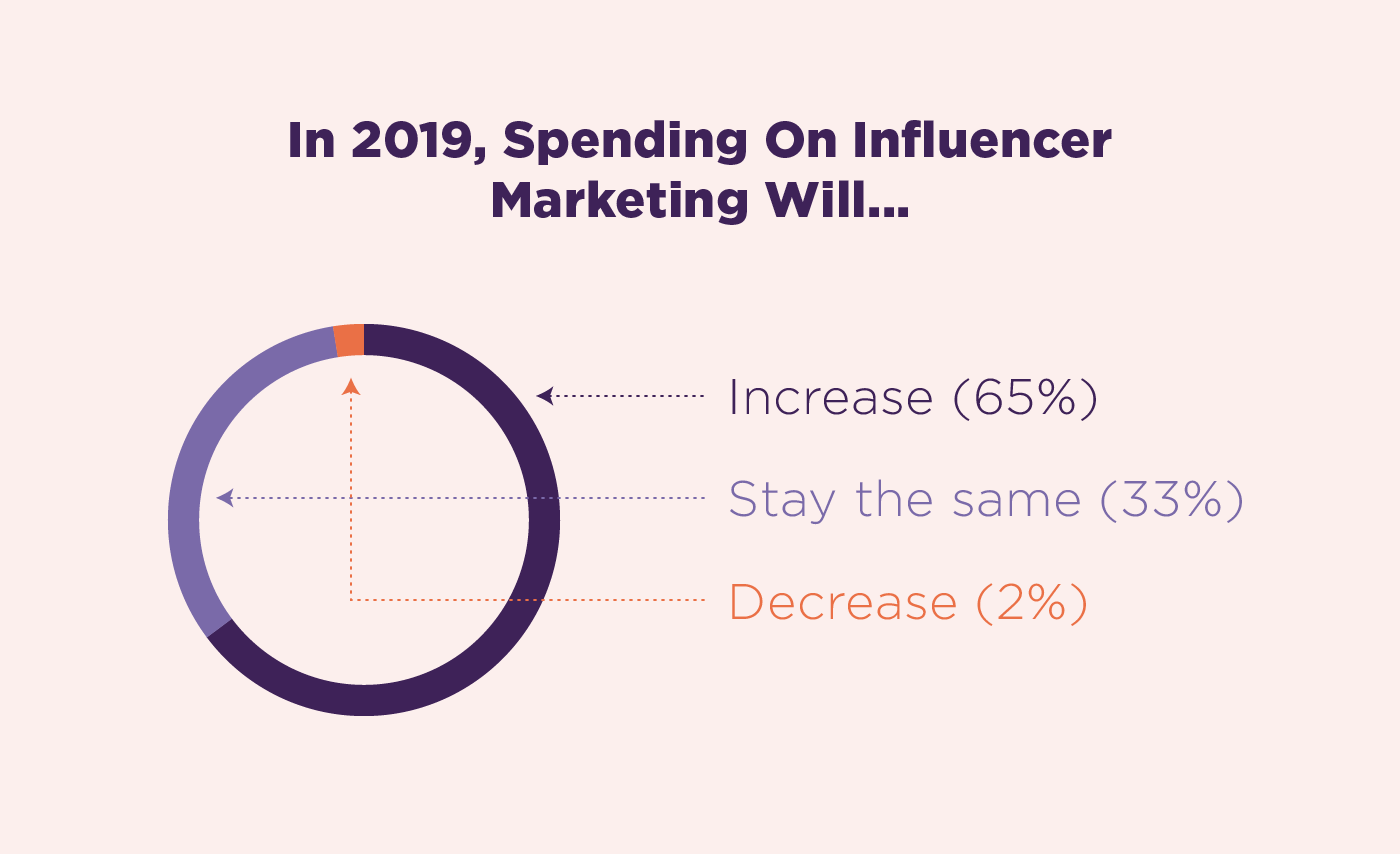 That means that if you're looking at trying out influencer marketing for the first time this year, you're likely not alone. And if you're unsure about how to get started, these strategies should help.
11 Ways to Use Influencers to Market Your Business
Influencer marketing comes in many forms. These are just some of the most common ways businesses are harnessing the power of influencers to market their products and brands.
Product Reviews
Product reviews are one of the most common and efficient ways to partner with an influencer to promote your products. We know they work, because 64 percent of shoppers report that they've purchased an item after watching a sponsored video reviewing it.
Shoppers already rely on reviews when researching products and making purchasing decisions. Seeing a review from an influencer they follow and trust can go a long way toward convincing them that your product is one they want to buy.
Entertaining Content
A more subtle way of partnering with an influencer is simply placing your product into an entertaining post or video that they're creating. In this type of sponsored content, the influencer generally won't specifically mention the brand or product, but will link to it in a video description or caption.
Contests and Giveaways
People love free items, so contests and giveaways are an effective form of influencer marketing. This type of campaign can be a win-win for both the brand and the influencer, as participants will generally be asked to like, follow, and engage with posts, creating wide reach and giving the influencer a boost in new followers.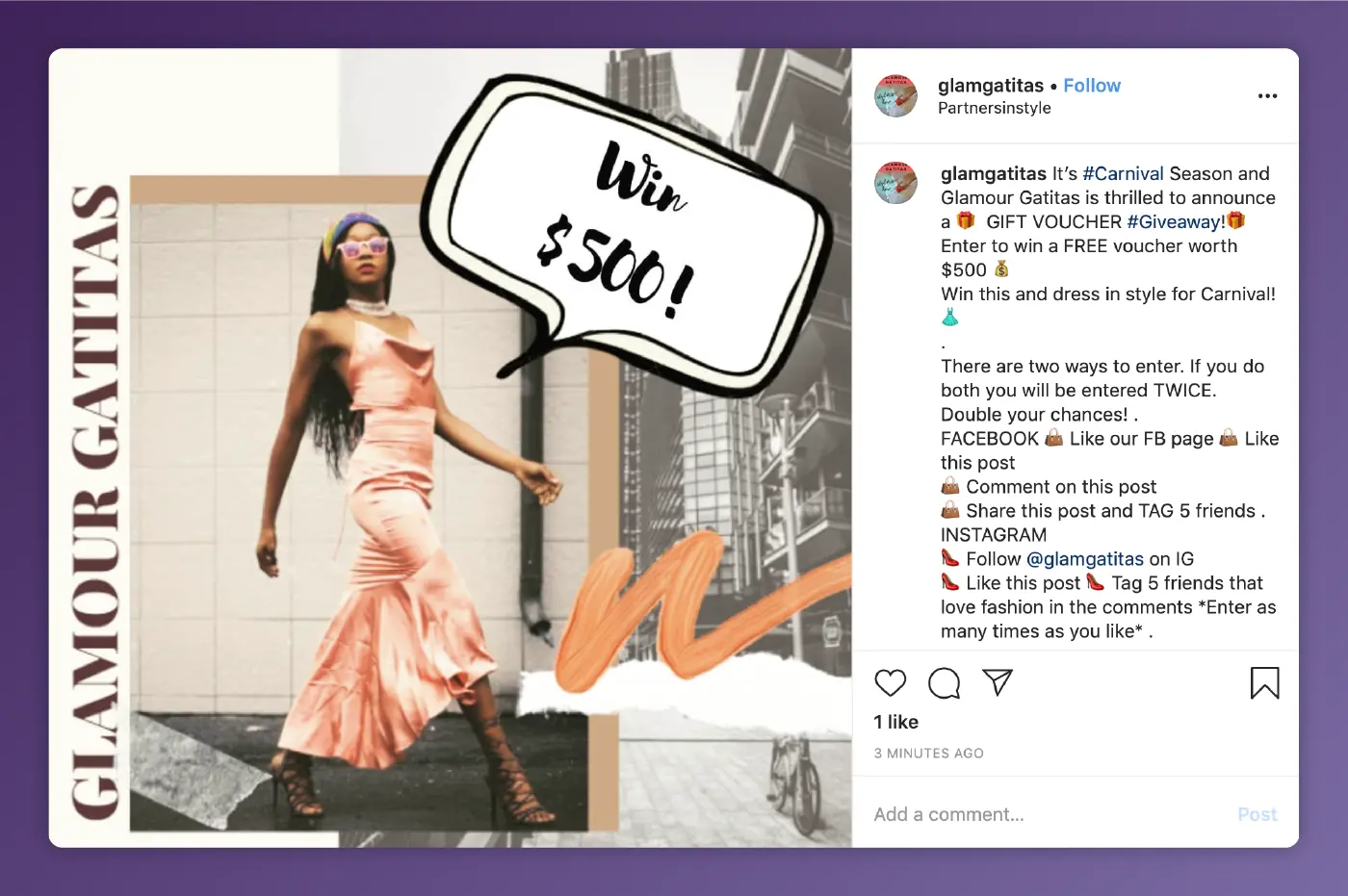 Image source: https://www.instagram.com/p/B7jMlCOFzfs/
Instagram Storytelling
Instagram is the top platform for influencers, with 92 percent of them reporting that they were active on Instagram in 2019.
More and more businesses are taking advantage of influencers' Instagram stories, which are slideshows of photos and videos that disappear after 24 hours, to promote their products. Using stories is a great way to build brand awareness and reach new customers without clogging up peoples' Instagram feeds, which everyone appreciates.
Promo Codes
What's a great way to take a shopper who's on the fence about making a purchase and push them to hit "add to cart?" A discount.
Many sponsored posts by influencers include promo codes that give their loyal followers and fans a percentage off a purchase if they decide to buy from the partner brand.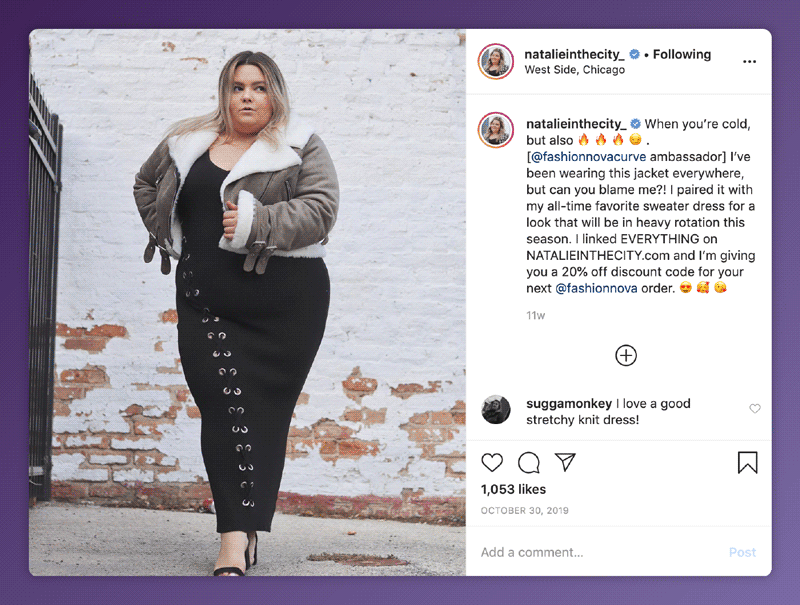 Cross-Features
When brands partner with influencers, especially well-known ones, it's a great opportunity for the content to be promoted on both sides.
For example, when popular lifestyle blog DesignLoveFest collaborated with Target, the collection was featured on both their webpages.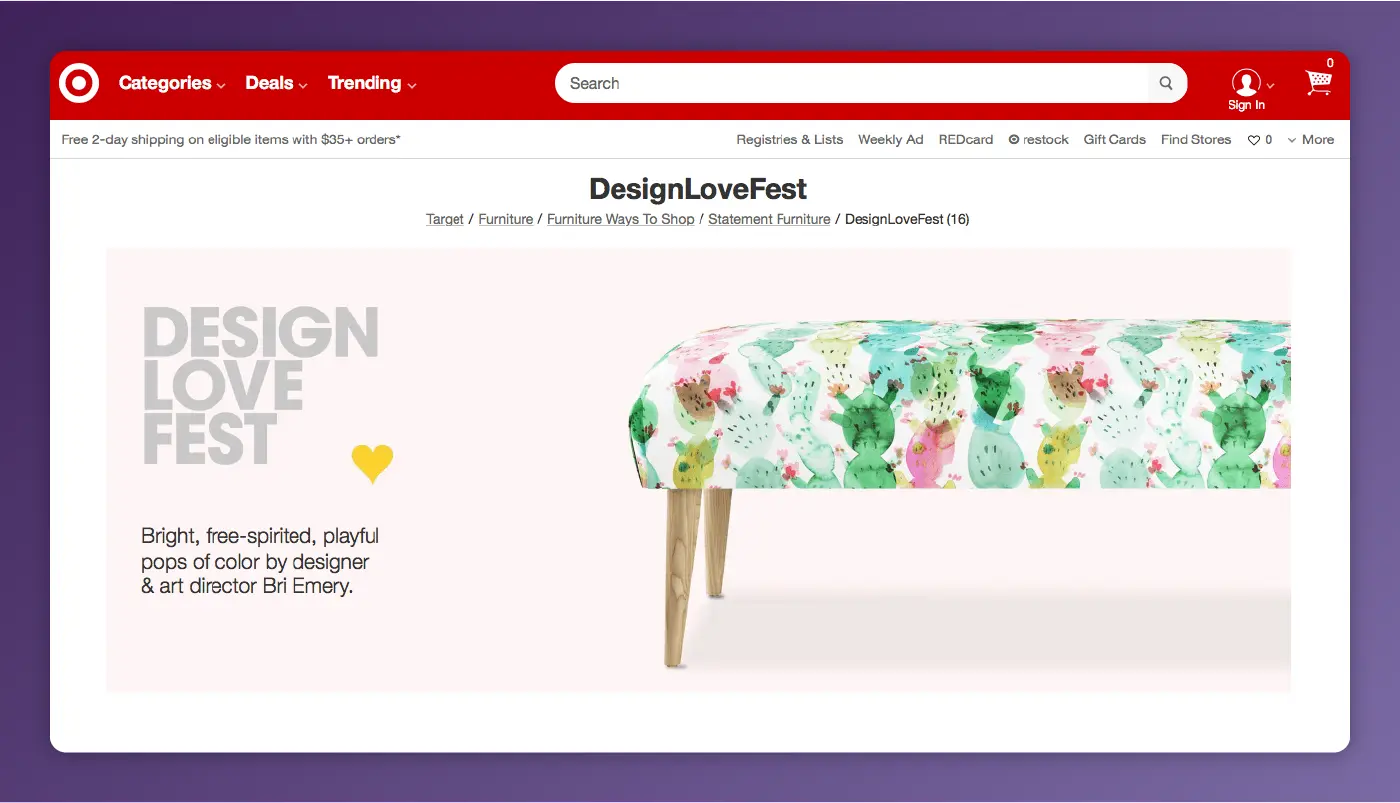 Special Hashtags
One way to help reach more people with an influencer marketing campaign is by creating a catchy hashtag, or using a popular one that already exists. Some examples? #TacoTuesday or #FitnessFridays.
Video Content and Vlogs
Video is another powerful tool when it comes to partnerships between influencers and brands. In fact, 70 percent of teenage YouTube subscribers say they relate more to YouTube influencers than they do to traditional celebrities.
There are a lot of ways you can use video in a partnership with an influencer. Product review videos are popular, but you can also try tutorials, clothing try-ons for fashion brands, home tours for lifestyle or decor brands, or recipes for food brands. Remember that creating good content is what these influencers do best, so don't be afraid to let them be creative and help you come up with campaign ideas that will fit their style and audience.
Social Media Shoutouts
Sometimes the simplest option is the best. An influencer can simply make a post that mentions your product in a natural way, and it's a subtle kind of marketing that can definitely build trust for your brand. Especially if your influencer marketing budget is small, consider simple social media shoutouts as an option for a campaign.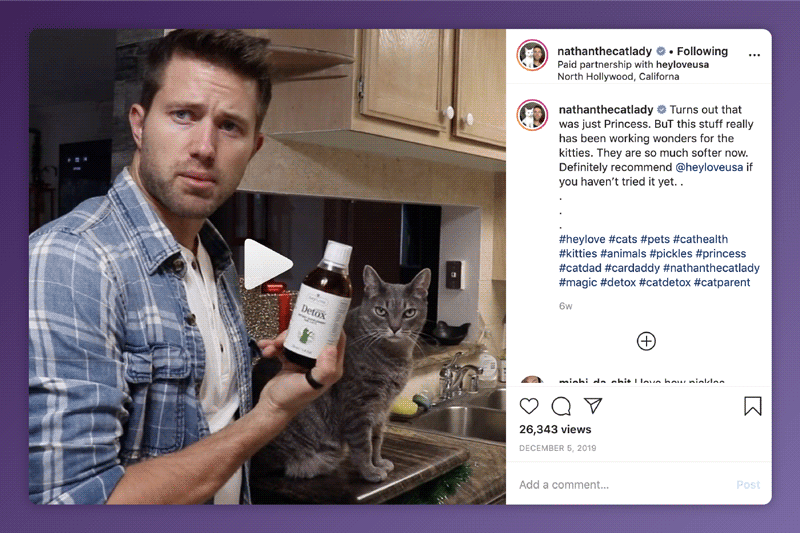 In-Person Events
If your business is hosting an event or going to a convention, having an influencer there can help create buzz and bring in more participants.
Advertisements
Maybe you want to move away from social media posts, and create some traditional ads. It can very effective to have a well-known influencer star in an ad campaign! Just check out this Modcloth ad featuring singer/songwriter Kate Nash.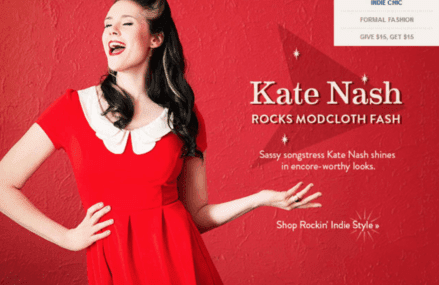 Influencer Marketing for Ecommerce: How to Get Started
Ready to partner up with an influencer and start promoting your brand and products? Here's how to create an influencer marketing campaign, step-by-step.
Define Your Target Audience
The first step to an influencer marketing campaign (or any marketing campaign, for that matter) is to define your target audience. Use any data you already have to determine your customers' demographics, their interests, and their online activity. Ideally, you'll want to partner with an influencer who attracts a similar audience to your brand.
Set Your Goals
What do you want to accomplish with your campaign? More conversions? Better brand awareness? A combination of the two? Having clear, predefined goals gives you a baseline for evaluating the success of your campaign later. Plus, your goals can help you choose what kind of campaign to run.
Choose the Right Platform
The top platforms for influencers are Instagram, Twitter, and YouTube. But there are others that might be a better fit for your brand. Look back at when you defined your audience. Are there certain social media sites they tend to favor over others? That will tell you what platform is right for your influencer marketing campaign.
Find the Right Influencer
This is the hardest part of any influencer marketing campaign, according to the brands who have done it—61 percent of them agree that finding the best influencers for a campaign is their biggest challenge.
There are so many factors to consider when looking for an influencer who will be a good partner for your brand. There are also a lot of different places you can look for the right person.
Your Existing Customers
The first and easiest place to look is at your existing customer base. It's possible there's a nano- or micro-influencer out there who already uses and loves your products. Take a look at social media posts your brand is tagged in on different social platforms to see if any influencers are already posting about you. If they are, they'll probably be happy to be approached about a partnership.
Google
Yep, a simple Google search may be all it takes to find the perfect influencer partner for your brand. Search for influencers using specific keywords that relate to your brand and your audience to get the best results.
Influencer Marketing Tools
If simpler tactics fail to locate the perfect influencer partner for you, there are tools made with influencer marketing in mind that can help you land the partnership of your dreams. The best known ones are Peg and Buzzsumo, but shop around to find the tool with the right features and functionality for your needs.
Check Out Their Feeds
Once you have an influencer short list, take a scroll through their feeds and try to view them like one of your customers would. Can you see your products and brand fitting naturally into what the influencer regularly posts? If so, it might be the right fit.
Be wary of influencers who only post sponsored content—part of what makes influencer marketing so effective is its seeming authenticity.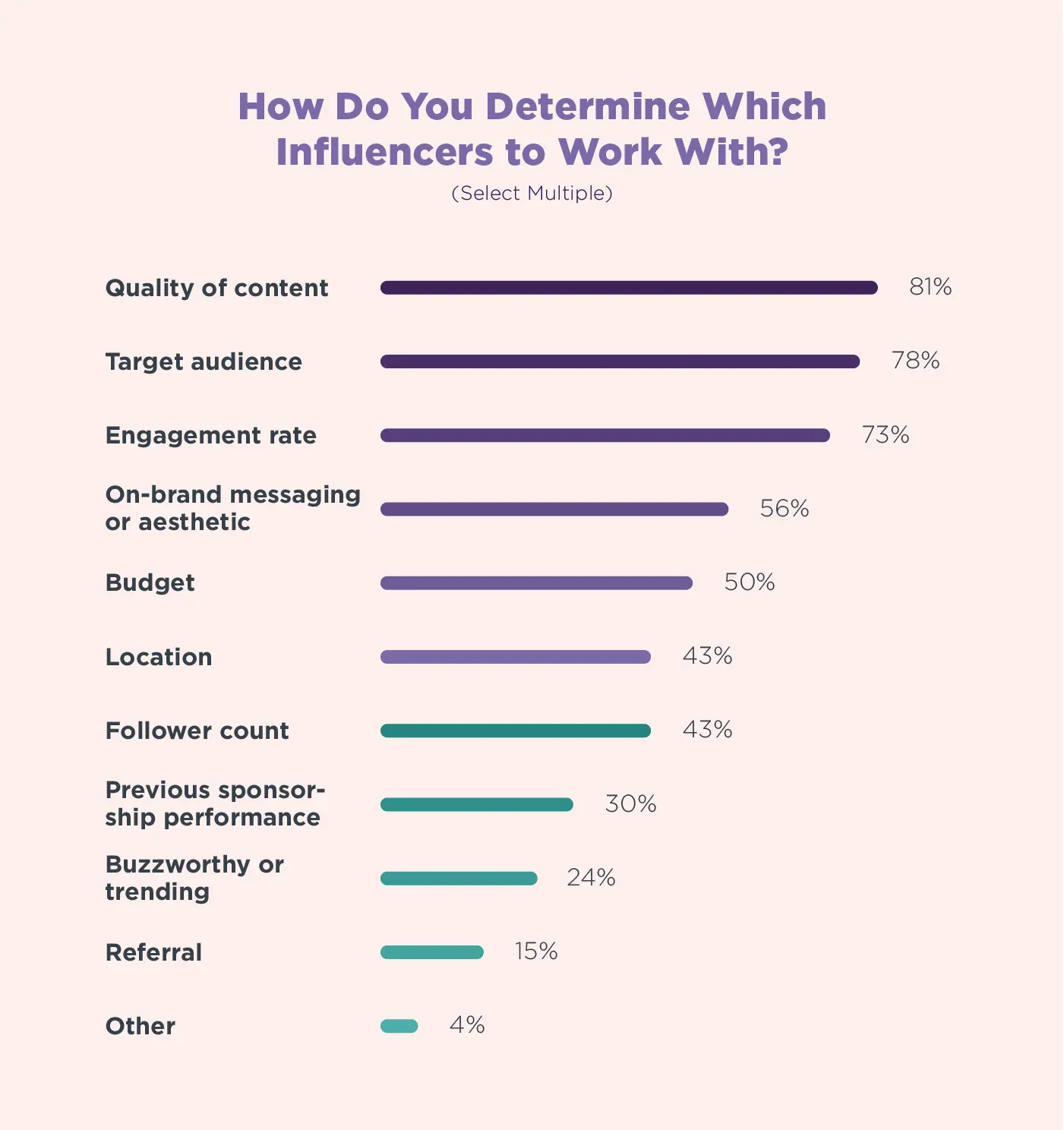 Create Your Campaign
Once you've found the perfect influencer, you'll want to work with them to create a campaign that will help meet your goals. Refer back to the above list of campaign ideas for a starting point, but keep in mind that influencers are content creators first and foremost, and giving your partner influencer some creative freedom could result in a better campaign.
The best campaigns are the ones that are true partnerships between brands and influencers so the posts look natural. The last thing you want is to feed an influencer an unnatural script and have a gaffe like this happen.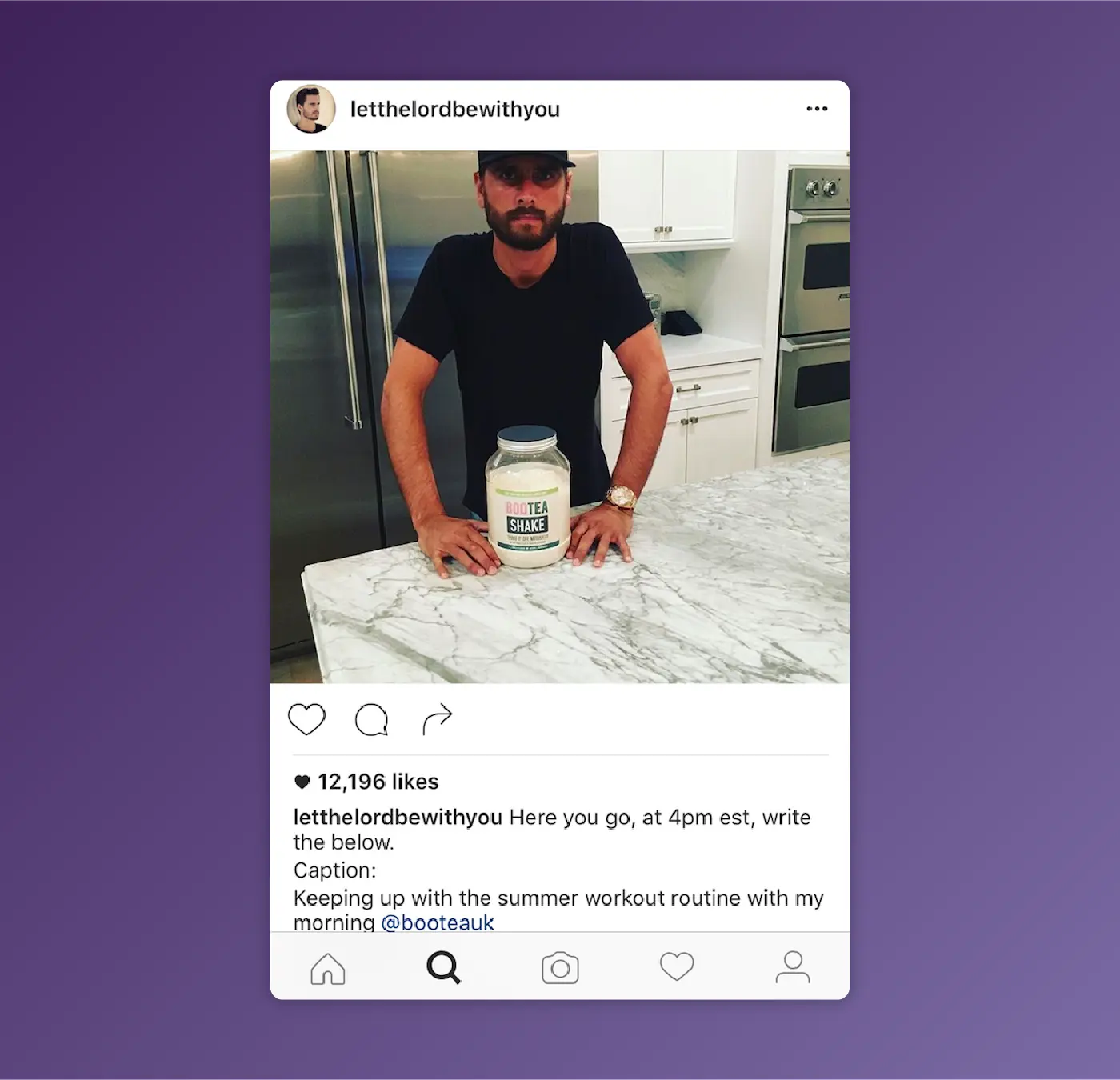 Treat Influencers Well
Influencer marketing should be mutually beneficial for both your brand, and for the influencer you partner with. It should go without saying, but influencers need to be treated well, given the freedom to contribute to campaigns that will fit their own brand, and given the option to opt out of a campaign if it turns out not to be a good fit.
And while we're on the subject, keep in mind that in virtually all cases, influencers will expect to be paid. The average cost of a sponsored post by a nano- or micro-influencer ranges from $1,000-$10,000, but costs can be much higher for influencers who have higher follower counts and greater reach (it's been reported that a single sponsored post on Kylie Jenner's Instagram will set you back a cool $1 million).
If you're running a small campaign with an influencer who truly loves your brand, free product might work in exchange for some influencer marketing. But keep in mind that many content creators become influencers to make a living. Free products don't pay the rent, and neither does "exposure."
Track Your Campaign's Performance
Once your campaign is up and running, all that's left to do is track its performance and make changes as needed.
It can be tough to track the actual monetary return on an influencer marketing campaign. But you can evaluate the success of a campaign by looking at metrics like these:
Reach
Views
Likes
Follows
Clicks
Votes
Shares
Referrals
Comments
Coupon Redemptions
If your influencer marketing campaign doesn't perform, the most likely problem is that the influencer you chose wasn't the right one. Run with whatever takeaways you can glean from your campaign metrics, and try to apply them to future campaigns to improve performance over time.
Influencer Marketing As Part of Your Omnichannel Strategy
Modern ecommerce retailers know that in order to stay competitive in the ecommerce landscape of today, they need to be omnichannel. And influencer marketing is part of a broad omnichannel strategy.
The first step to planning and executing omnichannel campaigns is a product information management solution that can centralize, organize, distribute, and analyze all your product data, keeping it up-to-date and ready to push to all the channels you use to market and sell your products.
Ready to learn more about how PIM can help your business achieve omnichannel success? Download our free ebook to get started.