Today's online retailers have a big challenge to face.
If you're in charge of retail relationships for your brand, you're likely overwhelmed and overworked. You're expected to manage existing relationships and build new ones, but odds are good that what you actually do is put out a lot of fires, fix a lot of incorrect product data, update a lot of sell sheets, and manually comb through mountains of data.
As much as you'd like to help the business continue to grow, there's just no time for that.
Sound familiar? If this is something you're struggling with, you're far from alone. It's a challenge that all ecommerce brands have to grapple with as they figure out how to scale in the digital age.
This is a challenge that's more than just annoying — it can actually stand in the way of your brand's ability to grow.
But the key to growing your brand at scale doesn't need to be as complex as the challenge. It's all about managing retail channels, which takes a good strategy — and the right tools.
More and More Retail Channels Are Becoming Top Priority
Once upon a time, in the early days of the digital age, brands could choose a few particularly lucrative channels and focus their energies there. That is no longer the case.
The problem is that in recent years, there's been an absolute explosion of sales and marketing channels for ecommerce brands. You want to get the word out about your products and reach new customers? You need to be on Amazon, Walmart, Target, Google Shopping, Facebook Shops, Instagram, Facebook ads, Google ads, Alexa Skills, your own mobile-optimized website, smart devices, and more. The number of potential channels is absolutely overwhelming.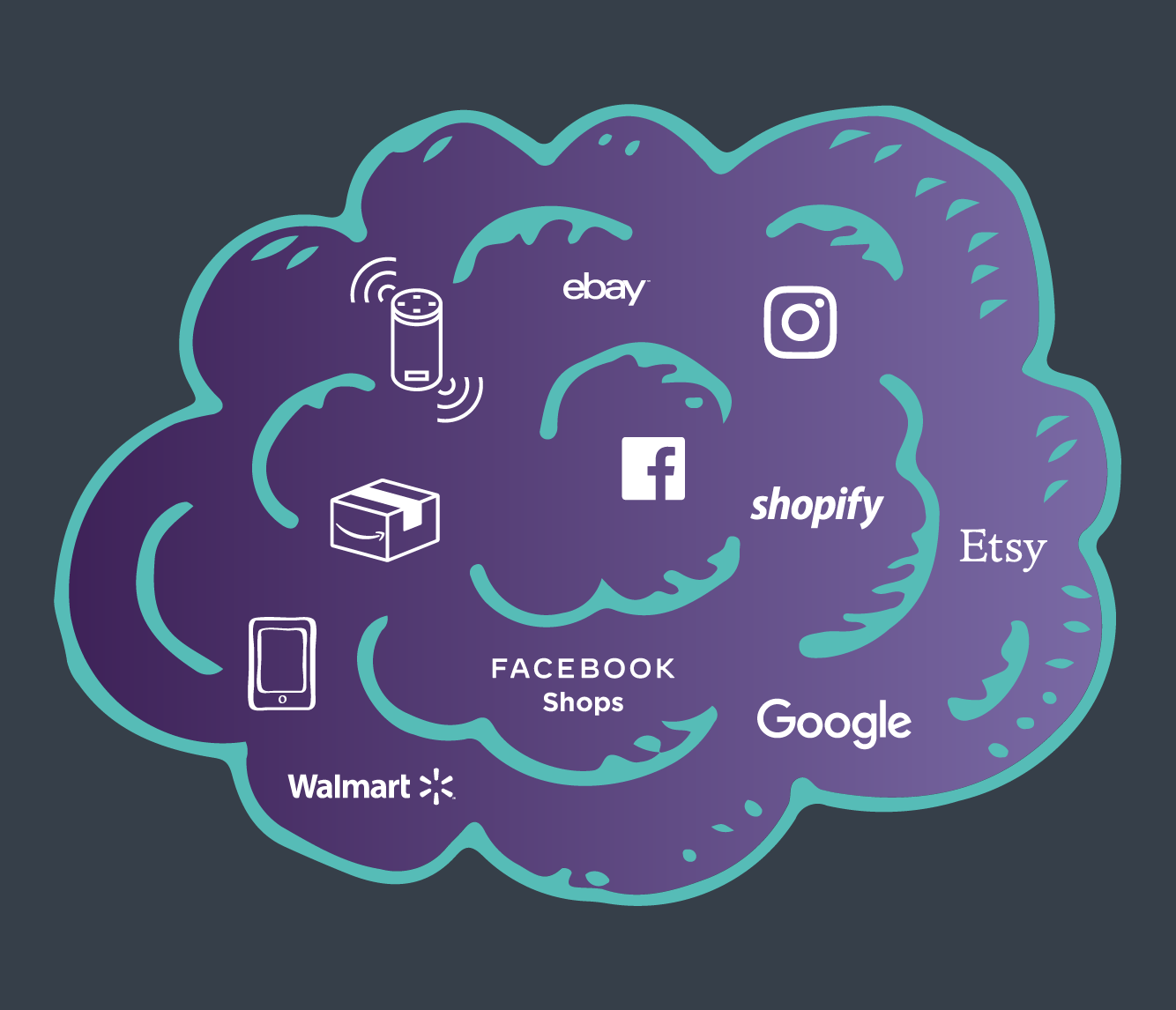 What makes the landscape even more difficult to navigate is that there are no longer certain channels that are more likely to be the most lucrative, allowing brands to narrow their focus a little. In today's digital landscape, the most successful brands are the ones that are truly omnichannel, meaning they take advantage of as many channels as possible — both online and off — and beat their competition at expanding into new channels as they emerge.
So how do they do it? How do they manage that many channels, while continuing to grow and scale their brands?
More Channels = More Challenges At Scale
One possible solution you've likely considered is bringing on as many retail relationship managers as it takes to utilize every channel you can.
But that has limitations, too. The overhead is likely to become unsustainable, especially as your brand attempts to scale.
Plus, putting more and more people into that role to address the growing number of available channels creates internal challenges for your brand. For example, how do you ensure that every retail relationship manager has the correct, up-to-date product data and sell sheets, so your products are displayed consistently across many channels managed by different people?If it sounds like a nightmare, you're not wrong. This is the struggle brands have had for years as they've tried to manually wrangle product data in spreadsheets shared across their organizations. How is anyone supposed to know if product_data_spreadsheet_version_2_edited_jimsedits_2019_v3.xlxs is the latest version? How do you know if its product data is truly accurate and up-to-date, ready to push to a new channel?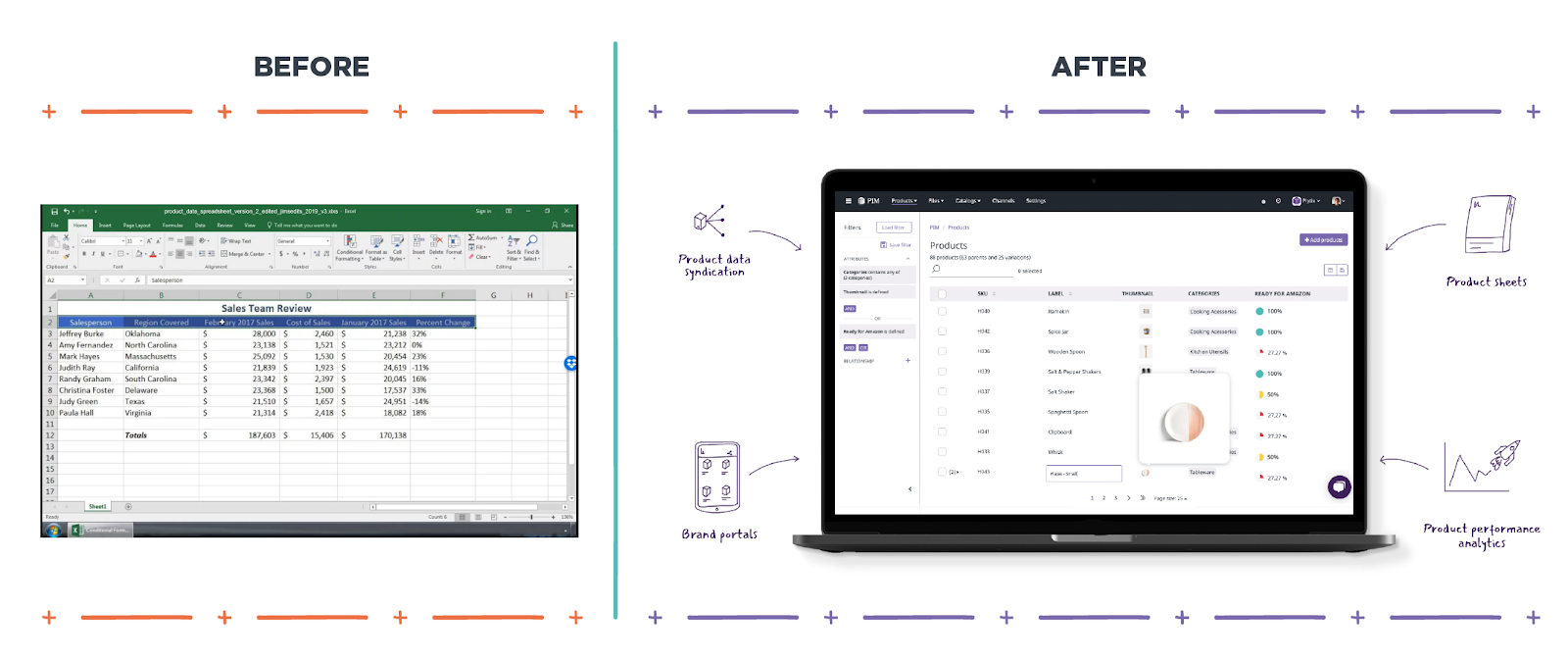 In that challenge lies the answer to how to manage retail channels at scale and grow your brand in the digital age. It all comes down to how you manage product information.
How to Build an Effective Omnichannel Ecommerce Business
Product information management (PIM) is the big key. But it's not the only thing that matters, so we'll get to it in a minute.
Building an effective omnichannel strategy takes a number of important building blocks. PIM is what ties all of them together, but more on that below.
Adjust Your Strategy Based On What Works for Each Channel
It's tempting to just jump into every new and emerging channel as quickly as possible, using a method many marketers call "spray and pray" — in other words, throwing the same strategy at as many channels as you can and just hoping some of it works.
This is a waste of time and resources. Even though omnichannel businesses are beating out their competition, they're doing so by having good omnichannel strategy, not by expanding into as many channels as possible without any plans to maximize their success.
We put this building block first on the list because it's one of the most important, but also the one that's likely to take the most time, work, and upfront investment. It's hard to tailor your marketing and sales strategies for so many different channels, but it's necessary. Start small and only add new channels to the mix as you're able to learn about what will help you succeed in using them.
Don't Trade Customer Service for More Channels
Another common mistake online retailers make is focusing so much on expanding into new channels that other, vital parts of their brand fall by the wayside.
Some areas can be prioritized less than your omnichannel strategy. Customer service is not one of those.
Remember that, as much as shoppers want to be able to access brands via a wide variety of touchpoints, they also have extremely high expectations of brands. They want better than good customer service. They want to have a customer experience that leaves them delighted and turns them into loyal customers.
Put Inventory Management Tools In Place Early
Omnichannel sales makes inventory management a whole lot more complicated. That's why, to be successful with their omnichannel strategies, brands need to have a plan for inventory management, and they need to put it into practice as early as possible — even before they really need it.
Inventory management is going to be one of the biggest hurdles that stands between your brand and managing a variety of retail channels at scale. Don't overlook it, and make plans for managing your inventory before you implement an omnichannel strategy. If you don't know where to start, there are many great inventory management tools that can help.
Centralize Your Product Information
And finally, one of the most important steps brands can take on their journey to scaling their omnichannel strategy is adopting good PIM practices. That all starts with having a centralized bank of product information that's accessible by all stakeholders across your organization.
Doing this creates a single source of truth for product data and any associated assets, which means that anyone accessing product data from this centralized bank will know that they're seeing the most accurate, up-to-date information available — unlike when you use spreadsheets and try to keep track of product information manually.
But there are many more benefits to good PIM practices. The ecommerce retailers who truly want to get ahead in the digital age are the ones that invest in PIM software.
PIM software doesn't just organize and centralize product information. It also automates other tasks related to that central bank of product information — like optimizing it for distribution to different channels or exporting it as automatically generated sell sheets.
Plytix does all that, and more. In fact, Plytix might just be the tool your brand needs to seamlessly manage retail channels at scale, all while growing both your business and your bottom line. Ready to learn more? Download our free ebook today.