The multichannel commerce playground is a fun place to be right now, and it's only getting juicier! Its rapid growth is expected to take a continuous upward trajectory in the next coming years. According to eMarketer, multichannel commerce sales will make up close to 46% of all ecommerce sales by 2023.
But don't let that scare you.
Sure, the industry is highly competitive, and everyone is actively chasing a slice of the market, but it doesn't mean success is unattainable. All it takes is understanding shopper buying behavior, journeys, and sales channels. Once you have that, you can create a thriving business and achieve sustainable success.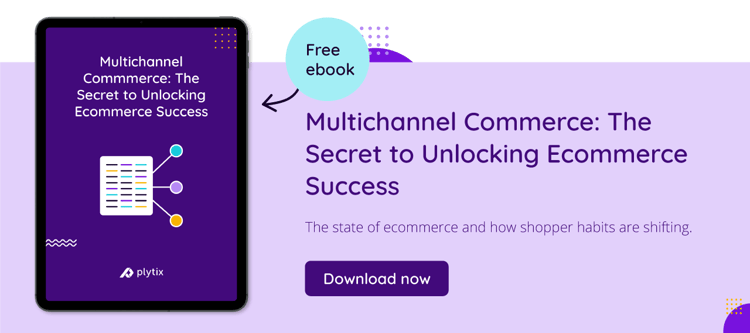 Having the right multichannel retailing infrastructure can make your ability to adapt a lot easier. Time and time again, Shopify has proven to be the ultimate enabler for multichannel success. The ecommerce platform allows merchants to sell everywhere their customers are—be it direct online shopping websites, marketplaces such as Amazon, or social commerce platforms such as Facebook Shops. Most importantly, Shopify diversifies and innovates along with the merchants it serves to future-proof success for everyone involved. That's an attractive approach any brand would be keen to take the leap for.
Tobi Lütke, the Shopify CEO, said their goal now is clearer than ever:
"We want to give entrepreneurs around the world the best chance to create their own certainty, to reach for independence, and to seize the opportunity that they uniquely see. Shopify is building the essential infrastructure for this increasingly digital world to allow as many people as possible to participate."
These capabilities have helped drive its 1.7 million (and counting) merchants towards significant gains. Below are some examples of top Shopify brands.
Take notes …
Fashion: Aje
Aje is an Australian fashion brand that prioritizes raw beauty, tough femininity, and effortlessly cool in its fashion offering. The fashion house has 18 physical stores, including two in New Zealand. In addition to its presence in various department stores, it sought to set itself apart from competitors by delivering the same in-store experience its offline customers are accustomed to across its digital channels. The brand took up Shopify Plus and collected the following results:

Today, Aje successfully sells internationally through localized experiences and using multi-currency with Shopify Payments to support 20 currencies.
Fitness Apparel: Gymshark
Gymshark is a United Kingdom-based fitness apparel brand founded in 2012 by Ben Francis and a high-school friend of his, Lewis Morgan. Their goal was to create innovative and effective performance wear for 18-25-year-olds whose lives revolve around fitness. Today, Gymshark has become one of the fastest-growing and most recognizable brands in fitness and is now selling to customers in 131 countries. The brand has experienced growth since re-platforming to Shopify Plus.

In addition, Gymshark generated a turnover of approximately 261 million British pounds by the end of July 2020. Statista asserts that "over the past few financial years, the English company's annual turnover has advanced considerably and consistently." The company also offers online-offline customer experiences through Shopify's POS system, where Gymshark customers can meet their fitness idols and make purchases in person at expos and special events.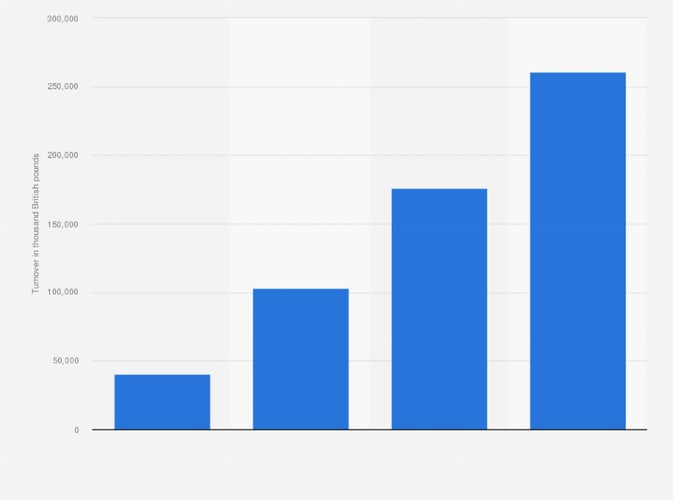 Food and Beverage: Fire Dept Coffee
Fire Dept. Coffee is a food and beverage brand that sells great-tasting coffee.
It's run by active and retired firefighters and coffee enthusiasts in Rockford, Illinois. While the brand started off as a hobby in 2016, it unexpectedly took off.
Three years later, the company upgraded to Shopify Plus to enable greater transaction volumes, manage multiple product lines, and scale its business further. Since then, the brand has achieved the aforementioned goals and amassed $10 million in revenue due to its SEO-optimized ecommerce site, a booming subscription business, and an enhanced customer experience.

Home Furniture: Monte Design
Monte Design is a home furniture brand that was born from the understanding that stylish and comfortable can co-exist. And, so the brand created their own furniture pieces. The brand has been on the market for almost a decade, but its ecommerce store had limitations. Their ecommerce tools weren't showing the full extent of each customer's journey:
Where they came from
Where they were going
Who was abandoning their cart, and why
They re-platformed to Shopify Plus in 2018, and that's when they were able to get an overview of their customer journey. And, through the Shopify Plus Merchant Growth Model (MGM), the brand managed to achieve these results:

Electronics and Office Supplies: Staples
Canadian electronics and office supplies brand, Staples was created to provide electronics and office supplies to inspire people to work smarter, learn more and grow every day. Despite its existence for almost three decades, the brand's ecommerce store wasn't meeting its goal to scale and grow online.
The company was searching for a platform that is cost-effective, more flexible, and offered the right kind of upmarket infrastructure to evolve as a retailer this large. And so, the brand migrated to Shopify Plus in 2019, and they were certain they had found just the right platform to support their needs. The results:

Over 30 days spanning Mar-Apr 2020, the brand experienced an increase in traffic, transactions, and site revenue exceeding 100% over the previous months. To this day, Staples uses Shopify Plus' flexibility to change its banners, pages, purchase flows, and customer email communications to launch click and collect for shoppers to buy online and collect items by the curb outside the Staples closest to them. Moreover, the brand's products are available at several marketplaces and use social media to maximize sales.
What do these brands have in common?
Firstly, they all use Shopify as their multichannel ecommerce software of choice.
As you can see, they've greatly benefited from its value-added solutions, including storefront customization, multichannel platform integration, localized shopping experiences, customized checkout options, automated marketing campaigns, rich product pages, and so much more. Secondly, these brands put their customers first by being in front of them wherever they are. And by creating a seamless customer experience through high-quality product content at all touchpoints.
If you wish to achieve similar success as the above brands, Shopify can help you do that. To take a step further, you can power your multichannel journey with a product information management (PIM) system. This modern tool's core purpose is to help you organize, enrich, optimize, manage, and analyze product information all in one place, and in real-time. That way, you can also cultivate exceptional customer relationships that will lead to sales and revenue growth.
Thrive at multichannel management with PIM
Plytix is a product content management software meant for small to medium businesses that want to scale, grow, and excel at multichannel selling. Our PIM is a next-generation PIM that's designed for teams of any size to work collaboratively without having any technical skills. It also makes product content syndication frictionless, so you can quickly create, update, and send product data wherever it needs to go.
It's an affordable product content solution that's guaranteed to simplify you and your teams' lives. This also means your customers will also be delighted to receive error-free, updated, and rich product content that will help them throughout their buying journey.
Want to know more? Book a FREE demo to see how our PIM fits your business in this today's multichannel puzzle!
Shopify
,
Multichannel Commerce