If we've learned anything in the last couple of years, it's that shopping trends will always change. Whether it's due to climate change, a national crisis, or customers' ever-changing needs, there will always be unpredictable events that shift trends.

During the pandemic, countries went into hard lockdowns and online shopping was the only answer. Today, as the world starts moving freely again, ecommerce sales are slowly dropping. So much so that ecommerce platforms such as Shopify have felt the brunt and had to lay off employees recently because of the slowdown in ecommerce.

It's becoming increasingly clear that it doesn't matter if you're selling online or in a physical store, there are factors outside your control that can affect your customers' behavior. However, in order to survive and stay on top of things no matter what happens, you need to offer the best of both worlds. So, how do you do this? The answer is simple: multichannel commerce.
A recap of what multichannel commerce is
In retail, you may have heard multichannel commerce, multichannel ecommerce, or omnichannel retailing being used to explain selling on multiple platforms. While many people use these terms interchangeably, these terms don't mean the exact same thing. What these terms do have in common is that when implementing these three practices into your selling strategy, you'll reap the benefits of reaching a wider audience base, increasing foot traffic to your store, and improving your customer experience.

So, what does each term mean?
Multichannel commerce
Multichannel commerce is a business approach that allows customers to interact with a business through different channels. A multichannel commerce strategy involves marketing channels such as email and social media, while also being able to sell on offline channels such as a brick-and-mortar store and having an ecommerce platform like Shopify. In most cases, each platform operates separately from another.
Multichannel ecommerce
Multichannel ecommerce is a business strategy that lets customers interact with your business through a number of different sales channels online. Diversifying your reliance on just one store is an effective way to improve visibility online, and lets you reach more customers wherever they are, instead of waiting for them to come to you. With this approach, your Shopify webstore will act as your hub and you'll have multiple marketplaces, such as Amazon, Walmart.com, and social media shops, such as Facebook Shop, connected.
Omnichannel retailing
Omnichannel retailing is an integrated sales approach that focuses on giving each customer a cohesive shopping experience. It allows brands to meet their consumers wherever they are so that nothing disrupts their shopping experience. For instance, a customer can add things to their cart on their desktop, check out using their mobile device, and go and pick it up in-store without any friction.

In the last ten years in retail, we've seen online shopping, mobile and social commerce, faster delivery and returns, and personalization become must-haves for customers. To survive, you need to be everywhere and be able to offer customers the kind of experience they're looking for. Shopify found that 20.4% of all SMBs that opened in 2016 closed after their first year in operation.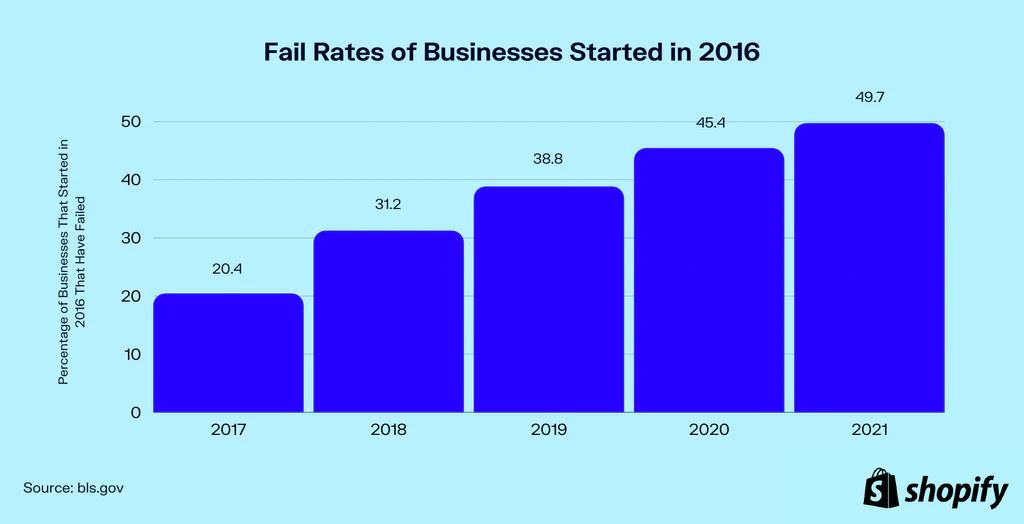 Source
There are a lot of reasons that these businesses failed, such as finances, lack of market research, and a poor business plan. Another reason was inflexibility and subpar marketing, which could easily be fixed by a strong multichannel commerce strategy. Selling on various platforms allows you to be flexible in understanding how your business can show up in the way it matters for customers on different channels. It also allows you to promote and grow your brand more as your customers can find you more easily if you're on multiple channels. With a multichannel approach, you're meeting your customers where they are and letting them know you have the product they're looking for.
How to improve your multichannel selling approach?
There are a number of ways you can improve your multichannel selling strategy both online and offline. Here are a few ways to get you started:
Give a range of payment options both online and offline
To stay ahead and keep customers happy, you should accept various payment methods. Customers want to purchase products and services using a payment option they're comfortable with. According to CustomerThink, nearly 50% of shoppers who aren't able to use their preferred payment method won't complete a purchase. The other 50% who purchase regardless of the payment method still aren't getting the best experience either, which impacts whether or not they return.

Modern customers such as Gen Z and Millennials want to be able to pay in multiple ways. This can be with mobile payments, such as Apple Pay, Samsung Pay, or Google Pay. They also want to be able to pay with in-app, digital wallets, online cash payments, store credit, and even cryptocurrency. Buy Now, Pay Later is also a payment option that's on the rise as many customers want to own a product now and pay in manageable installments. Being able to offer a variety of payment options both online and offline is a game changer that will make customers return to you every time.
Provide multiple fulfillment options
Thanks to the pandemic, many businesses are offering multiple delivery options to meet each customer's specific needs. This is something every business should consider doing if they wish to stay competitive. Modern customers want to be able to:
Order online and collect in-store or by the curbside to avoid shipping costs

Order in-store and get a home delivery

Scheduled or personalized delivery option
Each customer is different. Some enjoy not having to leave their house to make a purchase. Some prefer picking it up in-store. And, others love going out for their full in-store shopping experience. Either way, you need to diversify your options so each customer's needs are met.
Offer a streamlined return process
Whether you like it or not, returns will happen, but it's how it's handled that leaves a lasting impression. In a poll by Doddle, 84% of consumers said the returns experience affects their opinion of a retailer. Customers don't just want to be able to purchase a product fast; they expect to return it just as quickly. Having an outdated and lengthy return policy won't make for a happy customer. You need to make your return policy as simple as possible. A few retailers that are killing it are Amazon, Costco, Ikea, and The Home Depot. They are the best in the game because customers can return a product within a reasonable time frame and the process is easy and fast, which is what customers want. To improve your return process, you can opt for:
Home pick-ups
In-store self-service return kiosks
Easier exchange processes
Free return policies
Keep in mind that a return doesn't mean the end of a customer relationship. When done right, 96% of people say they would shop with a retailer again if they had a frictionless return experience.
But, multichannel commerce doesn't end there
You can have an effective return and exchange policy, the best fulfillment options, and a variety of payment options, but there is one more thing that can tie all this up. It's your product information. Your product information is what will enrich the content on your website, reduce returns as customers know what to expect, and help you build a consistent brand regardless of the platform a customer has. A multichannel approach can often create data silos as you're working with different platforms. This is where a PIM for ecommerce comes in.
To deliver the best multichannel strategy and omnichannel experience across channels, you need a centralized source for all product data—you need a PIM. A PIM system works as a product database that allows you to store, edit, and collect product information for internal collaboration to make multichannel management easier. Whether it's to send it to your ecommerce platform, your supply chain network, or marketplaces, you need accurate information.
A PIM solution like Plytix offers you a central hub where you can:
Store all of your information
Create templates that you can feed into online marketplaces
Create product sheets to send to suppliers
Analyze your ecommerce metrics using our product analytics tool
Make product syndication to Shopify easier with our direct Shopify connector
If you're interested in finding out what a next-generation PIM like Plytix can do to help you achieve multichannel commerce success, download our free whitepaper.
Multichannel Commerce