An ecommerce store that has inadequate product information doesn't drive enough customer acquisition and sales. Unsurprisingly, a store like that can easily gain a negative reputation, which can hinder business growth and success.
But what's the cause of inadequate product information? We present you the answer in three words: manual data entry!
It's an inefficient way to manage product information. Anyone who has ever had the responsibility of manual data capturing will confirm how tedious, repetitive, and time-consuming of a task it is. It's even worse for teams that have wide and complex product catalogs. That's why now more than ever, the best thing you can do for your ecommerce business is to adopt a product information management (PIM) solution that automates and streamlines data entry. Let's look at five manual data entry tasks that a PIM tool makes easy to do.
1. Onboarding new products
As you know, activities behind the scenes never stop. No matter how small your business is, you're almost always dealing with new products—whether it's completely new products or additions to existing product ranges. The ability to capture this data accurately without hiccups is an unspoken expectation. But when you do this task manually, it's hard to ensure that the quality of the product information is as high as it should be. Especially when it comes in different formats and standards.
Collecting, matching, and validating this information on an Excel spreadsheet is impossible. On top of that, you still have to look for related digital assets somewhere in your Dropbox files to match. It goes without saying that errors are prone to happen in the process, and let's not forget that completing this task can take forever. But PIM software cuts down the time and offers additional benefits, such as organizing product data using computed attributes. Next-generation product information tools also give you the necessary nudges to add missing information where it's needed. Plytix helps with this process through the product completion tracking feature, which is specifically designed to ensure that you validate the product content you add.
2. Quality control
This is similar to the quality control process in manufacturing, which ensures that the product that customers receive is defect-free and meets their expectations. But the focus here is on the product information that lives in the product database. It's all about getting the content quality in check by ensuring that it's correct, accurate, up-to-date, and consistent before it is placed in front of the customer.
Without sounding like a broken record here, it's impossible to do quality control when using anything other than a product information database system, which was designed for that specific task.
3. Data cleansing
As mentioned before, it gets busy in the ecommerce world. The decisions to discontinue products, change product specifications, packaging and prices (even just for short-or-long-term campaigns) are announced every other day. This means that some updating and tweaking are always on the card. But more than that, there's the case of outdated, duplicate, incorrectly formatted, inaccurate, and incomplete content.
And, that's exactly why data cleansing is crucial. It enables you to delete duplicates, remove irrelevant data, update old information, complete information, and standardize the format of the content so that it is consistent across the database. Doing this task in PIM software is a lot easier because not only are you able to see your entire product content in a single place, you can spot the data issues faster. With Plytix's bulk product editing and computed attributes features (for editing product information with formulas), you can fix data issues without feeling totally spent.
4. Upstream data sharing
Your business relies heavily on the upstream process going smoothly. If it doesn't, it causes a ripple effect that blows the flow of the downstream portion. Put simply, if you send your suppliers the wrong information, and the manufacturers deliver a product made in the wrong material, you won't be able to get your product to your customers at the time you promised.
Considering that you work with all sorts of suppliers and manufacturers, the data that you have to collect and format for each can be a lot to handle. This is where a PIM can save you. With the information living in a centralized location, you can easily collect and tweak all of the necessary information and share it with the involved upstream stakeholders.
5. Content syndication
Speaking of data sharing, another task that can be tedious when done manually is creating or collecting, enriching, and optimizing product content for multichannel distribution. All of these different channels have their own set of requirements that you need to adhere to. For example, if you're selling through your own Shopify webshop, Google Shopping, Facebook Shop, and Amazon, you need to format all these data sets to fit the standard of each platform.
With a PIM by your side, you'll be able to pull the original copy from the database, tweak it for each platform, then create a URL feed, and distribute it to the sales channels. On the Plytix Channels feature, this link is a live link, which automatically sends the changes or updates you make to the channel you choose. All without needing to recreate the feed from scratch. This feature can transform how you do content syndication. It makes things easier for you, for instance, you can resize and rename images in bulk to perfectly match each channel's different requirements, use computed attributes to change formatting, apply price discounts, and so much more.
Drop manual data capturing with Plytix today
Our research has found that businesses that implement a PIM solution see an increase in sales by 40% and reduce time to market by up to 400%. By now, there should be no doubt in your mind that making the change from manual data entry to automated data entry is good for your business. And, yes, tons of small businesses shy away from making the move because they believe that the PIM market is filled with expensive solutions. But Plytix is a PIM for small businesses, so it's affordable. It's specifically designed to help small ecommerce businesses thrive in this ever-competitive market.
But you don't have to take our word for it. Book a demo with us and find out for yourself. You'll be surprised to learn about the benefits you can reap by making the investment. Here's a FREE detailed guide on how to shop for a PIM.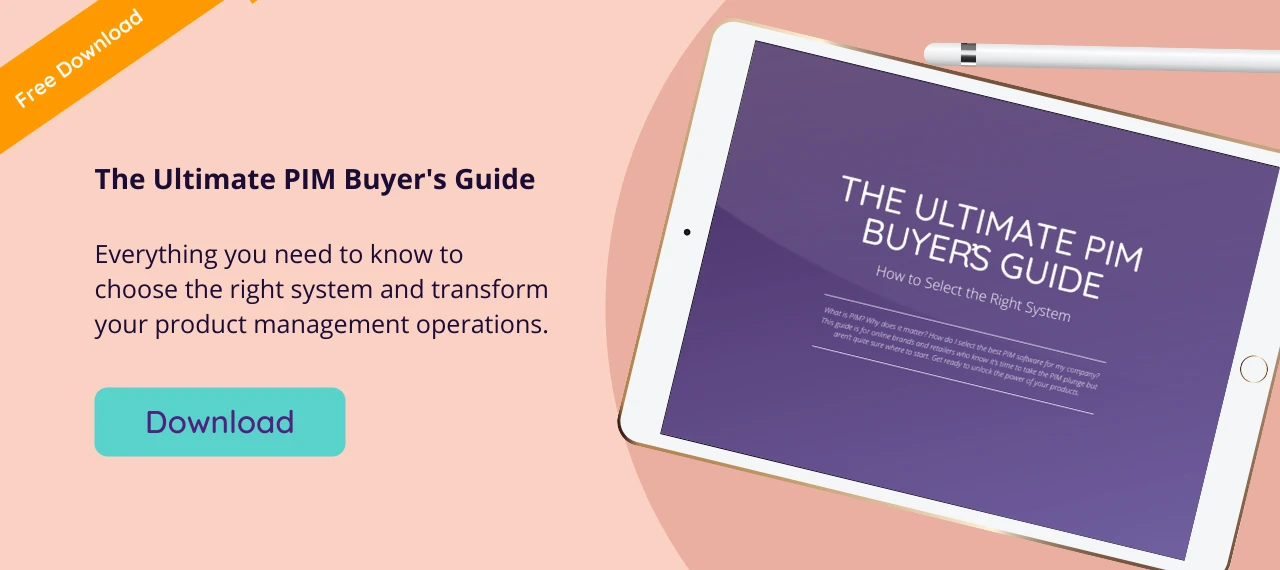 Product Information Management