So, you've been reading about product information management (PIM) tools, and have seen that this software is the answer to all your product information management woes.
But the problem is, how do you help your boss see that? Well, who better to help you than us?
In this article, we list six reasons that will convince your boss why you need a PIM.
1. Investing in PIM = increased revenue
We couldn't go into the other benefits without talking about what makes the world go round — money. Every business owner wants to bring in more money, but did you know that according to this article, a few reasons why 90% of ecommerce businesses fail is because they have poor product content, they don't have a clear return policy, as well as not having a clear marketing strategy.
With a product information management system, you can save money because you won't have to worry about poor product information anymore because that's a PIMs main job. Your returns will drop significantly because all your customer-facing information will be accurate and ensure your customers get exactly what they were expecting.
In the study that we did on how PIM adopters were performing, we found that companies who have implemented this tool have:
Made successful sales on multiple channels
Reduced product returns by 25%
Ensured 67% lower chargeback rates
Had a 25% yearly growth in their operating margins
It's not always easy to justify adding a new tool to your ecommerce tech stack, but these are only a few money-driven benefits you can enjoy with a PIM solution. Even G2 has awarded us badges for best results and best ROI, so it's worth considering. And did you know that with Plytix, you get unlimited user access to the PIM? That means all your employees can work together, at the same time, at no extra cost. Talk about a money-saver!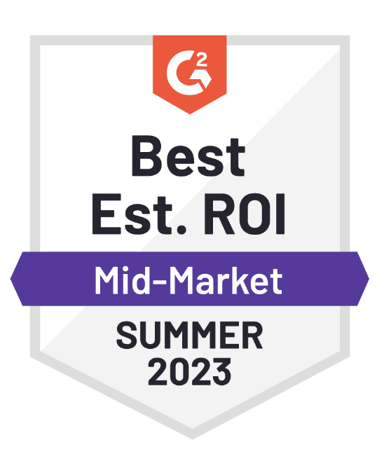 2. Increase productivity across departments
Yup, you read that correctly. A product information management tool can help improve productivity across departments, not just within one. A big way that productivity is increased is through collaboration.
For instance, if you have a distributed team, Plytix makes collaboration easier because everyone can work wherever they are without the need to pop over to a colleague's desk and ask which version of the file you're supposed to use. You can also work simultaneously on the same product and product information without impacting any else's view or workflow. Anyone who has ever filtered on a shared spreadsheet knows the problem that can cause.
But here are real-life examples:
Your copywriters can tweak product descriptions right away in the tool. They won't need to spend hours going between spreadsheets or sorting through files on the drive to see which copy or version needs to be updated. They can also collaborate with the SEO team to write, update, tweak, and optimize product content for sales channels.


Your product or catalog managers can immediately spot typos and missing or incomplete data before they send out product information because Plytix, for example, has a product competition tracker that flags missing data so your managers know exactly where to spend their time. And when they're updating products, they can make changes in bulk, directly in the cell, just like they're used to doing in spreadsheets.


Your product managers and data management teams can also collect and clean product data from multiple data sources (think incoming product data from suppliers).


Designers to store digital assets and rich media, as most PIMs (read Plytix) have digital asset management capabilities.


Your sales department creates sales materials (product sheets and digital catalogs) and quickly assists customers with queries as they have access to updated product information.
All these features enable your team to work together to make sure they have accurate, rich product information, which accelerates time-to-market (more on this later).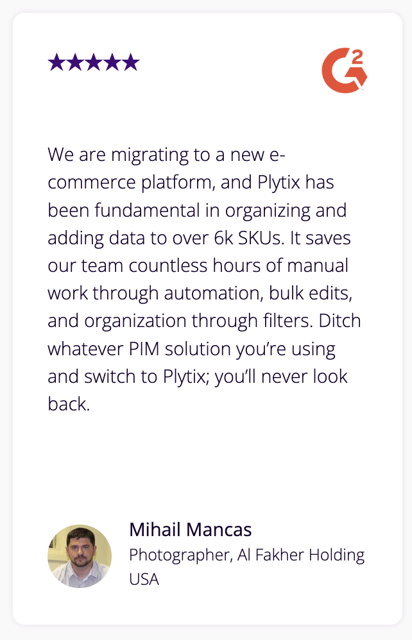 3. Ensure quicker time to market
Product launches can be stressful, and according to Harvard Business Journal, lack of preparation is the leading cause of issues during a product launch. While we aren't saying that a product information database can solve all your issues around a product launch, it can make sure that out of all your 99 problems, product information isn't one of them.
With a PIM, product managers can ensure they have the information and digital assets for a new product on time. In our study, we found that they can get to market 2x faster by decreasing the time it takes to onboard product information from several hours to just a few minutes.
4. Makes multichannel selling easier
To succeed as an ecommerce business today, you need to sell on multiple channels. Customers are shopping everywhere: webstores, marketplaces, and social media. And new channels are always popping up, like TikTok commerce which has been growing rapidly. While selling on different platforms leads to more sales opportunities and increases your brand's online visibility, managing those multiple channels can become difficult. Product information is a particular challenge since each channel has unique requirements.
With a PIM, you can easily manage and format product information for different sales channels. With Plytix, you can tweak your product content to fit each sales channel's requirements in just a few minutes.
We also work well with feed management systems, which can take efficiency to the next level. Click here to learn more about how Plytix can complement your feed management system.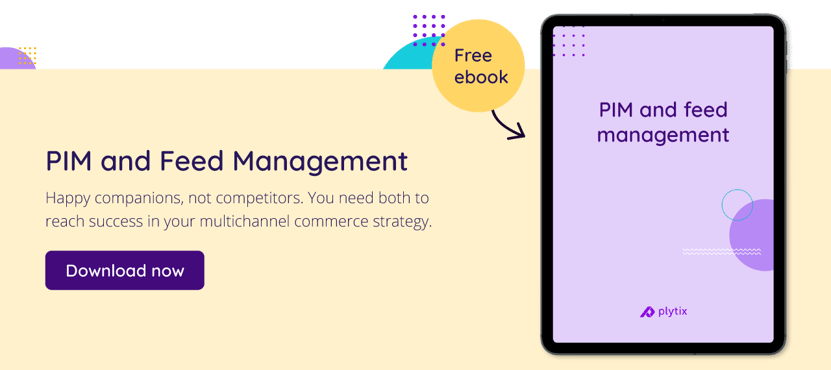 5. Improves employee satisfaction
Ever heard the saying, "Happy employees create happy customers?" Well, it's true. When you build a tech stack that allows employees to save time and cut back on tedious manual tasks, they're more eager to get the work done and can put their energy into doing a great job rather than worrying about processes. They'll also have the time to focus on other business activities and think of creative ways to grow your business and keep your customers happy.
We discovered that businesses that invest in a PIM had better employee satisfaction because they can:
Cut the workload of product managers in half
Decrease product enrichment process from 15 steps to only 6 steps
Eliminate back-and-forth emails (from an average of 25 to 0 emails) about product data which saves them time
These are some of the benefits that implementing a PIM offers employees, which makes sure they're always at their best when dealing with customer-facing information or the customer themselves.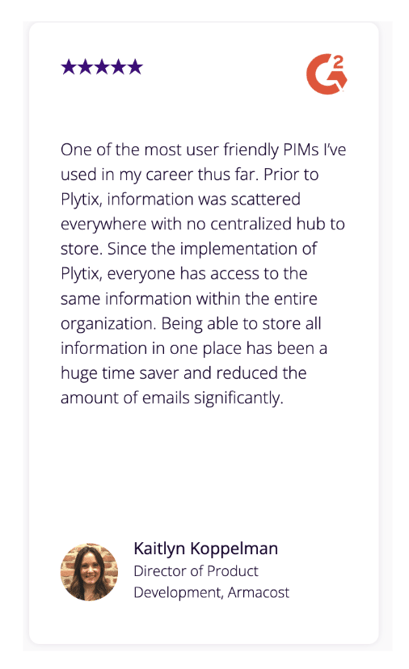 6. Supports a better customer experience
When a customer comes across your product online, they can only judge your business based on the product content you provide, no matter which online sales platform they come to contact with your products on.
If your product information is riddled with typos or doesn't give them all the information they need about the product, it could result in a missed sale or return. Did you know that one of the most common reasons for product returns is that the product didn't match the description? With a PIM tool, you can reduce mistakes that can negatively impact customer experience. And if any issue arises or a customer asks for information about the product, you can be sure that your team has access to updated and accurate information, which allows them to respond to queries quickly.
It's time to get a PIM
It goes without saying that a PIM for ecommerce is a game changer. It allows you to increase productivity, makes collaboration easier, ensures you send products to market faster, offers a great return on investment, and so much more. To learn more about PIM software and what to look out for, download our free PIM buyers guide here.
Or, you could simply book a demo with our sales team and learn more about PIM from experts who are eager to assist you in getting what you need to improve your chances at business success.