So, you're shopping for product information management (PIM) software, huh?
Well, as you've likely noticed, there are more than enough options out there. Unfortunately, the big players that get the most publicity (ahem, Akeneo!) aren't necessarily the best fit for a brand that's small (and savvy) enough to be cautious with their software budget yet growing quickly enough that agility is a key feature to look for.
Obviously, you've got a lot of moving parts to keep track of, so we'll get right to the point—here's what you need to know about Akeneo and some of our favorite Akeneo alternatives.
What is Akeneo?
You probably stumbled across this article because you're shopping for PIM and the name "Akeneo" caught your eye. No need to waste your time reading a bunch of their polished brand messaging—here's what you need to know.
Akeneo is an open-source PIM solution that focuses on providing deep product information management with importing and exporting capabilities, content editings and translating, product classification, and a "completeness engine." Advanced add-ons can be purchased.
Customers seem to agree that Akeneo's commitment to keeping it simple is a highlight in their book. In fact, ease of use is one of the things reviewers like the most about their experience with Akeneo, followed by its robust feature list and ability to operate in several languages. But, unfortunately, Akeneo falls into the same trap that many open-source solutions do. Users love it up until the second they need support or realize all the cool, flexible features are limited to those with deeper pockets or more technical ability.
The biggest gripe seems to be the lack of implementation support and ongoing guidance for those using the free Community Edition. And Akeneo's answer to this—costly-plugins and third-party consultants—doesn't seem to be cutting it.
As open-source software, it's no surprise that Akeneo offers several consulting and training services. They also have some interesting products like the "mini-PIM" Onboarder for your suppliers, a fashion accelerator, and a smart product content curator named "Franklin."
Akeneo doesn't communicate their prices online, but interviews with some of their clients reveal that the lowest starting price is around $38,000 per year.
What Kind of Business Could Make the Most of Akeneo?
We would recommend Akeneo to businesses with a decent sized budget and a large catalog of listings. Akeneo users should be prepared to use the PIM without any customizations or ready to pay a pretty penny for tech support and a dedicated account manager.
Our Top 4 Picks: Akeneo Alternatives for Fast-Growing Brands
Now that you know everything you need to know about Akeneo, here's the rundown on our favorite Akeneo alternatives so you can choose the best PIM for your unique business needs and can get back to feeding that fast growth (go you!).
Agility PIM
When it comes to Akeneo alternatives for the fast-growing brand, we couldn't pass up a PIM with agility in the name!
Agility PIM claims to be the core of a "go-anywhere commerce strategy." We'd agree that its list of robust features does indeed take it beyond a simple PIM to a tool for managing an entire sales strategy.
Their Agility Modular Interface provides businesses a singular platform from which a variety of business users can author, enrich, and approve product information. From there, Agility PIM automates the simultaneous publication of enriched product content to various sales and marketing channels.
By interfacing with tools from their parent company, Magnitude Software, Agility PIM can be used as one arm of a master data management platform where organizations can get a 360-degree view of their products.
And their Data Integration module allows businesses to harness and gaining insight from product data—as long as they have developers on hand to implement it, that is.
Agility PIM offers an initial consultation to help potential buyers conduct an ROI analysis, but no free trial is available—only a demo.
Agility boasts that their customers range from "fast growth innovator[s] to global Fortune 500 companies" and according to Finances Online's Customer Satisfaction Algorithm, the PIM provider has 25 positive and 2 negative social mentions, a 91 percent user satisfaction rating, and is ranked as one of their top 20 PIM products.
Who Should Use Agility PIM?
From a multitude of great testimonials to high ratings across the internet, we have no doubt that Agility PIM is a powerful Akeneo alternative. However, from a distinguished client list to an obvious push to get users to integrate with a variety of related data management tools, we also have no doubt that it's an expensive alternative.
After looking at Agility's robust offerings, we'd recommend it for businesses with a large enough catalog and product management team to justify the complexity and expense.
Sellbrite
Hopping pretty much all the way to the other end of the spectrum we've got Sellbrite, which is "simplified multi-channel listing software" that empowers ecommerce businesses to sync inventory from one centralized catalog to online ecommerce platforms.
At the core of its PIM platform, Sellbrite is quite similar to others in its class with customizable templates, recipes, filters, tags, and bulk uploading capabilities. Thanks to smart synching technology, users can simultaneously update all this product data across channels and automatically adjust pricing using channel-specific rules.
But unlike any other Akeneo alternatives on this list, Sellbrite has additional inventory and order management features that users to centralize inventory knowledge and streamline order fulfillment.
Starting at $49/month for up to 100 orders/month and ramping all the way up to $2,499/mo for up to 200,000 orders/month; Sellbrite offers plenty of tiers of support, consultations, and onboarding depending on the plan—a breakdown of which you can find here.
Potential buyers can sign up for a 14-day free trial of the full version of the PIM.
Who Would Get the Best Bang for their Buck with Sellbrite?
With inventory and order management features in addition to the standard PIM platform, we think Sellbrite is a good fit for smaller businesses that handle shipping in house and don't already have a separate, more robust system for handling it.
However, with one of the largest number of pricing packages we've ever seen, we caution interested parties to pay special attention so that they can make sure they're getting the features they want at a price they can afford.
Plytix
Plytix is a pure yet modern PIM platform that reviewers call smart, easy to set up, and a pleasure to use.
The centralize, optimize, distribute, and analyze (CODA) framework is built for content people instead of IT people. So regardless of the size of your team or your technology capabilities, Plytix will help you solve your most time-consuming pain points while improving revenue per employee.
Whether you need to share product data with resellers and collaborators or update products across tons of ecommerce channels—Plytix empowers you to distribute product information in a smart, customizable way. Easy exports, digital product portals, printable catalogs, and data feeds make it easy to distribute up-to-the-minute product data. Plus, channel-specific optimization rules make sure that each listing is just right for the channel on which it appears.
Plytix is also the only product information management software with a built-in, customizable product analytics dashboard so you can see the exact data you need to take action and improve product performance. Unlike other Akeneo alternatives on this list, Plytix's pricing is pretty straightforward. There is a starter $300 version and a PRO that has everything a fast-growing business needs!
Who Should Use Plytix?
Plytix is easy to use, comes complete with some never-before-seen features in a PIM, and offers affordable packages. That makes Plytix a good fit for growing brands with a special focus on moving quickly instead of wasting time and money on set up and maintenance.
CatalogStudio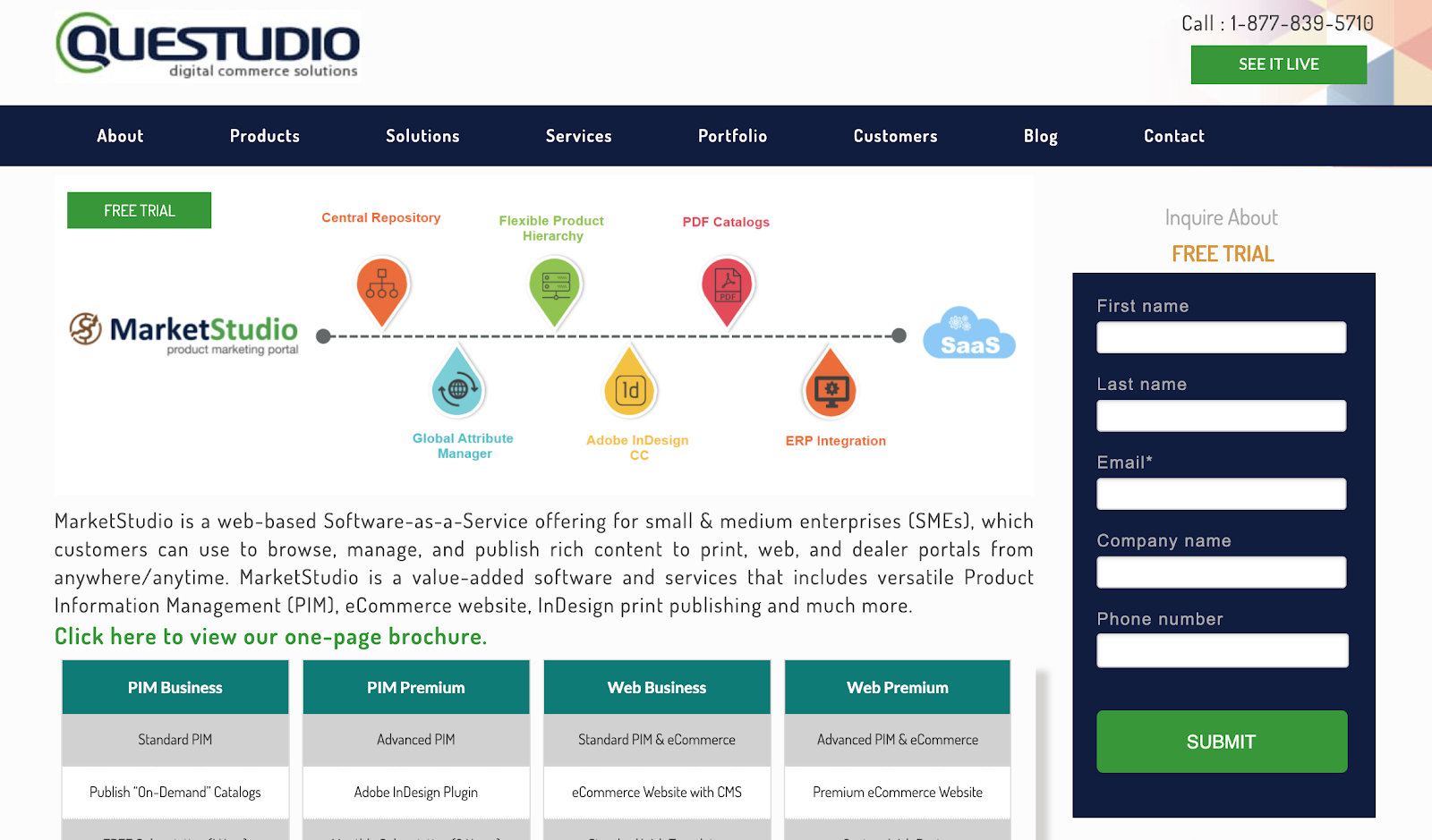 We wanted to highlight CatalogStudio from the product software company Questudio as one final and unique Akeneo alternative.
At its base, CatalogStudio is a classic PIM with the ability to store and manage rich product attributes in a singular central repository before publishing that content to multiple marketing channels.
What makes it stand apart is its laser focus on catalog creation and management. CatalogStudio enables its customers to publish catalogs in Adobe InDesign CC using a proprietary plugin. Alternatively, sellers (and their own clients!) can use built-in templates to generate on-demand PDF catalogs using dynamic data from the PIM.
Of course, with this focus on catalogs, CatalogStudio supports multi-catalog management. Each gets its own hierarchy with unlimited levels and variable attributes that can be associated with families, products, and even sub-products.
This Akeneo alternative can be used as a freestanding PIM or integrated with one of Questudio's other digital commerce solutions; which include catalog automation, ecommerce websites, mobile apps, dealer portals, ERP and marketing tool integration, and more.
Unfortunately, CatalogStudio's sign up process isn't nearly as simple as their product. After an interested party is given an initial demonstration, Questudio then develops a "pilot" that the buyer must test and provide feedback on before finally receiving a detailed proposal.
What Businesses Would Benefit from CatalogStudio?
CatalogStudio, and their parent company Questudio, have purposefully targeted their messaging and pilot program toward enterprise users, which tells us one thing—it's likely a pricey solution. That makes this Akeneo alternative a good match for business users with healthy monetary means and the need to provide custom catalogs.
Which PIM Platform Will Your Fast-Growing Brand Choose?
All these awesome Akeneo alternatives still got your head spinning?
Maybe we need to take a step back: Are you totally sure you get all the details and benefits that come with choosing the right PIM?
If not, our 2019 Ultimate PIM Buyer's Guide will give you all the details you need to know about PIM software, its benefits, the top features to look for when shopping, and even a side-by-side comparison of the top platforms on the market.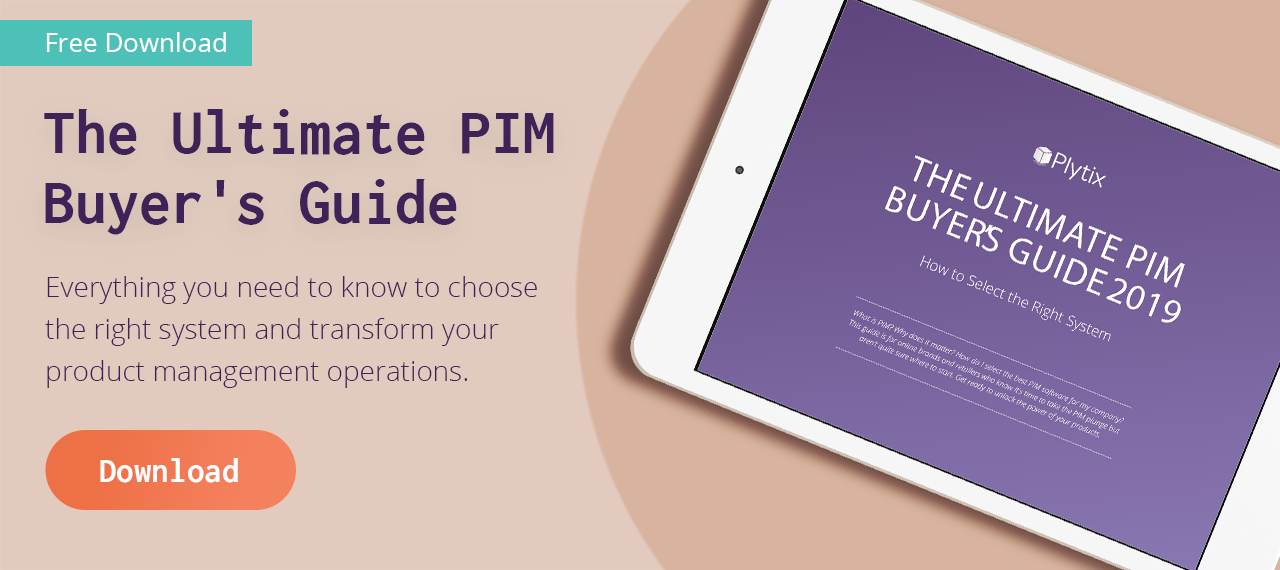 Few more questions about PIM? Chat with a PIM expert using the chat bubble on our homepage.
Ready to dive in and try it for yourself? Sign up for an affordable package today!