With each new year comes new trends and new technology.
And while these changes present great growth opportunities for the ecommerce industry, they can also present challenges for business owners and managers who are not prepared to take on new technology or other changes in their operations.
Ecommerce retailers who want to outperform their competition will need to be on the cutting edge of how the industry is growing and changing. That's why we've put together this list of the top 12 challenges we think ecommerce retailers will have to overcome to be the most successful they can be in 2020, along with a hot tip for the tool you'll need to beat the odds—and look good doing it.
The Top 12 Challenges Ecommerce Retailers Will Face in 2020
Personalization at scale, complicated new search rules, IoT commerce, and more—these are the top 12 issues we think online retailers will need to be prepared for this year, plus how to overcome them.
Borderless Ecommerce Will Require Better Product Information Management
In the ecommerce age, shopping is becoming borderless. 57 percent of online shoppers already engage in "cross-border" shopping, making purchases from businesses that are based outside of their home countries.
The challenge here isn't just figuring out the logistics of overseas shipping. International shoppers also expect product content that's fully updated and contextualized for where they live. That means it's up to ecommerce retailers to create, manage, and organize product information in multiple languages (including local dialects and slang), different currencies, measurement units, and more unique factors depending on the markets they sell to.
One thing is for sure: When it comes to keeping all that product information organized, centralized, and up-to-date, there is simply no way to do it without product information management (PIM) software, a key tool that will help retailers meet this and other challenges in 2020.
Customers Will Expect More Bespoke Personalization At Scale
The way customers interact with businesses continues to evolve, and today, it's no longer enough to just put a customer's name in the subject line of an email, or provide personalized recommendations based on their browsing history.
Consumers want bespoke personalization that goes deeper and deeper, and a huge challenge facing retailers is figuring out how to continue to up the personalization at scale. AI is becoming a necessity for retailers who want to compete with cutting-edge levels of personalization. And as omnichannel experiences go deeper and deeper, this will only get harder for retailers.
PIM systems, such as next-generation Plytix PIM, will be a necessity for keeping product information organized and ready to push to new channels all the time.
Search Will Get More and More Complex
Gone are the days when SEO just meant getting in a few keywords in the right places. Today, Google's algorithms are so much more complex. They also prioritize user experiences, which means the pages that rank the highest are the ones that perform the best, not the ones that are optimized for just keywords.
Oh, and mobile-first indexing means that if your site isn't mobile-optimized, you can all but forget about ranking at all.
Those changes have been happening for a few years, but in 2020, search will continue to evolve and grow in complexity. And that includes a marked increase in voice searches, which require a whole different optimization approach. More than half of all searches will be conducted by voice this year, so if you're not thinking about voice search optimization in 2020, you're going to be left behind.
A necessary tool for voice search optimization? You guessed it: PIM. Overcoming algorithms for different kinds of searches requires a lot of well-organized product information, which can live in your PIM.
Social Shopping Is the New Norm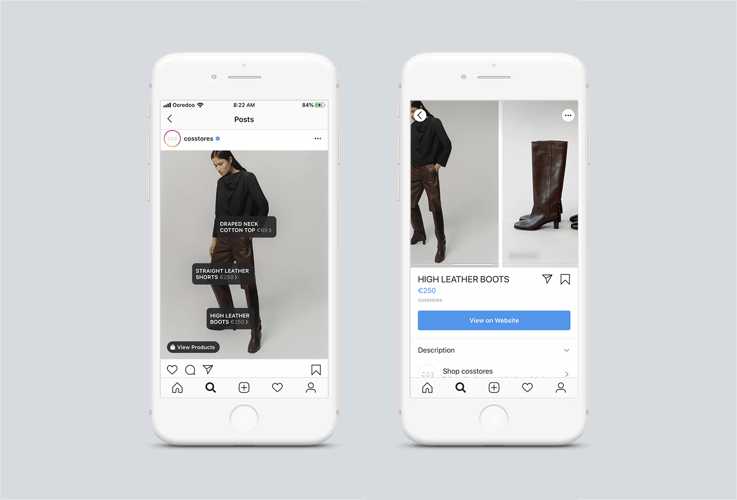 Ecommerce retailers have long used social media to advertise and promote their products. But in recent years, social shopping has evolved to allow customers to make purchases from right within their favorite social media sites and apps.
This has shortened the buying process and improved the overall customer experience, so retailers will want to lean into social shopping in 2020. The businesses who get innovative with shoppable ads and posts on as many social media platforms as possible are the ones who will be most competitive this year. And pushing the right product information to every shoppable social platform will require a good PIM solution.
AR Will Become More Commonplace
The global market for AR (augmented reality) is growing rapidly, and is expected to reach $149 billion by 2025. Some of the ecommerce giants, like IKEA, Wayfair, and LEGO, are already taking advantage of the ways that AR can help shoppers better visualize their online purchases before they hit "add to cart."
AR is a significant investment that's still out of reach for a lot of small businesses, but this is the year that's likely to begin to change. As AR becomes a more expected part of the online shopping experience, retailers will have to create AR experiences for their customers to keep up.
Trying to create an AR experience without a good PIM will be a waste of your business' time. The data that's housed within PIM is vital to creating an accurate AR experience.
Digital Payments Are Overtaking Traditional Methods
The world is moving away from cash and cards, and especially when it comes to online shopping, embracing digital wallets like Apple Pay, Google Pay, PayPal, UPI, and Paytm. But if a shopper doesn't see their preferred digital payment method at checkout, they're likely to abandon the process.
The challenge for retailers is the sheer variety of digital payment platforms that already exist, and keeping up with the new ones that are added all the time. Being flexible and having the ability to accept a wide variety of digital payment options is one key to staying competitive in 2020.
Mobile Shopping Is Still on the Rise
This is another challenge that isn't new this year, but it's reaching new heights. This year, 70 percent of all ecommerce sales are expected to be made from mobile devices as shoppers move away from desktops and make more and more of their purchases from tablets, smartphones, smartwatches, and other mobile devices.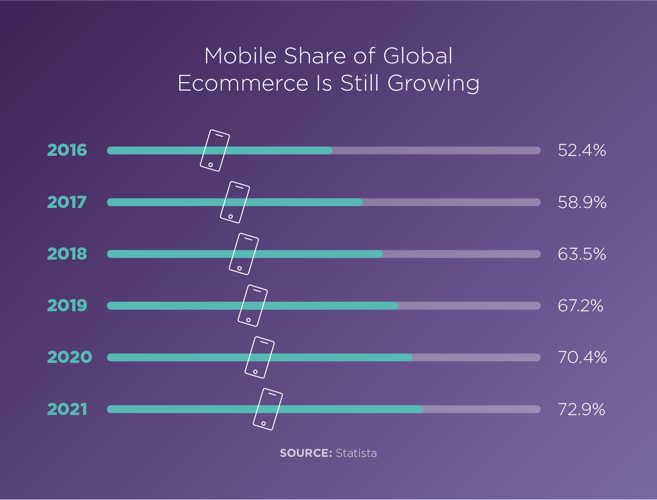 The ecommerce retailers who stay ahead of this trend are the ones who:
Have high-quality, mobile optimized websites
Develop apps
Both of these options will be made much easier with good PIM, which will seamlessly push the correct information to your website, app, and other channels.
Written Product Descriptions Are Becoming Obsolete
Online shoppers still want as much product information as possible when they shop and compare products online. But in 2020, they don't want to read that information.
Recent studies suggest that 60 percent of shoppers would rather watch a video about a product than read a description of its features and uses. That's why, in 2020, retailers should be adding comprehensive videos to their product pages, including how to use the product, why a customer needs it, and any other information that might be relevant to the customer.
And even though a majority of shoppers now prefer video descriptions over written ones, it's not time to replace written product descriptions with videos. Your product pages should have both, so customers can access as much product information as possible in whatever format they prefer. It's just one more asset you'll need to keep organized and up-to-date for every product you offer—something that will be much easier with a good PIM solution in place.
Trust and Privacy Will Still Be Major Customer Concerns
Trust issues are still real online.
Even though online shopping is something many people now do every day, there are still many potential customers who struggle to trust online shops. They want to know that their data is secure, and that it's not being sold or used for anything nefarious.
Fortunately for retailers, it doesn't take a lot to instill trust in shoppers. 75 percent of shoppers will hand over their personal data to a site they trust, and gaining their trust may be as easy as having the right security badge on your checkout page, according to a study by Baymard.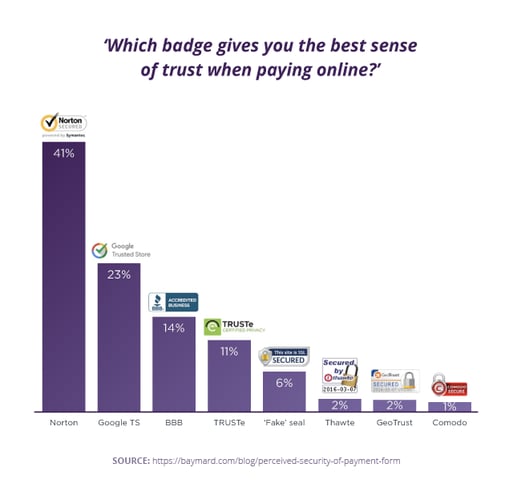 IoT Commerce Is On the Rise
Forget desktop shopping and mobile shopping—there's a new touchpoint on the rise in 2020, and retailers need to be ready to embrace it.
Smart devices are becoming more common in homes, and IoT commerce is expected to grow this year, giving retailers tons of new touchpoints—from cars to appliances to smart speakers and more—where they can make purchases.
With the rise in IoT commerce comes the API economy, which allows retailers to push product information to new channels instantly and seamlessly. Doing that, though, requires PIM to keep product information organized and ready to respond to API requests.
Headless Commerce
With that rise in API shopping and IoT commerce, retailers need solutions that allow them to adapt how their information is displayed to customers quickly and as often as necessary to take advantage of emerging new channels.
That's why, in 2020, retailers will need to take a hard look at headless commerce architecture and consider adopting a new system to help them stay competitive. Headless architecture decouples a retailer's website's "back end" (the part that houses all the content and information) and "front end" (the part customers see), and uses APIs to push information to a separately developed website or whatever other channel customers are using to access and purchase products. As omnichannel shopping gets broader and IoT commerce explodes, headless architecture that includes PIM is the only way for retailers to stay as agile as customers expect them to be.
D2C Retailers Are Your Biggest Competition
The ecommerce age has leveled the playing field for direct-to-consumer (D2C) retailers. Where previously, D2C businesses had to rely on things like catalogs and mail order to sell their products, now they can sell online right alongside traditional retailers. And why have a middleman when you don't need one? That's why D2C ecommerce is thriving right now.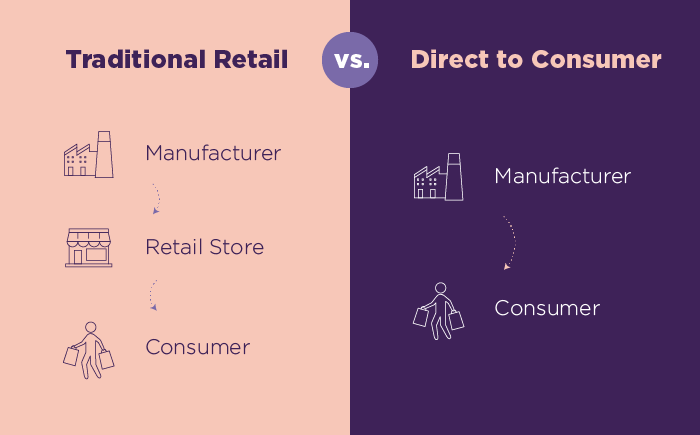 Since they can bypass the retail step in the sales process, D2C retailers can get products to market faster and collect higher margins on their sales. If your business is traditional retail, you run the risk of being outperformed by manufacturers who can send their products straight to ecommerce sites.
Good thing there's PIM.
Research shows that PIM adopters can reduce their time to market by up to 400 percent, helping traditional retailers stay competitive with D2C sellers.
How Do Retailers Overcome These Challenges In 2020?
In case you didn't notice, there's a common solution to many of these challenges (and many others that ecommerce retailers routinely face).
That's right—PIM.
Ready to see all the ways this innovative software can help your business face challenges head on in 2020? Download our free ebook to start your journey to PIM, the best investment you can make in your business this year.