Building a successful furniture business demands more than just creating beautiful furniture. Most buyers see furniture as a long-term relationship, which means your products need to be in front of the right people at the right time and they need to make a positive, lasting impression. That doesn't happen by accident. A furniture marketing strategy is your blueprint to making potential customers think of your brand when they're ready to make the commitment.
Keep reading to learn the key elements of a furniture marketing strategy and the steps you can take to put your brand in the minds and hearts of your ideal customers.
Why Having a Furniture Marketing Strategy Matters
The furniture market is evolving as demographics shift and consumers' buying habits change. No furniture seller can afford to have a poor marketing strategy. Having great products and stellar service isn't enough to compete. You need to be top of mind at the right time and provide a buying experience that compels shoppers to complete the sale.
Having a comprehensive strategy for your furniture business will help you determine who your ideal customers are, how to provide the experiences they crave where they crave them, how to cultivate relationships that lead to long-term customer engagement, and how to do all of the above while managing your business—not your databases. And here's how to get it rolling.
How to Assemble Your Furniture Marketing Strategy
Developing an effective furniture marketing strategy requires time and effort, but it doesn't have to be complicated. This guide will show you step-by-step how to build a marketing strategy that will help you increase your furniture sales. Your business is worth it.
Step 1: Understand Who's Buying Your Furniture and Meet Them Where They Are
How you market to your customers depends on who your customers are. Even though you might happily sell to anyone, the fact is that some people will love your products more than others. You'll sell more furniture if you can identify who those people are.
If you're not sure how to describe your primary customers, ask them! Conduct in-store and online surveys to help create a picture of your ideal shopper, including their age, gender, occupation, average income, hobbies, and preferences. This information will help you determine which television and radio stations they tune into, which newspapers and magazines they read, which social platforms they use—which all inform where you spend your emotional and financial marketing energy.
Once you know who your audience is, there are various ways to reach them in today's omnichannel environment.
Something Old: Select Traditional Furniture Advertising Outlets
Although online research is popular, traditional paid advertising methods like television, radio, and print advertising are still effective ways to advertise furniture. Take advantage of these outlets to put your brand in the minds of potential buyers as well as to reach shoppers who haven't yet gone fully digital.
Think back to your ideal customers. Use these characteristics to identify regional or national outlets or tools for paid advertising opportunities. Create advertisements that speak to your audience and develop a connection between what they want and what you offer. Be selective—you'll want to preserve most of your budget for digital opportunities, but it's worthwhile to at least make a small investment in this space.
Something New: Pick Social Platforms to Connect With Furniture Buyers
Using your research, determine which social platforms your target customers use. You want to reach your customers where they already spend time, not where you prefer to spend yours. If your target market includes millennials, Instagram is where you'll find them. If your audience is older, you're more likely to find them on Facebook. People who are passionate about decorating spend their time on Pinterest.
Post likeable images and shareable videos that are relevant to your brand. Social media marketing is all about building a relationship between your company and people who share your values. Your goal is to engage, not sell. Aim to cultivate a social media following of people who love furniture the way you do. When customers identify with your brand, your furniture is more likely to be top of mind when they're ready to redecorate the living room—turning those followers into customers.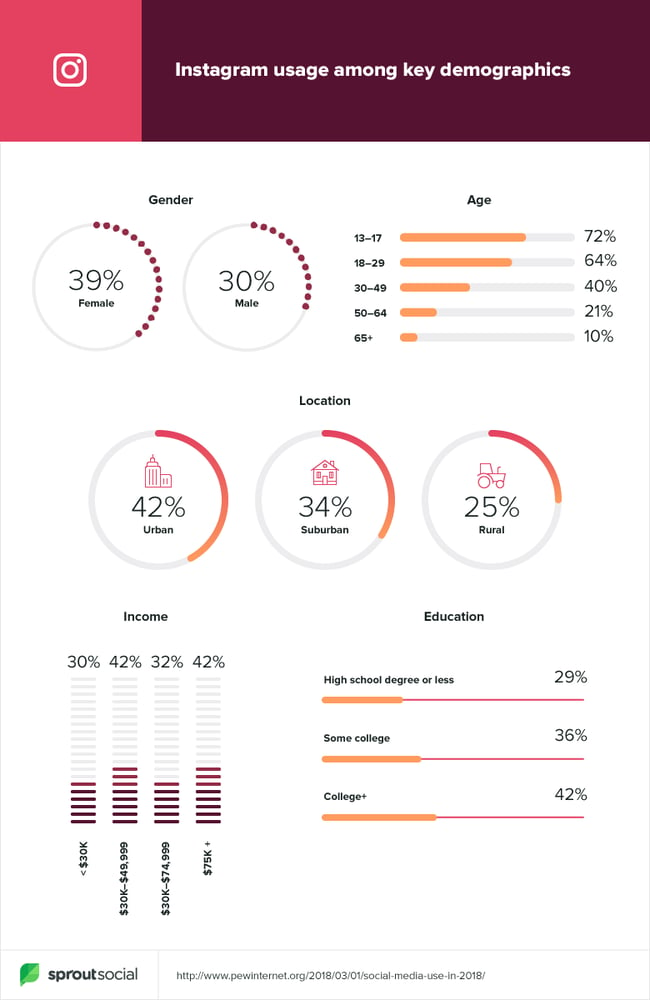 Something Borrowed: Build an Email List
Nothing beats an old-fashioned letter, except a modern one. Building on your social media presence and your customer retention strategy, create an email list to share information with people who are interested in your brand. Invite people to sign up for a monthly newsletter and share regular product news with them. Use the power of the pen—or keyboard—to remind people what you have to offer.
Step 2: Make Your Website as Gorgeous as Your Furniture
Up to 87 percent of customers do online research before they ever walk into a store, which means your website needs to be a core pillar of your furniture marketing strategy. As a furniture seller, you're in the business of making beautiful things. Use your website to show off your design savvy. Here are some points to consider:
Keep Up Appearances
Make your products look their best. Give your furniture the rockstar treatment with a high-quality images that will inspire your visitors. Showcase pieces, rooms, or decor themes. Make your website a place that customers come for ideas, even if they are not (yet) looking to buy.
Don't Be Difficult
Once you have a customer's interest, you want to keep it. Make sure your website is easy for customers to navigate, whether they want to browse for design inspiration, admire specific products, place an online order, or get directions to a local retail outlet. This includes making sure that your load times are quick—nothing turns a potential customer away faster than slow service!
But Do Be Comfortable
In our always-connected world, customers surf the web everywhere, including on the go. Make sure that your web design is comfortable to use in all formats, including traditional web browsers, tablets, and smartphones.
Stay With the Times
When people decorate their homes, they are looking for fresh ideas—you don't want your website to feel stale or dated. Even if your brand is more traditional, a refresh will show customers that your business is modern and relevant. Your content shouldn't be static, either. Just as interior design moods change, so too should your website. Show off new products or feature current products in different ways.
Create Furniture Experiences, Not Just Products
Build a strong brand identity that makes your furniture—and the spaces they create—easy to remember. To really make a stand-out impression, use 3D, augmented reality, and virtual reality tools to help prospective customers get up close and personal with your products. Nothing makes a connection better than seeing how a sleek new table would look in your own dining room.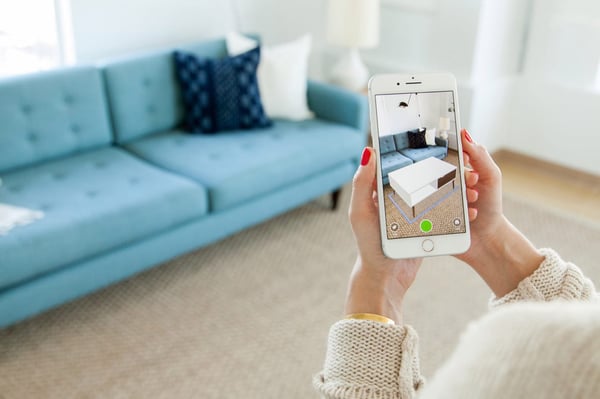 Step 3: Close (More) Furniture Sales
You know who your customers are and you have selected the best ways to showcase your products. How do you translate that into increased furniture sales? Here are some additional sales tips to help your close more deals.
Make It Easy to Say "Heck Yes!"
Use social platforms to promote your sales and discounts as well as tell your customers about any special payment options you offer. Don't have any? Look for ways to make it easy for potential customers to buy from you instead of from someone else. Incentives like convenient lay-away plans, generous return policies, or special discounts (wouldn't that sofa look better with those end tables?) could be a deal broker instead of a deal breaker.
Make sure that your sales and showroom staff are comfortable talking about your incentives and empower them to share the information with customers.
Play For Keeps: Develop a Customer Retention Strategy
Research shows that retaining the customers you have costs less, and generates more profits, than acquiring new ones. Once a customer has purchased from you, give them a reason to continue engaging with you.
Leverage your social media platforms. Invite customers to participate in surveys or to share their favorite photos showcasing your products in their homes. Consider offering personalized discounts or promotional offers as a perk of being connected to your brand.
And for a few more tips on growing your online revenue, check out our infographic full of tactics that any business owner or marketer can put into place right away to improve their furniture marketing strategy as well as their sales.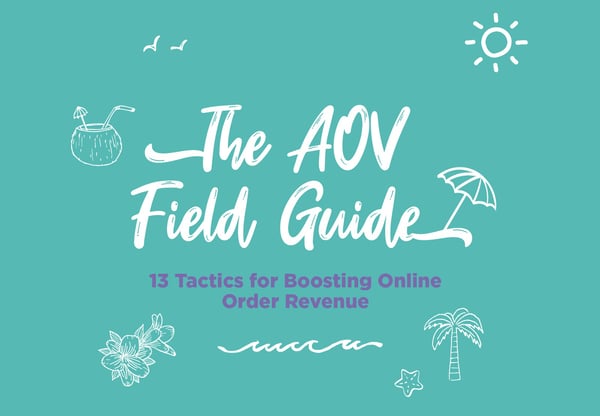 Step 4: Manage Your Furniture Business, Not a Furniture Database
Websites, social media, email lists—all promoting dozens or even hundreds of products and variants across multiple product lines. That's a lot of information to collect, store, and distribute. The best way to manage all that data while still having time to manage your business is to adopt a product information management (PIM) platform.
PIM software helps businesses handle the data, content, and other materials that are needed to market and sell products. PIMs also ensure that quality data is created for internal use and multichannel distribution. An effective PIM will make it easy for you to manage information about your products and put that information to work so that you can focus on the business of selling furniture.
Polish Your Furniture Sales with PIM
To take it a step further, a good PIM will link all of your information holdings together.
That faux-suede sofa you showcased on Instagram? Your prospective customer, Kathleen, used the augmented reality tool on your website to see how it would look in her living room, and now she wants to know where in her city she can buy one. She clicks on the photo, which is connected behind the scenes to a product SKU and your inventory levels. Kathleen is in luck—your products are stocked by a local retailer, and there are two left at a store in her neighborhood!
If Kathleen had to visit or phone the store to ask about the sofa, she might not have followed up. But now she's motivated to make sure that one of those sofas becomes hers. The only thing she's not sure of is whether the sofa will fit in the back of her minivan. By scrolling through the product description, she can verify the dimensions and see how the product is packaged for shipping. She sees that it ships in two boxes that are each small enough to fit in her vehicle.
When you consider what a PIM does from the customer point of view, it's easy to see how powerful it is. You don't need to look any further than one of the furniture industry's biggest players to see what it can do for your bottom line: IKEA doubled its sales after implementing a PIM system.
Marrying your product information to your marketing strategy creates a relationship that's destined for success, for you and your customers. If you're ready to take that next step and finally round out your furniture marketing strategy for 2019, look no further than our PIM buyer's guide.
Chocked full of information about the benefits of PIM implementation, which features to look out for, and side-by-side comparisons of today's leading brands—it's the first and last shopping list you'll need when it comes to product information management software.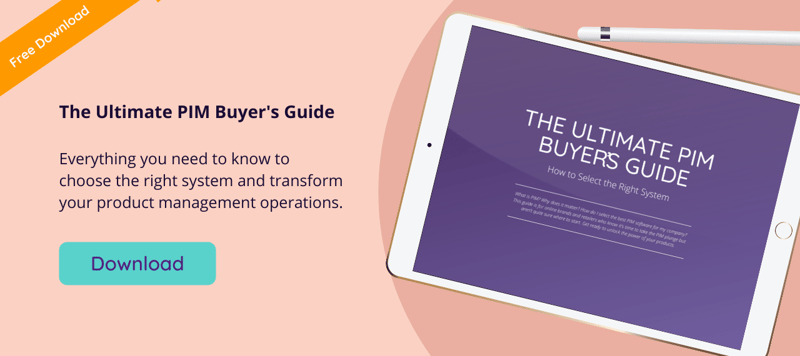 Retail Industry & Trends