For any online brand or retailer, choosing between selling on Google or selling on Amazon can be a daunting task.
While Google has historically been considered the digital advertising giant, times are changing. Amazon has been ramping up its efforts over the past year.
This article offers some basics about Google and Amazon's offerings for ecommerce advertising, comparing Google Shopping and Amazon Sponsored Products. We also have tips to help brands determine the right platform for them.
Google vs Amazon, or, Goliath vs a Growing David
For a long time, Google was the undisputed champion of all things internet. And in some respects, not much has changed. Even in 2019, more than 20 years after a pair of Stanford students developed Google as a Ph.D. project, Semrush ranks the search engine as the world's number one website.
It did $30 billion in ad revenue for the first quarter of 2019 alone and is estimated by eMarketer to account for 37.2 percent of all digital ad spending in the U.S.—with Facebook second at 22.1 percent and Amazon third at nearly 9 percent. But competitors like Amazon are starting to catch up as they gain momentum in online advertising.
While Amazon does roughly a quarter of the digital ad revenue that Google does (for now), it can still beat Google at its own game in certain areas—including product search. A Vox survey found 55 percent of all product searches begin on Amazon. And, as of July 2019, Amazon has a lower cost-per-click at $0.77 with Google coming in at $1.16.
More and more, giants like Verizon, AT&T, and Geico are shifting advertising to Amazon despite not having any products for sale on the platform. Amazon is simply where the shoppers—and their data—are.
The Basics of Google and Amazon's Advertising Platforms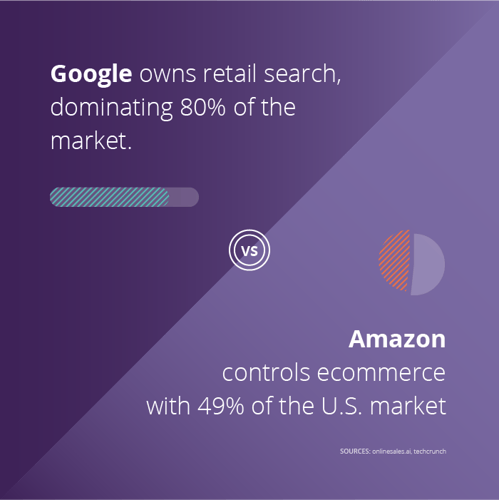 On a basic level, Google essentially owns retail search (or roughly 80 percent of it) while Amazon dominates ecommerce (Amazon's share of U.S. ecommerce was at 49 percent as of July 2018). Products can be sold a variety of ways on Google:
Through a search engine display ad purchased through Google Ad Words
Through a product listing in Google Shopping, Google's ecommerce site
In either case, Google has historically shied away from selling directly through its website, instead generally trying to direct web traffic to seller websites.
This runs counter to the philosophy of Amazon, where all sales occur on their site. As such, Amazon wields enormous power over its vendors and resellers, controlling everything from customer information (which it doesn't share) to requiring $100 minimum purchases for certain ads.
Funnel Vision
There are a number of differences between Google and Amazon's advertising approaches. One of the main ones: Where customers come in the sales funnel.
With Google, even through its ecommerce portal, customers are often at the beginning of the buyers' journey. Frequently, they're just seeking information. With Amazon, they're more likely to be looking to make a purchase when they visit.
"It's another reason in the 'Google Shopping versus Amazon' debate that emphasizes Amazon's growing importance in the advertising market," the experts at digital marketing firm WebFX noted. "Just as Google is the go-to hub for searching, Amazon is the place for shopping."
Changes at Google Shopping
Perhaps Google hasn't taken kindly to Amazon's insurgence. Or perhaps Google simply wanted to step its ecommerce game up. Whatever the case, earlier this year, Google announced it would revamp Google Shopping to allow products to be purchased directly through its Google Express app.
With Google Shopping, Google hopes to empower consumers to easily find and purchase relevant products, browse personalized recommendations, and shop throughout their entire domain—including Google Images and YouTube.
In addition, Google is expanding showcase shopping ads to, as one author notes, "'own the whole funnel" and reach consumers with relevant content no matter where they are in their consumer journey.
How Google Shopping Compares with Amazon Sponsored Products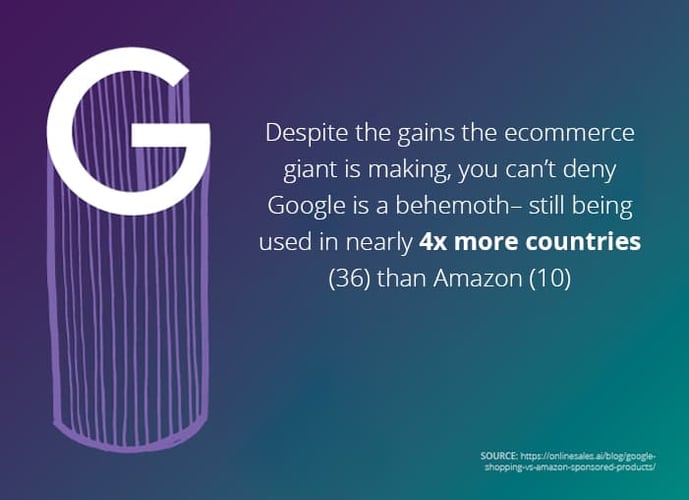 For anyone trying to make sense of Google Shopping and Amazon Ads, this section covers some features of each, illustrating their similarities and differences.
Google Shopping Ads
Google's marketplace isn't entirely organic, with vendors and sellers having the option to purchase Google Shopping Ads.
"We call these placements Shopping ads, because they're more than a text ad—they show users a photo of your product plus a title, price, store name, and more," Google says. "These ads give users a strong sense of the product you're selling before they click the ad, which gives you more qualified leads."
These ads can appear at the top of search results, in a bar to the right of search listings, and on Google-owned sites like YouTube.
Amazon Sponsored Products and Sponsored Brands
Just as Google Shopping Ads can help vendors and sellers gain a leg up in its marketplace, Amazon Sponsored Products and Sponsored Brands help anyone trying to sell there. And, interestingly, they're much more popular than Google Shopping Ads. In fact, 74 percent of Amazon sellers utilize its pay-per-click tools as opposed to just 24 percent with Google Shopping.
Similarities Between Google Shopping and Amazon Ads
There are a number of similarities between Google Shopping and Amazon Ads. As Google Shopping transitions from Google Express, these similarities could expand. In time, Google and Amazon could have competing ecommerce portals.
For now, similarities between Google Shopping and Amazon Ads include the look of ads, the use of review systems, and the emphasis on pay-per-click within each system.
Differences Between Google Shopping and Amazon Ads
In short, numerous differences exist between Google Shopping and Amazon Ads, which we'll delve into more heavily below. Fundamentally, though, Google has been historically geared to direct search traffic to seller websites, while Amazon has been all about capturing ecommerce sales.
Key Differences Between the Advertising Experience on Google vs Amazon
Here are some of the key differences between advertising on Google and Amazon:
Website: For a new business or smaller operation, Amazon can be fantastic in the sense that it doesn't require a website to get going. Sellers and vendors just sign up with Amazon and get listed in the marketplace, with Amazon taking a cut of the sales.
Reach: Google dwarfs Amazon for sheer availability, with Google in 36 countries as of this writing and Amazon in 10.
Payment options: Google charges for each click on an ad, while Amazon has both this model and a subscription-based one with a $39.99 cost per month.
Strategy: As has already been said multiple times, Amazon and Google function differently. What works on one site might not work on another (more on this in a bit).
Which page the user winds up on: On Amazon, purchases happen strictly within that site, with buyers going to product detail pages. Whereas with Google, buyers often click links and are taken to third-party sites to complete their transactions.
Levels of control: Each platform offers different levels of control, with Amazon providing keyword targeting and matching options. Google retains more control, eschewing keyword stuffing and deciding which information goes in ads.
Pricing: Amazon first made its mark by selling books at a loss. This philosophy continues, with Amazon something of a digital low-cost leader. Most consumers will agree that price is the main determining factor on Amazon, so items may need to list for less there than they would on Google Shopping ads.
Targeting: On Amazon, this happens either automatically via an algorithm, or manually by the merchant determining which keywords prompt ads. The two biggest differences with Google are that it doesn't allow keyword stuffing and that it allows retargeting.
Tracking: Each platform has built-in tracking tools. Amazon Product Ads data such as Advertising Cost of Sales is available via downloadable spreadsheet. On Google, a seller can produce Shopping Campaigns reports.
Figuring Out What's Best for Your Biz: Amazon, Google Shopping, or Both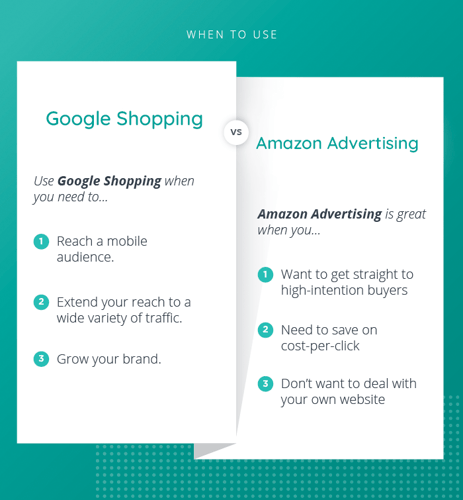 First things first. This article, overall, does not purport to tell anyone why Google is better than Amazon or vice versa. Both have their pros and cons for brand growth.
As one author wisely notes: "Amazon will continue to dominate e-commerce, while Google will dominate retail search. This means that, as a retailer, you need to use both to your advantage. You can list your products on Amazon, but still, invest in Google Shopping ads since they dominate the mobile search."
Web advertising isn't a zero-sum game. Smart ecommerce brands and retailers will diversify their use of marketing channels all while making sure to pursue smart strategies for each.
And just how are they supposed to do that when they're busy managing thousands of data points across hundreds of projects on dozens of channels that seem to change daily? With product information management (PIM) software that's meant to handle, well, all of the above.
With a modern PIM, product teams can collaborate over a single source of product data, optimize it to meet every single third-party channel's different uploading and formatting rules, and syndicate it to those channels with the push of a button.
Things never stay the same for long on the internet. Keep up with changing channels with our free guide to going omnichannel.
Download it today to access 15 pages full of insights into the consumer habits that are driving the demand for omnichannel retailers and brands, omnichannel best practices, and examples of other brands who have made the omnichannel leap and how you can, too.