The allure of Product Information Management (PIM) systems comes from their power to provide easy, efficient, and fast data handling capabilities that save businesses time, money, and resources that can be put to better use elsewhere.
When you take a look at the numbers, you'll see that the PIM market reached $7.7 billion in 2020, and is expected to shoot up to a whopping $13.5 trillion by 2027, meaning it will rise at a compound annual growth rate (CAGR) of 8.9% over the period 2020-2027.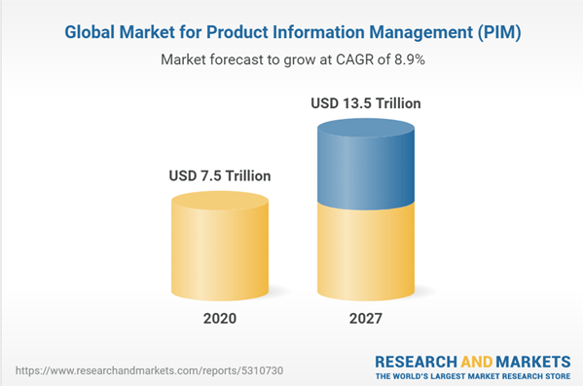 This impressive growth is happening because more businesses now see the need to move away from spreadsheets, Dropbox folders, or any other old ways of storing digital assets. And, they see the value of centralizing data in the fast-paced world of ecommerce. Some of the biggest benefits of having a PIM include improved internal workflows, customer satisfaction, faster time to market, a boost in conversions, reduced backorders, doubled year-over-year (YOY) sales, and so much more.
The good news is you're on this page because you're ready to be part of this winning train. But with so many PIMs out there, how do you pick the one that is best for an SMB like yours?
Below, we've put together a comparison of the leading providers to help you find the perfect fit for your company. But first…
Questions to ask yourself before choosing a PIM
Picking the right PIM tool can be a little tricky when you're presented with many options. To make the best decision for your business, you need to consider a couple of factors. Start by asking yourself the following questions:
What do I want my PIM system to achieve?
Is the PIM system on-site or on the cloud?
Does the PIM system come with standard or customizable exports?
Will the PIM system allow me to upload and manage digital assets?
What types of support packages are offered with this PIM tool?
Where do I publish and distribute product data?
Where do I get product data from?
How complex is my product information?
How closely does my PIM system need to integrate with my ERP and/or other systems?
Now that you know what you want out of your PIM, use your answers as you explore the PIM options below.
Which PIM is suitable for SMBs like yours?
According to G2, a business software and review site, leading PIMs are, in no particular order, Akeneo, Sales Layer, Salsify, Syndigo, and Plytix.
These top rated PIMs have similar features, and they all promise flexibility, ease-of-use, affordability, and ability to help SMBs scale and grow. But they don't all deliver equally on this promise.
Akeneo
Akeneo is a customizable web-based software that allows you to define data attributes, translate your product information, add media capabilities, customize product catalogs, and complete product sheets.
Akeneo's target customers are retailers and brands who manage large amounts of product data that can be distributed to multiple channels. According to G2, 81% of Akeneo customers are either enterprise or mid-market sized businesses from various industries.
Akeneo PIM is an open-source software that requires you to have a deep pocket to dig in for onboarding and regular upgrades to add additional data and users. Open-source software can be a great fit if you have a specialized development team that can handle the ongoing requirements that come with it.
Although Akeneo has a free trial and a free "community" edition, these options have limited features. So, to get the best out of their PIM, you'd have to look into their paid Growth and Enterprise editions.
Its key features include:
Content creation and management
Data asset management
Data quality control, governance and analytics
Data migration and modeling
Multiple data exporting capabilities
Marketplace and API connectors
Multi-channel marketing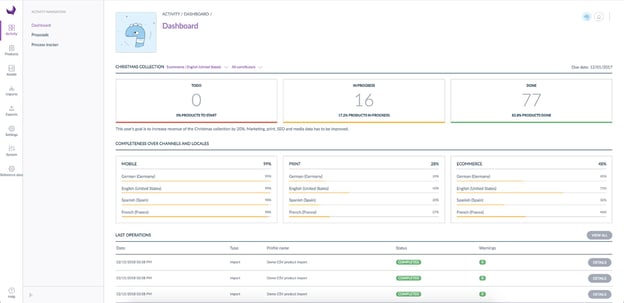 With Akeneo, you can expect product support that ranges from email, help desk, FAQs, forum, knowledge base, and chat.
Sales Layer
Sales Layer is a cloud-based tool that's designed to help you simplify the way you organize, store, enrich, and analyze data. It allows you to connect to platforms, and marketplaces where you sell.
Sales Layer's target customers are all retailers, manufacturers, distributors, and brands who are more than willing to pay for any additional costs for more users and features. G2 points out that 68% of Sales Layer customers are enterprise or mid-market sized businesses who generally have complex product information management needs.
You can trial Sales Layer PIM for a period of 30-days, after that you can choose to take it on for an extended period. They will provide you with custom-priced packages, starting from $1,000 per month, based on the capabilities you require.
Its key features include:
Content creation and management
Data asset management
Data quality control, governance, and analytics
Product content syndication
Product catalog creation and sharing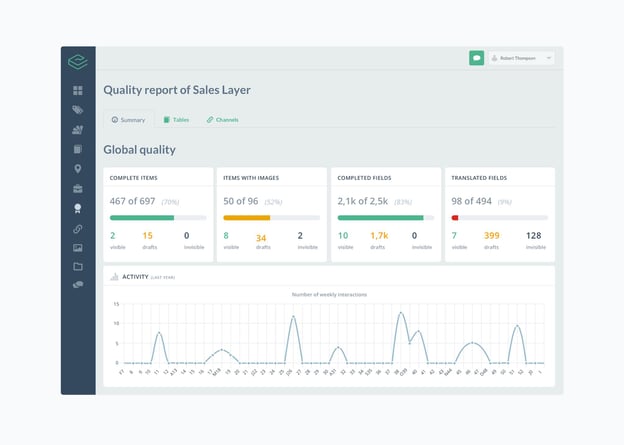 For product support, you can expect to connect through email, help desk, FAQs, forum, knowledge base, phone, and chat.
Salsify
Salsify is a web-based PIM and DAM software that not only centralizes product data but also ensures that it's easily distributed across various channels.
Salsify's target customers are manufacturers, retailers, wholesalers, and brands who have extra dollars to spend on onboarding and additional users and features. According to G2, 87% of Salsify's customers are large enterprises or mid-market businesses across a variety of industries such as retail, wholesale, mechanical or industrial engineering, pharmaceuticals, and more.
Salsify offers you a free trial and the annual subscription cost is tailored according to the features you require.
Its main features include:
Content creation and management
Data modeling, quality control, and analytics
Cross selling functionality
Product asset management
Direct retailer feedback
Multi-channel marketing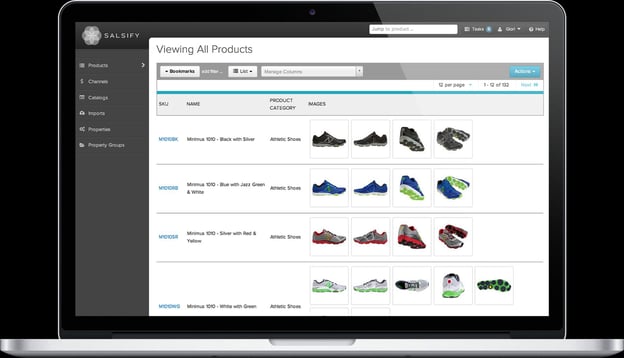 When you need assistance, you can get help via email, help desk, FAQs, forum, knowledge base, phone, and chat.
Syndigo
Syndigo is a web-based Content Experience Hub designed for the purpose of creating, collecting, and managing product data in one location.
Syndigo's target customers are retailers, distributors, and manufacturers who have tons of product content to manage. G2 states that 69% of Syndigo's customers are enterprise or mid-market businesses that are mostly within the food, automotive, and healthcare industries. With a per-user pricing model, Syndigo offers you these main features:
Content creation and management
Data quality control
Product asset management
Workflow management
Allergen Tracking
FDA compliance
Allergen tracking
Recipe management
Nutrition analysis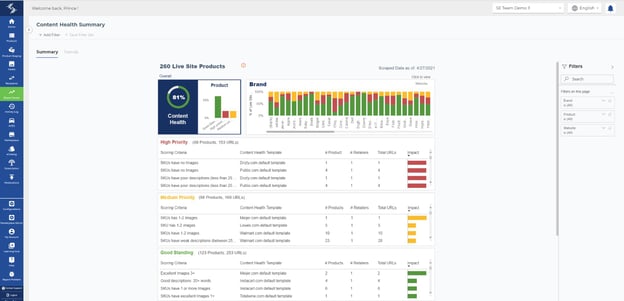 When you need support, your options include email, help desk, knowledge base, and chat.
Plytix
Plytix is a cloud-based PIM tool especially designed for SMBs that manage over 100 products and sell on more than one channel. It's a centralized single source of truth that provides ease of use for non-technical individuals.
Plytix's targeted customers are SMBs who don't have big budgets but require access to a product content management platform that offers unlimited users, to drive seamless organizational collaboration. According to G2, 69% of Plytix customers are small businesses who are looking to scale and grow.
With Plytix you're looking at choosing between three plans. One is a free long-term plan that you can use forever, with some feature limitations. The other two are paid plans that you can trial without any feature limitations. When you're ready to take on a paid Plytix PIM, you're looking to pay a flat fee of $450 per month for the starter plan, $1,650 per month for the Unlimited plan, or you can even make your own custom plan adding in the outputs you want (the price changes depending on the number of outputs).
Check out the difference in our plans below: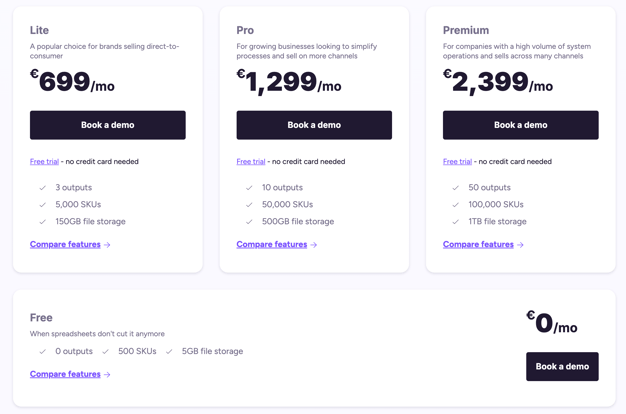 Plytix's key features include:
Content creation and management
Product asset management
Data validation and completeness
Multiple data export capabilities
Product content syndication
Automated catalogs and product feeds
Help comes to you through email, help desk, FAQs, forum, knowledge base, phone, and chat.
Why you should choose Plytix PIM?
We'll state the obvious here: Plytix PIM is a next-generation PIM that is specifically designed for SMBs that are looking to play on the same competitive ground as the large organizations — without having to dry out pockets that are already limited.
We have a free plan that you can use as long as you need to because we believe that every business should have access to a PIM without budget constraints getting in the way. That's why we also keep our prices low even for the paid plans.
At Plytix, we don't make you pay additional fees for more users. We believe it's important to give you unlimited users no matter which plan you're on. And, unlike other PIMs, we're transparent about our costs, so you know exactly how much you'll be paying without jumping through hoops and undergoing a tedious consultation process.
Plytix is a product content management system designed with the regular user in mind, meaning you don't need technical PIM knowledge and experience to use and navigate it. Our tool is also built for collaboration so that each member of your organization can use it to capture, create, edit, enrich, and optimize all types of product data. Not only that, but your teams can also collaborate on sales enablement tools such as sell sheets, line sheets, product catalogs, and more simply by pulling data directly from the PIM.
Download our FREE Ultimate PIM Buyer's Guide white paper to read a more detailed breakdown of leading PIMs and what they have to offer. Alternatively, you can skip the admin and book a demo with our incredible sales team to see our PIM in action!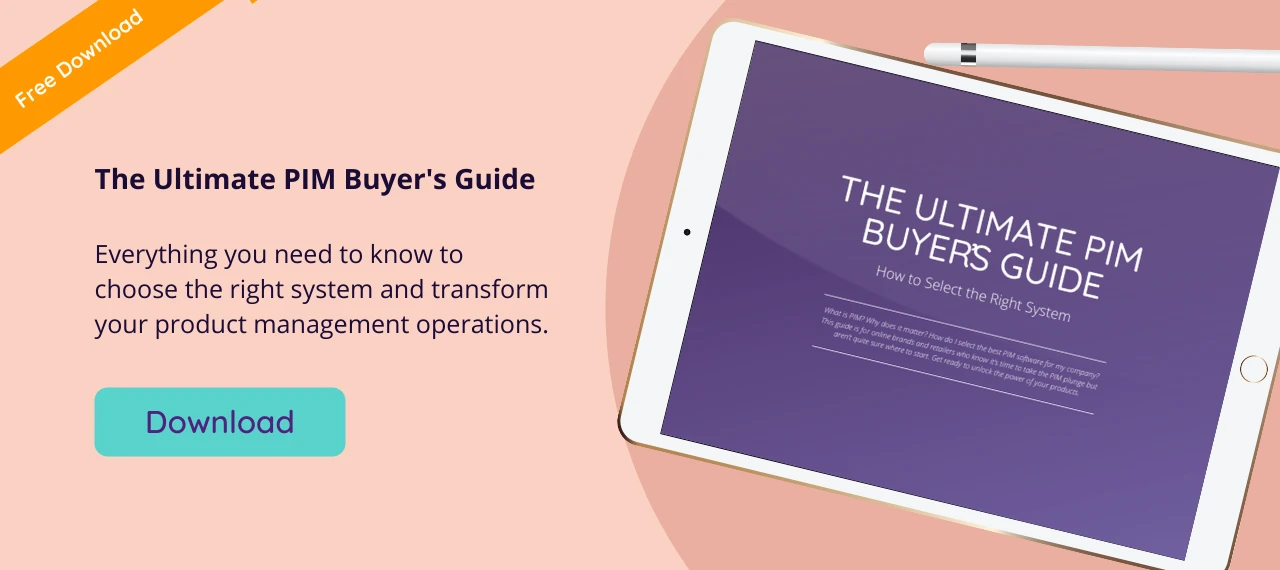 Product Information Management