Amid all the different sales and marketing tools brands use, line sheets are easy to overlook.
They're one of the last tools used to close a sale with an interested retailer. They're supposed to be simple, no-frills, and to-the-point. Because of this, there are brands who think that line sheets take less time, effort, and planning than other tools, like catalogs or brand portals.
But that couldn't be further from the truth.
Your product sheets might be retailers' first impression of your brand and products, but line sheets are your closers. They're the tool that actually makes the deal, and boosts your bottom line. They deserve just as much care as any of the other tools in your arsenal.
And so, if you're a brand looking for tips on how to improve your line sheet game, you've come to the right place. Read on for a guide to everything brands need to know about crafting winning line sheets — plus, some advice from experts who have created proven line sheets that sell.
What Is a Line Sheet?
A line sheet is one of the many tools brands, wholesalers, and manufacturers use for marketing and selling their products. Line sheets are similar to other tools, like sell sheets, product sheets, and catalogs. But they tend to be more basic, displaying only the most important product information to potential buyers or retail partners.
Why Are Line Sheets So Important?
Think of it in terms of your sales funnel.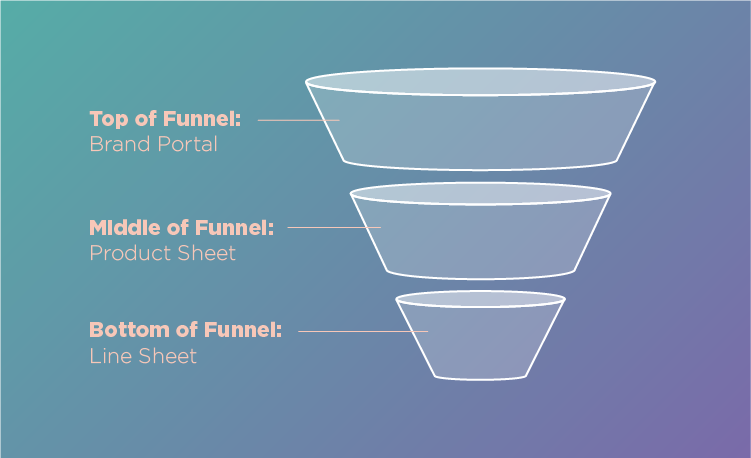 At the top of your funnel, when you need to introduce buyers to your brand (potentially for the first time), you'd use a tool like a brand portal.
Then, at the middle of the funnel, when you're helping potential buyers get to know your products a little better, you might use a product sheet, which will catch retailers' eyes with stunning visuals, professional level design, and persuasive sales copy that introduces both your brand and your products.
Then, at the bottom of the funnel, you have line sheets.
Line sheets aren't meant to persuade potential customers to buy your products — that part should already be done. Instead, line sheets should provide just the information a retailer needs to place their order, and nothing more. A line sheet should be visually appealing, but simple. Products should be featured in a neat grid, with consistent images and product information relevant to placing an order.
How Do You Create a Great Line Sheet?
Great line sheets might sound simple, but they require as much artistry and care as any other sales tool.
Must-Have Elements for Killer Line Sheets
Before anything else, ensure your line sheet contains this information, which is vital to retailers who might be considering making a purchase: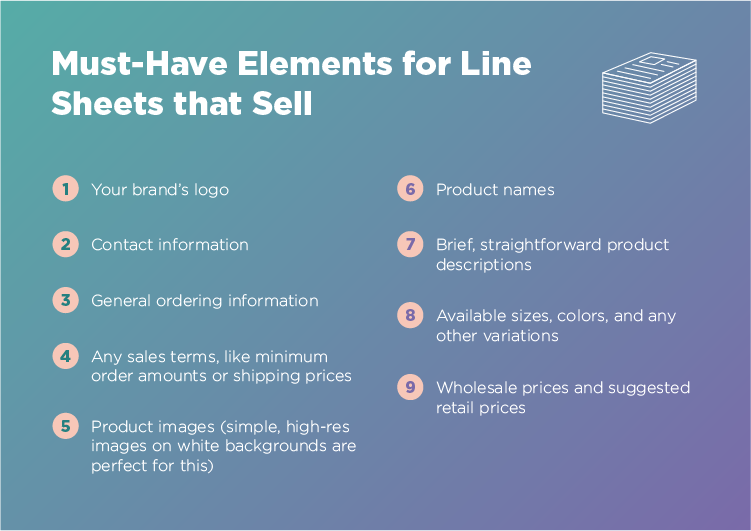 Your brand's logo.
Contact information.
General ordering information.
Any sales terms, like minimum order amounts or shipping prices.
Product images (simple, high-res images on white backgrounds are perfect for this).
Product names.
Brief, straightforward product descriptions.
Available sizes, colors, and any other variations.
Wholesale prices and suggested retail prices.
All this information should be part of a clean, simple layout. Line sheets should be easy to navigate, and draw the buyer's eye straight to what matters: The products.
The Most Important Line Sheet Resource: The Right Tool
Aside from having the right information, the key to killer line sheets is having the right tool to make them with.
And rather than hire a team of graphic designers, why not have technology on your side? Line sheets can be automated — along with other tools like sell sheets and catalogs — with Plytix.
What makes Plytix such a powerful tool for creating killer line sheets is that it can actually do so much more than that — help centralize, organize, distribute, and analyze product information, track product performance analytics, and automate the creation of all kinds of branded materials, with fully customizable templates so you can tailor your tools to fit each potential sale.
Plytix is the all-in-one tool ecommerce brands need in the digital age. All that's left to do is try it for yourself and see.
Line Sheet Tips From 7 Experts In 7 Industries
Before you set out to make your own line sheets, keep reading: We've compiled 7 top tips from line sheet experts who can help you create the best tools possible to boost your brand — and your bottom line.

Tip #1: Use the Right Tools
Graphic designer, Nadia McDannels, says the biggest mistake she sees brands make when it comes to their line sheets is trying to DIY a solution without the right tools or skills.
"Most clients try to create one in Word and it can be a very frustrating process. They try to line up logos and the copy, all the contact information, the tagline, etc.," she said. "And then after they print it out, they see that the copy and pictures shift, nothing is lined up and it just does not look nice."
Tip #2: Remember that Line Sheets Are (First and Foremost) for Marketing
According to Olga González, CEO at Pietra Communications, it's all too easy for brands to forget why they're creating their line sheets in the first place.
"Early on, people often do not consider line sheets a marketing material, the way they think of their website or brochures. Line sheets should be aesthetically pleasing, created in company colors and logos, and be consistent with company messaging and storytelling," she said.
Her advice?
"Hire a graphic designer or a communications agency to create your line sheets for you. They will stand out above the rest, and customers will take your product more seriously when things look professional."
Tip #3: Include the Right Information, and No More
Sarah Lidwell-Durnin, a product strategist and educator, has a few important pieces of advice about line sheets. First up: Make sure to include the most important information that buyers need.
"Lead time!" she said. "It's the first question the merchandiser asks!"
But while it's important to include the correct information, that's where brands need to stop.
"A retail buyer is going through a lot of these every day, and 1000 words about the moment their life changed while out walking their dog in 1987 is not helping you clinch that order," Lidwell-Durnin added.
Tip #4: Use Images to Create Context for Your Products
While many line sheet experts say to keep images as simple as possible for this tool, Dana Curtis, CEO at Biztools Strategy Consulting, disagrees.
"Make sure to show the product and its application," she said. "Don't show a sweater or a shoe by itself, show it on a model. Don't show a hammer without a nail. Don't show a drill bit without a hole. Very few products exist by themselves, they are a complementary part of a greater whole. Make the connection for your buyers."
Tip #5: Make Things Easier for Buyers
Janine Mulone, founder of Feel Good Retail, says one of the most important things your line sheets can do is make things easier for buyers and retailers. A common mistake brands make, she says, is "leaving off pivotal information that requires a lot of back and forth from buyers (and can result in lost sales), poor quality photography, or a hard to follow layout."
Instead, brands should "go for clarity and simplicity over flash," Mulone added. "Find creative ways to eliminate hangups or delays in the buying decisions. If your linesheet is beautiful and saves a buyer time, it's a win win."
Tip #6: Mind the Technical Specs
According to Eliza Nimmich, co-founder and CEO of Tutor the People, not enough brands pay close enough attention to the more technical aspects of their line sheets' design and layout.
"The unused room that surrounds your concept details (text or graphics) is white space. There should be plenty of empty space around it to allow the interpretation of the data quick on the eyes," she said. "Leave a little gap between the sides of the form and the text if you use shapes like rectangles, circles or polygons as backgrounds."
Tip #7: Highlight the Products, Not the Information
According to Olga Barkova, a UI/UX designer at Cadabra Studio, too many brands create line sheets that don't draw attention straight to the most important thing: The products.
"The biggest mistake is putting an incorrect emphasis," she said. "Clients should always understand what product they are looking at right now and how much it costs. Because sometimes brands make pricing super-small and choose pictures of a person wearing jeans, sweater, jacket, and a hat, and it's unclear which of these items is being shown right now."
For brands who want to include more information about their products, but maintain a clean look for their line sheets, she offered this advice: "I'd say hover options and interaction with a card. For example, hovering the picture could show the product from other angles, switch on a video of this product in motion, or show additional details."
Use These Tips to Create Line Sheets that Sell
Ready to put these expert tips into action? Sign up for your Plytix account today and see why automation is the key to building line sheets that boost your business — and your bottom line.
Product Information Management
,
Retail Industry & Trends