So you've finally decided to do something about scattered product data and search for a PIM solution for your business. Welcome to the 21st century. The thing is, how exactly do you know which one to choose?
Moving over to a modern PIM system will push your business to the next level, but with so many options out there, it can be overwhelming. There is no one-size-fits-all solution, so to get you started we've compiled a quick list of five questions to ask when looking for a PIM solution.
Who is it made for and how many people are able to use it?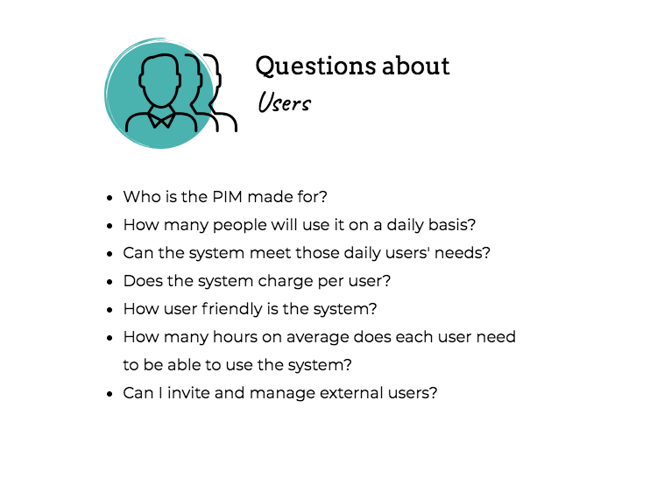 This is an important starting point. This question helps you measure the level of complexity and types of features you will ultimately need. If you need your content manager to be able to use the PIM on a daily basis, it will be smart to try to find one that accommodates their technical skill set and helps them get the job done that they set out to do. You should ask about how many average hours of training it takes to use the system. This will give you a benchmark for your implementation plan as well.
Then how many people will be working in the system is crucial. Some PIM systems charge by the user (at Plytix we do not, but it is still worth mentioning) so if that is the case you may need to decide who will be able to interact with the system based on your budget. You will also need to decide what types of user permissions you need, if any. Will you be working together on products? Will you be inviting external collaborators? Can the system handle that? All of this is important to know before you buy.
Do you want one system or several specialized systems working together?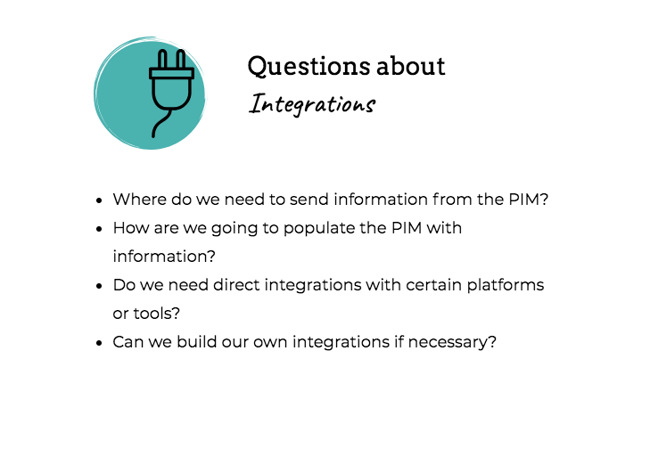 There are two major types of PIM solutions. One is integrated into an all encompassing Enterprise Resource Planning (ERP) system (learn how PIM and ERP work together here), and the other is a standalone service that can be used alongside other specialized services.
Both will get the job done, and each offers benefits over the other.
Large ERP systems can take years to plan and build, but once in place, they will cover all of your bases. You can integrate PIM directly alongside accounting, sales, production, stock management, and so on.
The downside is that they are costly and lock you into a piece of general software that isn't specialized in any one thing. They also don't integrate new software easily, which may create problems down the road.
If you're looking for something smaller and more specialized, standalone services are the way to go. They are much faster to implement and let you take advantage of what PIM has to offer right away. You also won't be locked into a multi-year contract, avoiding the tar pit of the development process and keeping your business nimble.
What functionalities do you need or expect?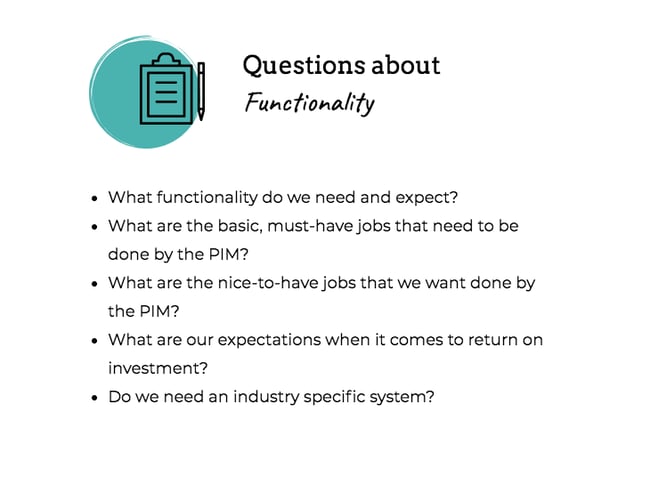 PIM solutions come in all shapes and sizes, so you need to sit down and think about what specific functions you need taken care of. The scope of these choices will help you decide which service is best for your company.
For example, if you're looking for a simple database with an existing plugin for Magento or other ecommerce platforms, a specialized PIM service like Plytix is what you're searching for. Not only can see the effects immediately, if you decide to change platforms in the future you just need to import the feed into a different plugin.
Although many things can be taken care of by third party services, sometimes needs are better filled with more robust ERP systems. They offer a much wider variety of services, some of which you'll use and some of which you won't.
Things like advanced user management, per channel transformation of attributes, and stock management are the kinds of functions you'll find integrated into a larger, more expensive system. Think about what features your business needs and see which option ticks all the boxes.
How frequent and costly are upgrades?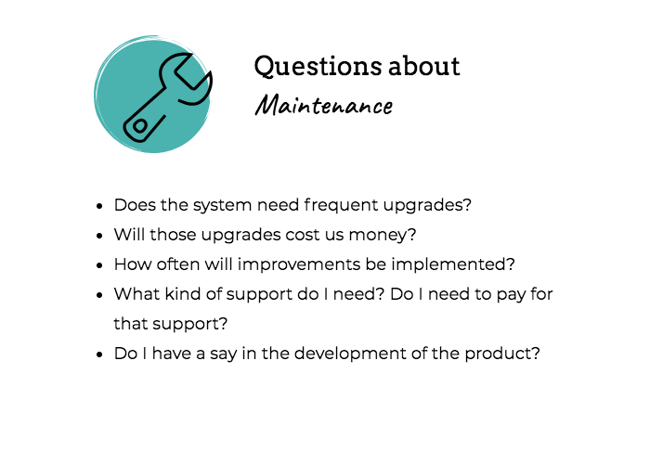 Another thing you should consider when choosing a PIM solution is the future of the system. If upgrades and bug fixes are few and far between, or worse, you have to pay out the nose for each and every one, you might want to look somewhere else.
In this category specialized PIM systems have a clear advantage. Since they aren't spread thinly across a wide spectrum of tasks, they can focus on doing one thing well.
That means that the service will always incorporate the latest and greatest technologies, with little downtime between upgrades. Also, since the service is shared with all of their customers, you won't have to pay a fee for its development.
Larger solutions will be much more costly to upgrade, but they can offer more customization of features. Depending on your business, that could be a major selling point.
How scalable is the PIM solution?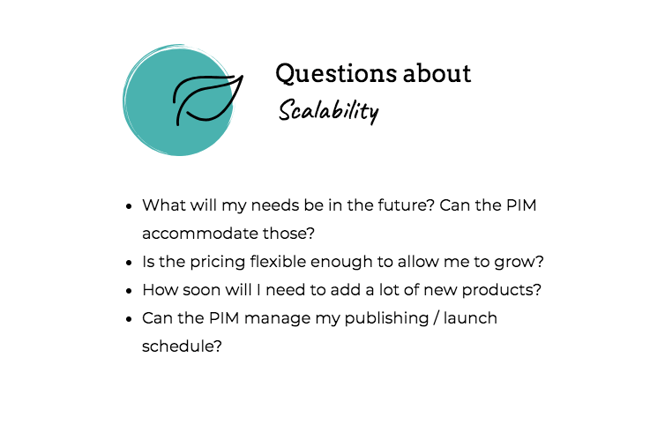 For SMEs, thinking about scalability early is key to avoiding headaches (and huge expenses) in the future. PIM is no exception, and although virtually all solutions offer some scalability, they differ in how you pay for it.
For example, at Plytix customers are charged based on the number of SKUs, and additional users can be added free of charge. This allows small teams to get everyone in on the problem solving process.
Other services offer unlimited SKUs at a higher price point or charge more for add ons. Some also offer several pricing structures with additional features that you can take advantage of as you grow.
Depending on the size and shape of your business, one or the other might offer a better ROI. Just make sure you take future plans and growth into account while considering your options.
Are there any hidden fees or service charges?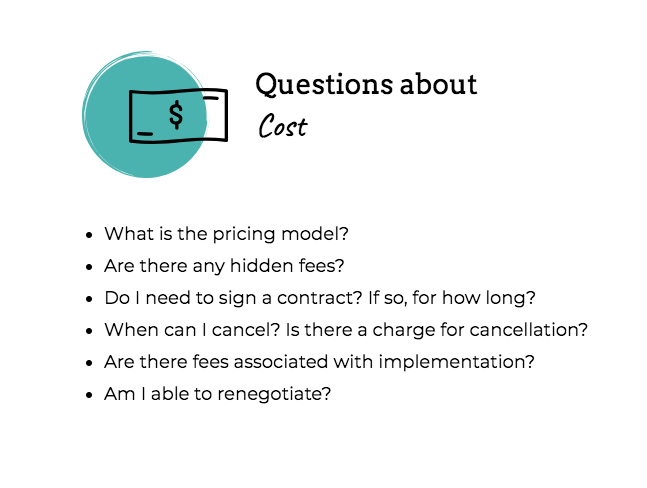 There's nothing worse than finally moving on from the decision making process only to be slammed with hidden fees. Ultimately it's your responsibility as a business owner to make sure you understand the full cost before signing any contracts.
Just to be clear, we're not talking about fees for additional features or add ons. We're talking about certain implementation costs and other obligatory service fees. Even revenue sharing isn't off the table for some services.
These hidden fees can take different forms, but one of the most common is a set up fee. If the PIM solution needs a specialist to implement, odds are you'll end up footing the bill.
Make sure you have a close look at what each PIM solution has to offer (including the small text) to avoid the pitfall of hidden fees.
Conclusion
Whether you're actively searching for a PIM system or just testing the waters, you need to do your homework. There are a million things that could be the deciding factor for what's best for your business, so make sure you know what yours are.
Before you start shopping for systems, get a good list of questions to ask each provider. It will make it easier for you when it comes time to compare options.
Whatever you end up deciding, your business will thank you. Say goodbye to messy Dropbox or Google Drive folders stuffed with unorganized product information and say hello to rich, consistent data optimized for all of your sales channels.