It's a fact—consumers are shopping on more channels than ever before. And, the more channels they browse, the more they ultimately spend!
But we're not here to expand on all the benefits of omnichannel retail today. Today, we want to help you take advantage of all the benefits of omnichannel with the help of multichannel listing software.
Multichannel listing software is exactly what it sounds like—a tool that simplifies and automates the process of listing products on various marketplaces, carts, and more. It allows sellers to maintain a single, accurate catalog of product price, availability, and more from which to push updates to each product listing. Many tools also help companies fulfill orders and avoid both over purchasing and overselling.
In an environment where online retailers are attaching as many as 200 attributes to every single product—the time it would take to manually update listings on each of your channels is mind-boggling. You need multichannel listing software if you want to stay in control of your products and in step with your competition.
This is where the popular multichannel listing software Sellbrite comes into play. While it's a great option, we're believers in optimization and ongoing improvement. We don't think you should settle for great when the best is out there. We hope you'll find your perfect fit today as we explore the features, pricing, and ideal users for Sellbrite and five stellar Sellbrite alternatives.
What is Sellbrite?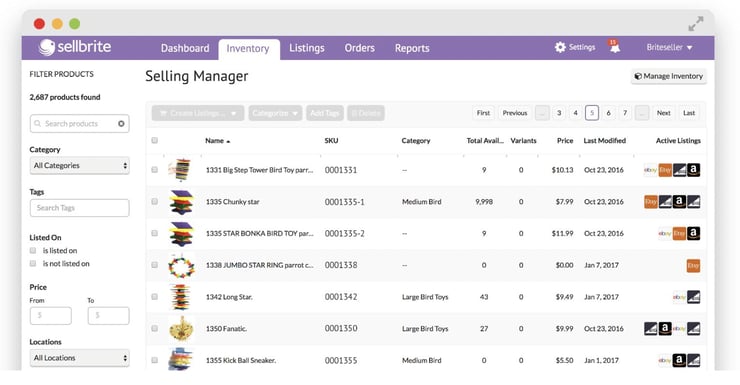 Established in 2014 and located in Pasadena, CA, Sellbrite is "simplified multi-channel listing software" that empowers ecommerce businesses to sync inventory from one centralized catalog to online marketplaces like Amazon, eBay, Walmart, Etsy, BigCommerce, and more.
Sellbrite enables online retailers to simply list and sell products online with the help of customizable temples, recipes, filters, tags, and bulk uploading capabilities. Thanks to smart synching technology, users can simultaneously update product data across channels and automatically adjust pricing based on custom, channel-specific rules.
With centralized inventory and order management features, users can centralize inventory knowledge and streamline order fulfillment by automating order routing, integrating different mail carriers, or printing discounted shipping labels directly from the platform.
Sellbrite is known for their dedication to customer success—offering different tiers of support, consultations, recommendations, and onboarding depending on the plan you choose.
Speaking of plans, Sellbrite's website has a detailed breakdown of what each includes. Plans start at $49/month for up to 100 orders/month and go all the way up to $399/mo for up to 10,000 orders/month. Their 14-day free trial includes a full version of Sellbrite where users can create up to 25 new listings on any channel.
Who Sellbrite is Best For
With prices that scale according to order numbers and robust features (including that renowned customer service) that don't kick in until the higher pricing tiers, growing businesses who are watching their budget might find Sellbrite a little too expensive.
However, for a maximum price of about $400 per month, Sellbrite's modern and easy-to-use interface will fit right in at companies that are able to prioritize multi-channel listing and fulfillment.
Five Awesome Sellbrite Alternatives
ChannelAdvisor
With a list of marketing, sales, and fulfillment features that's far too long to list here; ChannelAdvisor is one of the most robust and well-known multi-channel listing software options on the market.
Online brands and retailers can use the cloud-based platform to do everything from manage and automate listings to collect data, integrate with their merchandising and marketing departments, connect with distributors, and take advantage of repricing and product intelligence.
In addition to the standard pricing, product, and inventory management solutions that cater to sellers using online marketplaces like Amazon, Google, eBay, Facebook, etc.; ChannelAdvisor's features extend to search terms and SEO management and social media and data analytics.
Thanks to ChannelAdvisor's scale, they're able to support a variety of languages including English, Chinese, Dutch, French, German, and more. However, perhaps one downside to their scale is value for price.
While the vendor's website doesn't provide any clear information on pricing, various reviews mention long-term contracts, sales commissions, upcharges for additional channels and features, and poor customer service in comparison to the expense.
Who ChannelAdvisor is Best For
We believe ChannelAdvisor is indeed a one-stop shop for inventory management on multiple platforms—but only for companies who have the money and time to take advantage of its full potential.
With prompts to contact them for demos instead of obvious pricing and the ability to sign up, it's clear ChannelAdvisor's powerful tools are aimed at enterprises who need a ton of all-in-one features and are willing to pay top dollar for them.
ecomdash
Ecomdash is a multichannel ecommerce management tool that helps manufacturers and online sellers control inventory across tons of marketplaces and shopping carts from their singular platform. And, quite frankly, it's quite similar to Sellbrite save for a few specific features.
The app has a leg-up on Sellbrite with near real-time inventory updates for limitless channels, multi-warehouse product management, and other advanced synching features that empower people to sell products on multiple channels without the risk of overselling or overstocking.
In addition to restocking features that Sellbrite just doesn't have, ecomdash also allows auto-routing orders to third-party fulfilment centers and features like order editing, edit orders, manage backorder management, and shipping rule creation to cut down on manual data entry and upkeep—even at their base price.
And when it comes to pricing, this point is where ecomdash makes the biggest effort to set itself apart from Sellbrite and other Sellbrite alternatives.
Ecomdash boasts simple pricing, no hidden fees, and all features (customer support, unlimited users and channels, etc.) included with every plan. Tiers are based on order volume and start at $60/month for under 100 sales and come in just under Sellbrite's top tier at $350/month for up to 10,000 orders.
Who Ecomdash is Best For
While ecomdash can definitely be used at the enterprise level, it's also a good fit for smaller companies that need all the standard multichannel inventory and shipping software features with none of the surprise pricing.
Stitch Labs
Real-time inventory and order management, order logistics and routing, fulfillment and shipping, reporting and analytics—Stitch Labs is pretty much what you'd expect from multichannel listing software. What sets it apart is its focus on "high-growth" brands in both the wholesale and retail spaces.
What does that mean, exactly? It means that Stitch labs still delivers operational transparency by maintaining cross-channel inventory syncing, reporting, processing stock from demand to fulfillment, and other base features that any of the Sellbrite alternatives offer. However, they do it with highly-flexible software that empowers manufacturers and sellers to adapt and respond as they continue to grow and their market changes. Ecommerce businesses get all the benefits of a smart, data-driven multichannel listing tool with the added boost of growth-focused features like big launches, flash sales, pop-ups, and other sales events that require scaling order volume at a moment's notice.
Stitch Labs bills itself as modern operations management—allowing users to unite and automate their unique, agile workflows instead of changing them to fit into rigid software.
On their website, Stitch Labs boasts high ratings on software review sites, a great retention rate, and a three-week implementation timeline that takes buyers from a one-on-one consultation all the way to dedicated success management (for the right pricing plan, of course). Extended services and consulting add-ons include 3PL integration, on-site training, migration, and more.
While Stitch Labs has a very complex breakdown of features per tier, pricing isn't readily available. According to one online source, basic plans start around $499/month and increase with order volume.
Who Stitch Labs is Best For
If the pricing doesn't immediately scare you off, we definitely recommend checking out Stitch Labs' website. They nail their messaging with in-depth explanations and benefits statement about each of their features and clearly position themselves as a premium product for companies who prioritize scale and flexibility over cost. If that sounds like you and you've got $500+ to devote to multichannel product management every month, Stitch Labs might just be the Sellbrite alternative for you.
TradeGecko
TradeGecko is a lot more than just a funny name—it's the most robust multichannel listing tool in this entire piece.
Like most of the Sellbrite alternatives here, TradeGecko has deep inventory management features that provide up-to-date visibility into inventory and allow users to create purchase orders, backorders, stock takes and adjustments as well as track pack sizes, batches, and more across multiple warehouses. Order management allows sellers to keep an eye on stock levels both online and off and manage invoices, shipments, and payments in multiple locations and currencies. Integrations with the big players, detailed reporting, and demand forecasting round out TradeGecko's solid offering for ecommerce managers.
But unlike most of the Sellbrite alternatives here, TradeGecko's extensive features include accounting, customer relationship management, and a customizable B2B ecommerce platform.
TradeGecko's accounting system offers a way to seamlessly integrate money management into your inventory and order management efforts. The most notable features include multi-currency pricing, landed and moving average costs, tax types, invoicing, integration with Xero accounting software, and automation. By tracking customer billing information, addresses, purchase types and sizes, and more; TradeGecko's customer relationship management (CRM) tool empowers sellers to create personal shopping experiences and better understand consumer behavior. In addition, their B2B ecommerce platform allows businesses to sell directly to wholesale customers with tailored storefronts, custom pricing, and built-in TradeGecko Payments.
While the very restricted Founder Plan starts at $39/month, standard TradeGecko packages start at a reasonable price of $99/month for limited orders, users, channels, and other features. While Pro pricing is unavailable, the premium package will run you $999/month for 15 users, 5 channels, and 2500 orders. A free trial is available.
Who TradeGecko is Best For
We'll be the first to acknowledge that TradeGecko offers a lot of power for a decent price. However, the learning curve and management time that comes with such a massive tool could easily turn multichannel listing management into a full-time job—which is fine unless you, you know, have other things to do. That's why we think it's best for medium-sized companies and up that are rich in staff and time if not in budget.
If you're interested in multichannel product management and you don't have the time (or desire) to throw a ton of time or money at it—the next tool might be right up your alley.
Plytix
Technically speaking, Plytix is a product information management (PIM) system. However, it has several of the same key features as other Sellbrite alternatives without the overwhelm or the over pricing.
Our smart import capabilities mean you can easily import limitless amounts of product information without the help of a developer. And unlimited users and endless file storage mean you can get your whole team and your whole inventory on board from day one.
Whether you need to share product data with resellers and collaborators or update products across tons of ecommerce channels—Plytix empowers you to distribute product information in a smart, customizable way. Easy exports, digital product portals, printable catalogs, and data feeds make it easy to distribute up-to-the-minute product data. Plus, our channel-specific optimization rules make sure that each listing is just right for the channel on which it appears.
Another thing that launches Plytix beyond just PIM software into the multichannel listing software category is analytics. We're the only product information management software with a built-in, customizable product analytics dashboard—and damn proud of it. Use it to segment products in whatever way makes sense for you and analyze performance across all your third-party channels. Plytix analytics feeds you the exact data you need to take action and improve product performance.
Our Centralize, Optimize, Distribute, and Analyze (CODA) framework helps online brands and retailers solve their most time-consuming pain points and improve revenue per employee—no matter your size or technology capabilities. We also strive to make pricing as easy to understand as our software. Our $300 version is great for small to medium-sized businesses, and our PRO version has everything a growing business and enterprise needs. You can pick and choose your modules, or we can put together a custom package if needed.
While we might be the new(er) kids on the block when it comes to omnichannel product listing and management; but the proof for our robust features, ease of use, and affordability is in our customer reviews:
"We were just at the cusp of not being able to manage our product content in excel and Dropbox any longer, but all the well known PIM solutions wanted 10's of thousands of dollars a year. We couldn't swing this either. We searched high and low and finally found Plytix. It was perfect - we could tailor our PIM data structure to our product and manage all our media/assets alongside our product information. Plytix is young, so you may find specific features that are available in the larger more mature (but what I think are bloated) PIM solutions, but don't let this worry you. The Plytix team is suuuuuper open to feature suggestions and I must say a number of the things we needed that were originally missing have since been implemented." -

verified user Scott H.
Who Plytix is Best For
Plytix is for online brands and retailers of all sizes who want to get shit done instead of wasting time and money on bloated product software.
Intrigued by PIM? Here's an awesome list of questions to ask when researching PIM systems. Questions? Check out our features or chat with a PIM expert using the chat bubble on our homepage. Ready to dive in? Sign up for an affordable package today.