This age of ecommerce we're in might as well be known as the direct-to-consumer age.
More than ever, retailers and manufacturers are finding that they don't need the middle man — they can sell their products and services online themselves. And doing so opens up a whole world for them to build their own brands, build relationships, and provide personalized experiences for their shoppers.
And as this model of online shopping is gaining traction, there are new tools available to help direct-to-consumer retailers succeed. If you've considered cutting out the middle man and going directly to your shoppers, these are the technology and tools you're going to want to have.
Why Direct-to-Consumer Is the Future of Retail
Direct-to-consumer (often called DTC or D2C) retail is nothing new.
In fact, it has a long history. Catalogs and mail order retailers were the original DTC, though the slowness of mail held past DTC retailers back from reaching the prominence they've gained in the internet age.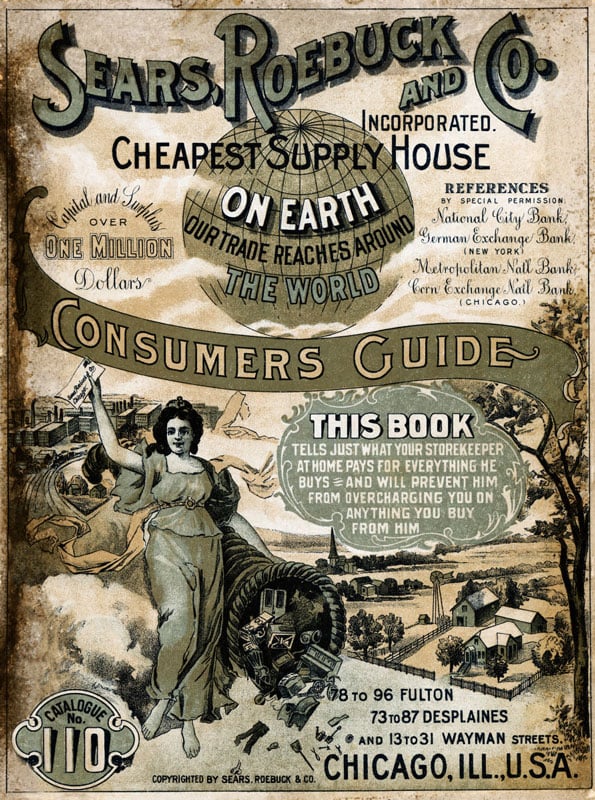 Source: https://www.history.com/news/sears-catalog-houses-hubcaps
While catalogs and mail-order companies have existed almost as long as the postal service, traditional retail became more popular because of our human love of instant gratification. As long as DTC retail was limited by the speed of mail, the middle man was a necessity.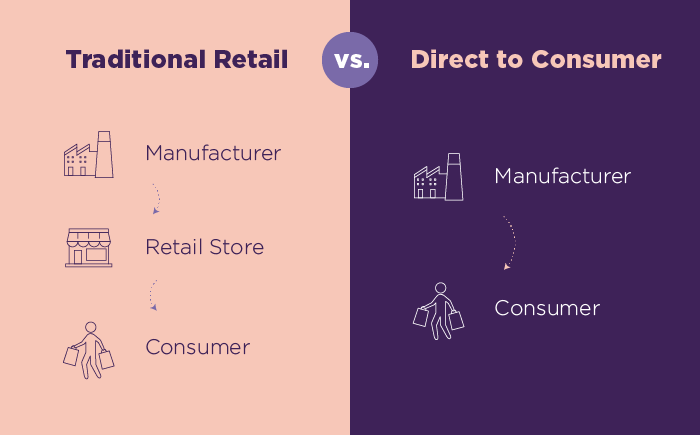 Now, though, we have the internet.
The digital age breathed new life into D2C retail by giving manufacturers and retailers an easier (and cheaper) way to put their products in front of shoppers: Online.
And as online shopping grew in popularity over the last decade, the largest online retailers started paving the way toward the instant gratification customers want by building networks of distribution centers and shipping infrastructure that could support fast, cost-effective delivery. Now, free two-day shipping is the norm.
And that's part of why DTC is the future of retail. Technology has made it easier than ever for retailers to embrace this style of selling.
But there are other benefits to DTC retail:
It gives retailers more control over their products and their brand.
It allows retailers to build relationships with their customers and build the exact type of customer experience they want to provide.
It cuts out the middle man, which means higher margins and more competitive pricing, all while increasing sales and revenue.
We'd even argue that DTC isn't the future of retail — it's now. This is the time for manufacturers and retailers to be moving to DTC sales, and leaving the middle man behind.
As most retailers know, however, selling goods and services online is rarely that simple. There are still challenges DTC retailers face, even in the digital age when there are more tools to facilitate DTC sales than ever before (but more on those later).
For a DTC Future, Retailers Need to Overcome These Challenges Today
As they look to the future, here are some ways that DTC retailers can overcome today's biggest challenges.
The Customer Experience Is More Important than Ever Before
Today's customers have seriously high expectations of brands. They expect connected, seamless experiences across different devices and touchpoints, as well as top-tier customer service in every interaction they have with a brand.
The challenge this presents for retailers is twofold: First, they need to find a way to handle massive amounts of CRM data, often from disconnected and siloed sources. And second, they need to provide the truly omnichannel shopping experience today's consumers expect, with seamless continuation of the customer journey across different devices and channels.
Product Data Needs to be Organized and Optimized
In addition to that wealth of CRM data, today's online retailers also have a ton of product data.
When customers can't see an item in person before they hit "purchase," they want to know as much about the product as possible — which means retailers need everything from pricing, dimensions, colors, and materials, to manufacturing information, shipping information, return information, and more, organized and constantly up-to-date for each and every product they offer.
This presents an enormous challenge to today's digital brands, just because of the sheer amount of product data involved.
Many Retailers Are Trying to Succeed with Outdated Technology
And as retailers face these major data challenges, they're often doing so with technology that's outdated and doesn't meet modern needs.
Data is often siloed, disjointed, and out-of-date, because retailers lack a way to keep it all centralized and accessible across their organization. This can allow anyone to pull whatever data they need, knowing it's the most current and accurate data available.
Luckily, tools do exist to help retailers combat these challenges. As online sellers look to the future of DTC sales, these are the technology tools they'll need in order to eliminate the middle man for good.
Emerging Technologies that Will Win the DTC Battle
As brands look to the future, one of their biggest concerns should be ensuring that their business technology is ready for both current and future challenges. These are the most game-changing technologies brands should be embracing right now to set themselves up for the future of online retail.
Headless Architecture Is the Only Way to Embrace the IoT Age
As retailers strive to meet their customers' omnichannel expectations, they're being met with yet another factor they need to take into account: The rise in IoT technology, which means new channels and platforms for marketing and sales are emerging all the time.
So how do retailers constantly expand into brand new channels, while still maintaining a seamless customer experience across all their touchpoints, old and new?
The answer is headless architecture.
In this kind of setup, the content management side (or back end) of a retailer's business is decoupled from the customer-facing display (or front end), which allows sellers to organize their content and product information in the back end, then use APIs to push that information to any front end, from their own website or mobile app, to smart devices, wearables, and social media.
New touchpoints will continue to emerge, and with a headless architecture, your business will be primed to take advantage of them in real time.
CRM Platforms Deliver the Customer Experience You Need
In the digital age, customer relations management (CRM) platforms are no longer only for large businesses. Brands of all sizes need CRM software to handle all the data that comes from their customers and customer service interactions — and to analyze and act on that data.
Aside from the data considerations, though, a good CRM is essential to providing the level of customer service today's shoppers expect. Customers in the digital age expect more from brands than simply meeting their needs — they expect to have their needs anticipated, and to be left delighted (rather than simply satisfied) by their interactions with brands.
PIM Keeps Product Data Centralized, Organized, and Up-to-Date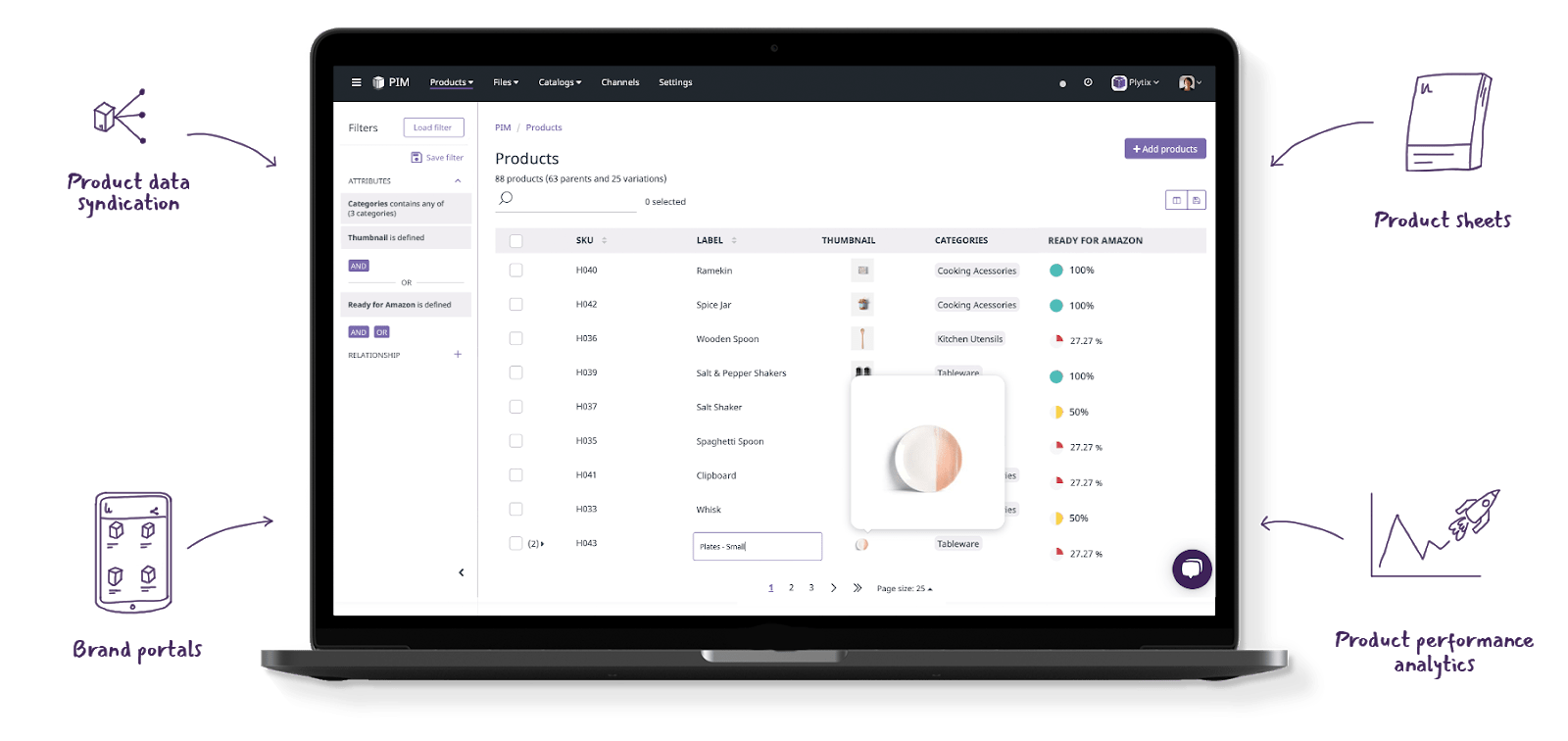 And then there's the question of product data. Even for small businesses with a limited number of products on offer, the amount of data required to market and sell them DTC can be staggering. Simply put: Brands need product information management (PIM) solutions.
The right PIM should allow your business to centralize, organize, distribute, and analyze product data, all from a single source of truth that's accessible across your entire organization.
What's even more, is the right PIM will help you analyze product data to create actionable insights that give you a competitive edge in today's crowded ecommerce landscape.
PIM Is the Key to Outperforming Your Competition
Ready to learn more?
PIM software is how online retailers of all sizes are outperforming their competition, and you can too. Download our free ebook today to learn how.

Ecommerce
,
Retail Industry & Trends