Usually, ecommerce brands and online retailers want the same thing: to sell products.
And when brands and the retailers that sell their products have a common goal, magic can happen: They can team up to create new sales goals, and through collaborative campaigns and merchandising, meet them.
Traditionally, though, brands and retailers have had a pretty linear relationship. The brands create the products, and the retailers order them to stock and sell to their customers. Does it sound like there's some missed opportunity there for collaboration? We think so, too.
That's where data sharing comes in. Brands and retailers have long been using product sales data to create insights that help them increase sales — separately. But what happens when they combine their efforts — and their data — and start working together toward this common goal? That's called data sharing, and we think it's the next game changer for brands and ecommerce retailers alike.
Ready to learn all about why brands and retailers should be sharing their data (and how they can do so easily with one simple tool)? Read on.
Why Brands and Retail Partners Should Share Data
Here's the most simple reason brands and retailers should be onboard with data sharing: It opens up a direct line of transparent communication, which allows both sides to improve product marketing and content, increase sales and conversions, and reduce costs.
But don't just take our word for it. Here are some of the real benefits brands and retailers are seeing once they start sharing their data.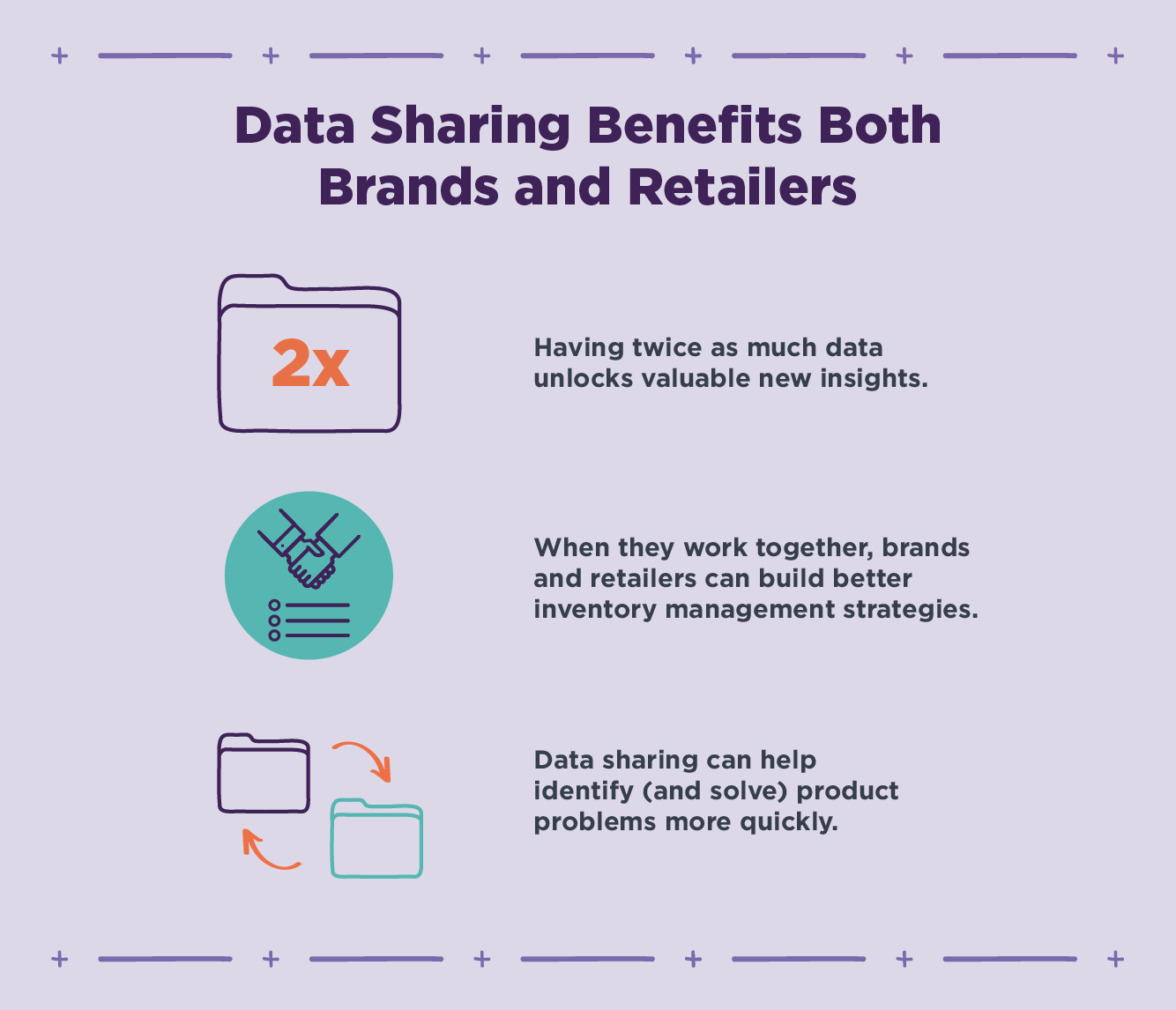 Data Sharing Leads to Valuable New Insights
The bottom line here is that retailers might have product and sales data that brands don't have, and brands might have product and sales data that retailers don't have. Combining whatever datasets the two entities have can provide a clearer picture with new and better insights about product performance and sales.
For example, a brand will have data from all of its sales channels, while a retailer will only have data from their own store. So let's say the brand has collected data that shows that one of their products performs 20 percent better in the weeks leading up to Thanksgiving. This is valuable information to share with all their retailers, who can then feature or market that product during that time to give sales an even bigger boost.
Data Sharing Leads to Better Inventory Strategy
No retailer wants to have a stale excess of products that aren't selling well. And on the other hand, a key part of making customers happy is having products in stock when they want them. These are the challenges that make inventory management so complex. And data sharing can help both brands and retailers create better inventory management strategies together.
By looking at the bigger picture of data from the brand and retailers across all channels, you can better predict lulls in sales, or seasonal spikes, and adjust inventory recommendations for retailers accordingly. This benefits both the brand (because it creates better relationships with retailers) and the retailer (because it increases customer satisfaction and can lead to cost savings from placing bulk orders when sales volume is expected to be high).
Data Sharing Leads to Identifying Problems Early
When things don't go perfectly smoothly with a product, data sharing can help identify problems (and their solutions) more quickly.
Let's say for example that a brand has a product that sells extremely well at all of its retail partners — except for one. Because product data is freely shared between the brand and all its retail partners, the store that's lagging behind in sales of this popular product sees that their experience isn't normal. With some investigating, they realize that this popular product is in their warehouse, but hasn't actually been placed on the sales floor. Without data sharing, they may not have realized there was a problem, and may even have discontinued carrying the product because of its poor sales performance — missing out on revenue from a popular item.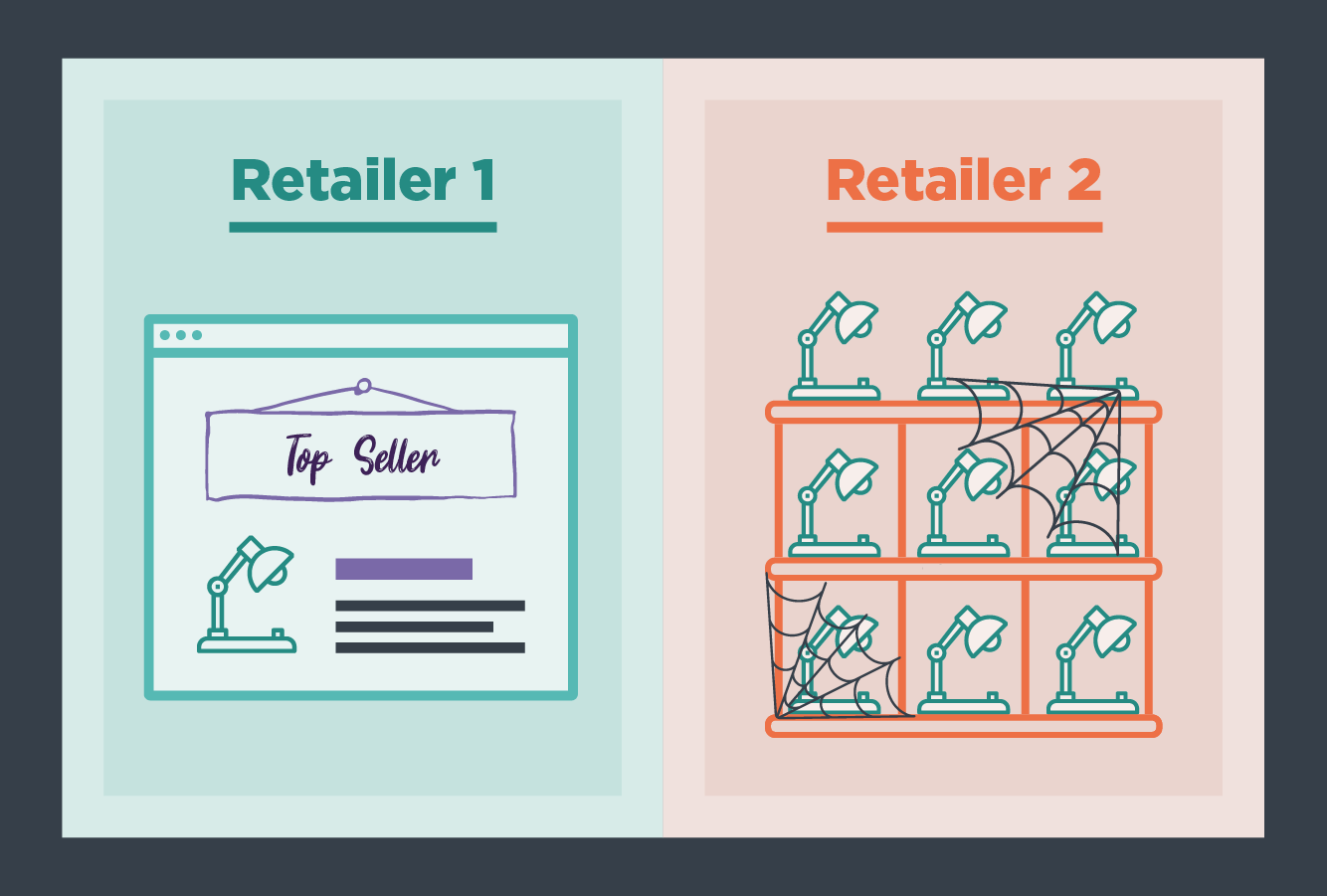 This might be the biggest advantage to data sharing between brands and retailers — it gives both sides more tools to identify when there are problems, and help get to the bottom of them.
These aren't the only benefits to data sharing, but they're just a sample of some of the biggest reasons every brand and every retailer should be combining data forces for the common good. Yet we've found that around half of brands and retailers struggle with data transparency. One possible reason for this is they're missing effective strategies to open up lines of communication about their data.
Data Sharing Strategies For Brands, Ecommerce Stores, and More
Brands and retailers who are new to data sharing might think that it sounds like a complex and time consuming process. But it's actually not difficult. In the digital age, most brands and retailers (especially those that already have omnichannel marketing and retail strategies in place) probably already have all the tools they need to create better data transparency.
To Make Data Sharing Easy, You Need Plytix
In the digital age, more and more brands and retailers are turning to tools that can provide maximum value. Plytix is one of those.
From top-tier product information management, to easy omnichannel product syndication, to stunning product sheets created quickly via automation, Plytix is a powerful tool that can help brands out-perform their competition and boost their bottom lines.
And when we saw that half of brands and retailers weren't sharing data with each other, we saw an opportunity to make it easier for them to do so — with Plytix.

We built a Google Analytics Advanced Ecommerce integration that allows brands and retailers to:
Centralize product data from their Google Analytics accounts in one simple dashboard;
Match that data with a brand's verified GTINs;
Instantly share product performance metrics between retailers and brands.
And here's the best part: It's as simple as clicking a few buttons. There's absolutely no coding required.
The whole process is automated, so it's fast, easy, and mutually beneficial for brands and their retail partners. This means you can share data without having to manually do the work. No more wasting time generating custom reports for brands or suppliers. Everyone has access to all the data (and can analyze it as they please) from a single, centralized source of truth.
And because we want brands and retailers to get as much value from this tool as possible, we gave it a few more cool features. From the dashboard, any party can create custom segmentations for flexible analysis of product data. They can also consolidate data from multiple channels, and compare metrics in-chart.
What are you waiting for? Sign up for a Plytix account in just three easy steps.