Branding is made up of the visual elements of your website and marketing. Brand identity is what your brand stands for and how it's perceived by consumers. Both are important to have—and even more important to optimize—in today's competitive ecommerce environment.
Why should ecommerce marketers, managers, and business owners care about their brand? Because branding boosts perceived value; which leads to referrals, retention, and profit.
Customer-based brand equity is the value of your brand as perceived by consumers. Brands with high customer-based brand equity are seen as having valuable products and trustworthy business practices. At the end of the day, that means more referrals and higher retention rates. And when the probability of selling to an existing customer is as much as 14x higher than the probability of selling to a new customer, retention is where it's at.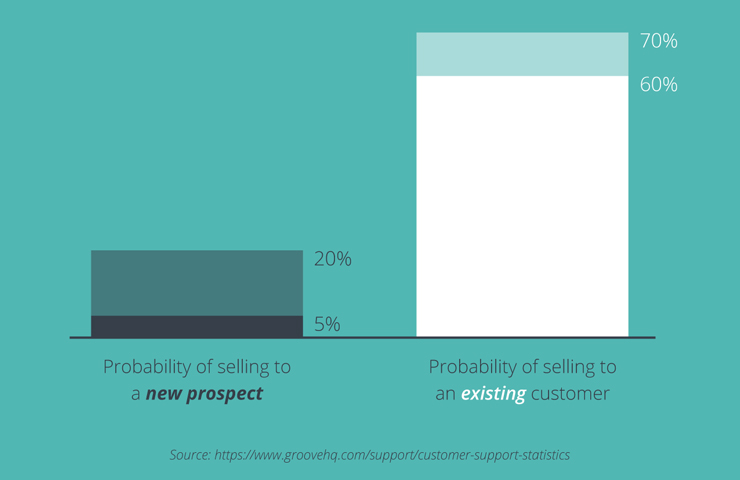 Growing your value with branding is also a great way to protect your profit margins and stay out of the race to the bottom when it comes to pricing. In fact, we think adding value is so important we created a whole guide full of tactics to set your brand apart with high value instead of low prices.
Branding adds value that can help you demand higher prices, build an awesome customer base, drive home those pricey sales and marketing campaigns, and turn both your employees and customers into brand evangelists. That's why we want to recognize companies in the sports and leisure category who do branding so damn well.
How did we narrow them down? Well, we spent a heckuva lot of time refining our practices and our results. In fact, The list of awesome brands you're about to read was only made possible by our staff spending tens of hours spent pouring over more than a thousand sports and leisure websites from all around the web.
Each website had to meet several key standards to be named "excellent" in branding, such as:
Strong brand positioning that resonates with the intended audience
Consistent branding on every page and section of the website
Key elements (logo, blog, about page, etc.) that help tell the brand story
We know you're stoked (too many sports websites!) to see which brands made the cut. And we're stoked to show you. Let's scroll.
At first, I thought Peak Design was a camera accessory company. And while they do create camera bags and other accessories, their branding makes it known that their mission is to ultimately design products that are the best (or "peak") in their category. This lofty standard holds true throughout their messaging and imagery that doesn't just tell the story of their products but delves into their culture, their sustainability strategy, their crowd-funded past, and more.
Every page of Funn's website is totally recognizable and as full of movement and excitement as I would imagine their target audience to be. The brand plays up their "fun" name with lots of exciting biking imagery and videos while bringing it back down to earth with thorough product pages. It's the perfect branding balance for a premium brand in the mountain biking industry.
The Michelin Man, real name "Bibendum" (who knew?!), is well-known in the U.S. So it's no surprise that the tire manufacturer went with "michelinman.com" when choosing their domain name. But once visitors are there, Michelin makes it a point to devote sections of their website to lesser-known facts about the brand, such as their long history, the innovation that goes into keeping up with the automotive industry, their commitment to safety, and a passion for driving.
The only thing that would make their branding even stronger would be putting the interesting story of their mascot front and center on their website!
You can probably tell from this list that there are a lot of awesome watersports brands out there. Haydenshapes uses their website branding to set themselves apart as a professional, premium product. All it takes is one look at their muted colors, mature (but still gnarly) design and photography, and helpful product information to understand that Haydenshapes is committed to quality.
Like many brands, Everlast has evolved since the company began in 1910. Today, they position themselves as a leading manufacturer in fight, fitness, and fashion sports gear. With an about page that pays homage to their history, a navigation menu and product roster that stays true to their "fight, fitness, and fashion" direction, and photography that enforces both how strong yet multifaceted the brand is—Everlast really is fight sports.
With a name like "GT," you've gotta make it clear up front what you offer as a brand. With callouts to their bikes and their story positioned over action shots right on the front page—I immediately get who they are and how fun they'd be to work with if I was in the market.
The name, the logo, the excellent product photography, the blog, the video gallery—you totally get who TenPoint is and what they do from the second you interact with their brand online. After checking out their website, we totally believe their claim that "Any company can build a crossbow, only TenPoint builds complete hunting systems."
TenPoint Crossbow Technologies
What is the Lew's brand all about? I can tell you after a quick scroll down their home page: award-winning quality, homeland pride, giving back, innovation, and, of course, fishing. How does a fishing gear website portray all that? With imaginative photos and strong headlines that just ooze passion for their history and their sport.
In many sports, the whole game revolves around an important piece of gear: The ball. Mikasa makes it clear that they offer the best balls on the market with website design that's consistent with their famous blue and yellow branding and tons of video, pics, and interviews featuring pro athletes using and endorsing their gear.
As soon as a website visitor lands on Fischer's website, they're greeted with an impeccable video that not only shows off one of the brand's product lines but several of the benefits of purchasing from it. Keep scrolling their and it only sinks in further—these guys know what their audience wants and they deliver with breaking news, helpful product descriptions and videos, and top-of-the-line skis and gear that go everywhere from the backcountry to the rink.
Aside from a slider features product shots (which move a little too fast for me, but I digress), the first thing I notice when I visit ACR's website is a headline that reads "Building survival products since 1956". Not many companies are able to sum up their mission and offerings so succinctly, and it prepares me as I click around to learn more about the brand. ACR does a great job of explaining what survival gear is and why they're the masters of it without getting too gruesome by featuring expert advice, helpful product explanations, and—my favorite—a map of where their products have saved people's lives.
There's something satisfying about a brand name that succinctly tells you what to expect. What's even more satisfying is FitWell's website, where most of the copy and imagery is devoted to explaining the basis of the brand: The best bike is the one that fits your unique body.
It would be hard not to understand what Platypus is all about when checking out their branding. From the start, their headlines, content, and imagery make it as clear as the water they hope to provide—Platypus is on a singular mission to deliver the finest taste-free, adventure-ready hydration and water filtration products on the market.
It takes a strong brand to back up a name like "Ethnotek." Luckily, their website nails it with an on-brand blog; tons of bright, cultural photos; and thoughtful copy that make their ethical mission abundantly clear.
"Forged for life." "Every adventure starts here." "Come out and play." Hmmm, I wonder what Mountainsmith does? A manufacturer of outdoor gear that promises to be "unmatched by anyone for their comfort, stability, value and performance in the backcountry", Mountainsmith drives their love for the wilderness and wilderness gear home with concise language, unique outdoor photography, and comprehensive descriptions for every one of their premium products.
While it might not be exactly fit my design preferences, the Fast Wax pulls no punches. Right on the home page, big, bold promises about their products and even bigger, bolder action photos make it clear that Fast Wax is the brand for bold downhill skiers and snowboarders who wanna go fast.
Canada Cycle & Motor Company Limited (now CCM Hockey) is one of the biggest hockey equipment manufacturers in the world. And with an "About CCM" page that helps customers connect with the company and bold photos and headlines that almost make me want to take up hockey, CCM's brand rings clear and true.
Anyone who's familiar with GoPro knows that they make cameras and camera accessories for action junkies. Anyone who doesn't already know this will get the picture immediately when they check out GoPro's branding, which is keenly focused on interactive design, impressive user-submitted videos, and shots of the products in action that speak to the adventure lover in all of us.
"Pau Hana" is a Hawaiian phrase meaning "time after work" to play and have good times with friends and family. Pau Hana the brand encapsulates that from their brand story to epic paddle boarding shots to detailed content on their quality stand up paddle boards and accessories.
In 1965, Sherman Poppen revolutionized snow sports with the invention of the "snurfer" ("snow" + "surfer"), a stand-up sled that's thought to be the precursor to the modern snowboard. Today, the Snurfer brand stays true to its roots with unique, vintage website design and family-friendly content that caters to those shopping for children.
ENO sprung up from a road trip spent slinging hammocks at music festivals and gatherings out of a van in the late 90s. Lots and lots of vivid product photography makes their recognizable hammock designs pop while their content stays true to their branding as a friend of both the outdoors and those who live to adventure into it.
I have to admit that I wasn't sure what Bushnell was, but one quick glance at their website branding made it abundantly clear. Bushnell calls itself an "industry leader in high-performance sports optics" and it shows in headlines that consistently call out the quality of their products using lingo like "scope" and "mark", crisp photography that depicts their typical consumers in amazing places, and an entire section of their website that's devoted to explaining the tech behind their scopes, rangefinders, and more.
Did you recognize some of the brands on our list? Any of your favorites that you think should deserve to make the cut?
Branding is such an excellent ecommerce growth tool because it's easy enough to optimize if you've got the time to devote to development and upkeep. Before you roll your eyes wondering exactly where you're supposed to come up with that kind of time—we have something for you.
We built our product information management (PIM) software, Plytix, for crazy-busy ecommerce marketers, managers, and business owners like you. People who want to grow their brand to grow their profit but are bogged down in the minutia of listing products, updating product info, testing prices, porting products over to new sales channels, blah, blah, blah.
If all that stuff makes you feel blah—automate it with Plytix. Our platform is easy to look at and easy to use no matter your company size, product type, or number of sales channels. In fact, we guarantee it'll improve your company's revenue per employee thanks to our proprietary centralize, optimize, distribute, and analyze (CODA) methodology.
Sign up with Plytix and get shit done!