Online shopping is the ultimate enticer - everything you could ever want is right there in front of your customers. All they have to do is click a few buttons, wait a couple of days, and their purchased items will appear right at their doorstep.
However, the convenience of online shopping can result in some irresponsible purchasing habits. Sometimes, after looking at their online shopping carts, customers might recognize this, and decide to not make a purchase. While this pleases their bank accounts, it's not a good sign for sellers. However, it isn't a dead end either.
What is a shopping cart abandonment email?
According to a recent study, over 70% of shoppers will abandon their cart at checkout. Implementing a shopping cart abandonment email strategy is the perfect way to not suffer from that startling statistic.
A shopping cart abandonment email is a follow up message sent to customers who added items to their online shopping cart, made it through a portion of checkout, and then left the site without making a purchase. The purpose of the shopping cart abandonment email is to re-engage customers after they've made the decision not to buy, and ultimately convince them to make a purchase. A shopping cart abandonment email should be an integral part of your email marketing best practices in an attempt to increase conversions.
Shopping cart abandonment email strategies
Because your customers aren't right in front of you when they abandon their online shopping carts, email is the most sensible communication channel to re-engage them with when you're selling online. However, standing out in a sea of incoming emails in an already flooded inbox is far from easy.
Here are four shopping cart abandonment email strategies that will entice customers to rethink buying those items they were so close to purchasing.
1. Earn your customer's trust
Creating trust between you and your customers is crucial, especially at the beginning of the interaction. Internet scams are on the rise, and it might take a little bit for a customer to trust your brand enough to make a purchase on your site.
The best way to earn the trust of a potential customer is through user reviews, also referred to as social proof. People trust other buyers and often look to peers for advice. I know when I am trying out a new ecommerce site, I always ask a couple of friends if they've used it before, what their experience was like, and if they recommend I give it a whirl.
Make sure to use social proof on your website, but incorporate it into your shopping cart abandonment emails as well. Show the star rating of products they've left behind, and even include a couple of user reviews along with it. Customer trust can lead to customer retention which is integral for your brand.
2. Focus on one product in particular
While it might seem like a good idea to showcase every abandoned product in your email, the opposite is true.
Online shopping carts double as a place to store items that customers are simply considering. Most of the time, there isn't equal buying intent for every single item in the cart. Use your shopping cart abandonment email as an attempt to market and sell one item to the customer. Pick the highest rated and best selling product to highlight, and point out its benefits and reviews. This will really show the customer what they are missing.
3. Take advantage of loyalty
When abandoning a shopping cart, a lot of customers will expect a coupon of some sort as an incentive to rethink their decision. While this might work from time to time, excessively handing out coupons is bad for your overall profit margin.
If you have a group of loyal customers, offering them a coupon is like giving them free money because they are likely going to make a purchase already. Create a rewards program for your loyal customers and remind them of the associated perks in your shopping cart abandonment email. Make sure this email is only being sent to the audience segment that shows loyalty to your business.
4. Don't overload your customers with emails
You don't want customers to take a look at your shopping cart abandonment email and think "Oh, it's just another email from so and so," and not even give it a second glance.
One thing businesses need to remember is that sometimes, the decision not to buy had nothing to do with you or your brand. Maybe the timing wasn't right, or maybe they needed to save a bit more money before buying. You don't want to ruin the relationship you have built with your customers by sending them an overwhelming amount of emails to your customers, reminding them they don't have the product they want. Instead, send them one email that includes the option to sign up for your mailing list. This way, they can have a say in what is being sent to their inbox.
Shopping cart abandonment email examples
Crafting the perfect shopping cart abandonment email is no easy feat even though sending it is made easy through a marketing automation tool. Here are a couple of brands that are killing it.
Fabletics
Fabletics uses simple language to re-engage viewers and shows the product in action to entice the customer. They also stray away from the typical "Buy Now" phrase that brands tend to use in shopping cart abandonment emails. "Make them yours." How simple is that? Who wouldn't want to make them theirs?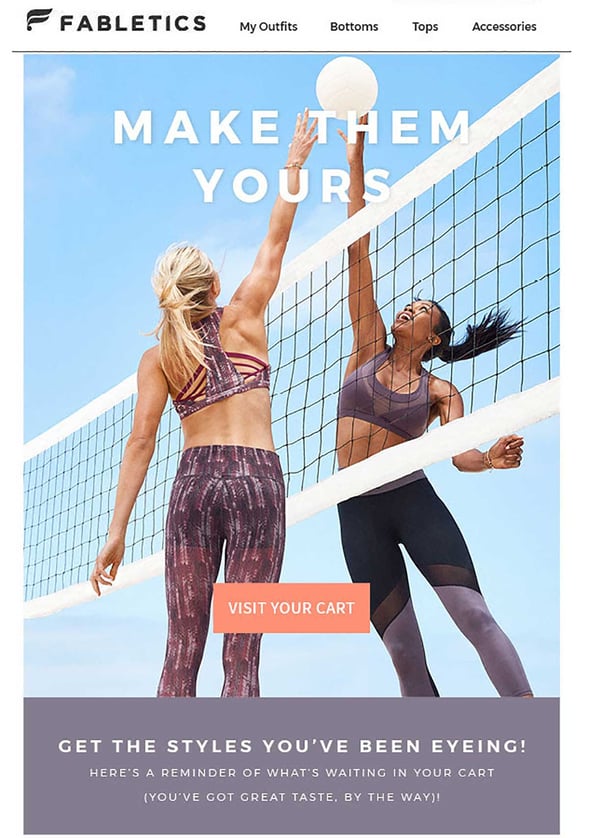 Sunski
Or you could keep it simple, like Sunski does in their email. There aren't a bunch of unnecessary words, phrases, or flare. The email focuses on the item in question, which you want the customer to focus on the most, right?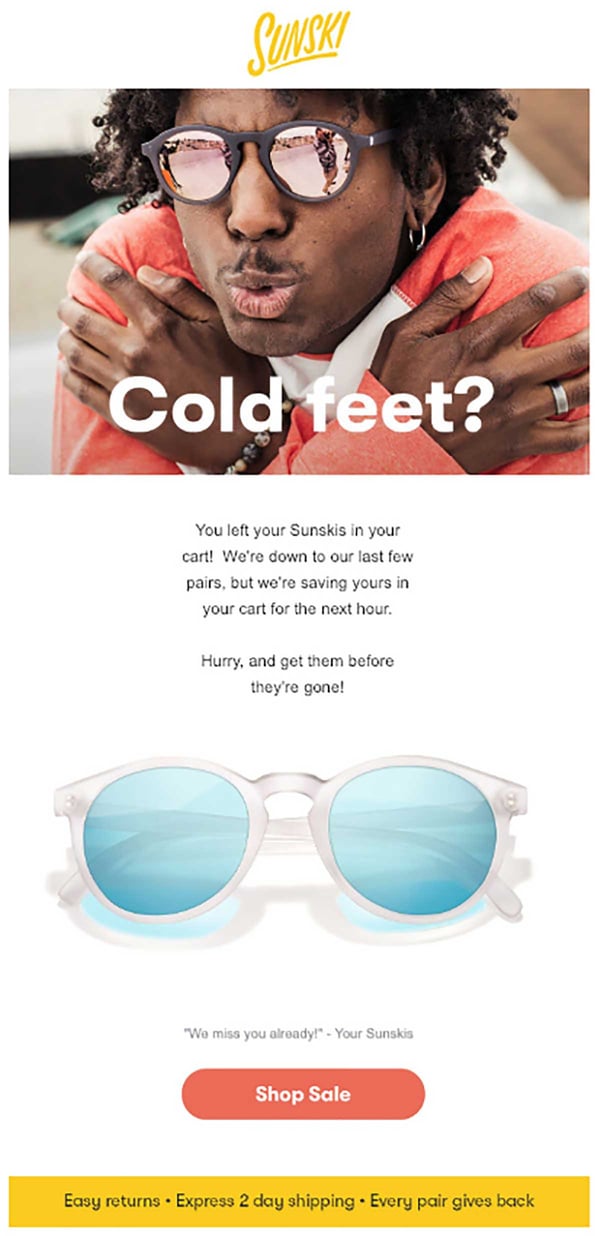 Beardbrand
Beardbrand takes the personalization route, which is quite admirable! Buyers are looking to be treated like human beings with specific tastes, not just another customer looking to make a quick buy.

Birchbox
Birchbox fully accepts that a customer has decided not to buy, but that doesn't mean that something else won't work for them, right? This brand shows customers related items that might entice them more than the one in their abandoned shopping cart.

Bombas
Bombas, a fun sock brand, reminds buyers of their charitable contributions whenever someone buys one of their products. A little guilt trip-y, but hey, nobody can deny that charity is good-hearted and worth supporting.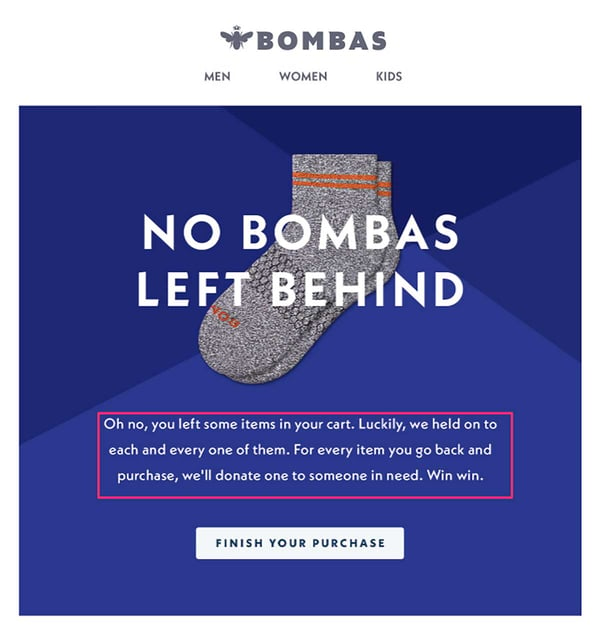 Reckless abandon
While it would be ideal for your customers to follow through on purchasing every single item in their shopping cart, this isn't always the case. However, an abandoned shopping cart is not the end of the world. Implement a shopping cart abandonment strategy as part of your marketing collateral and win those hesitant customers back.